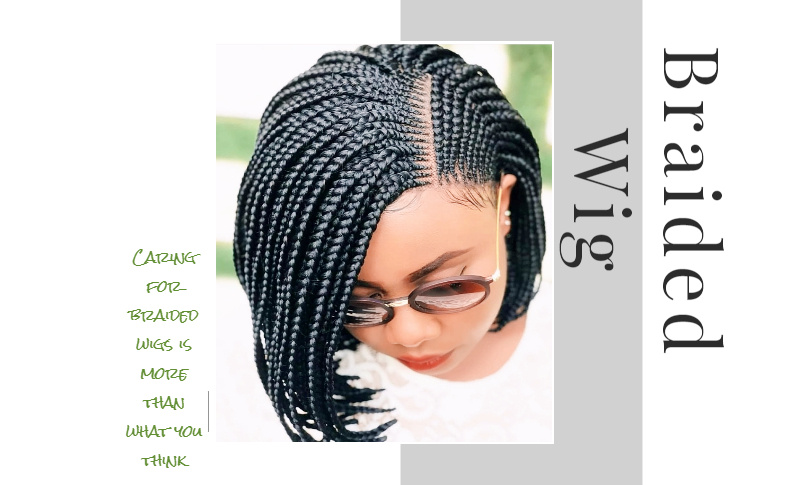 Welcome to our guide on how to maintain your braided hair wig! Braided hair wigs are a popular choice for those who want to switch up their hairstyle without committing to a permanent change.
Not only do they offer a wide range of styles and colors, but they're also incredibly convenient - you can simply slip on your wig and be ready to go in no time.
But, just like natural hair, braided lace front wigs require maintenance to keep them looking their best. That's why we're here to share our top tips for maintaining your braided hair wig. With a little bit of effort, you can keep your wig looking fabulous for weeks on end!
What Would Happen If We Don't Care for Braided Hair Wigs Properly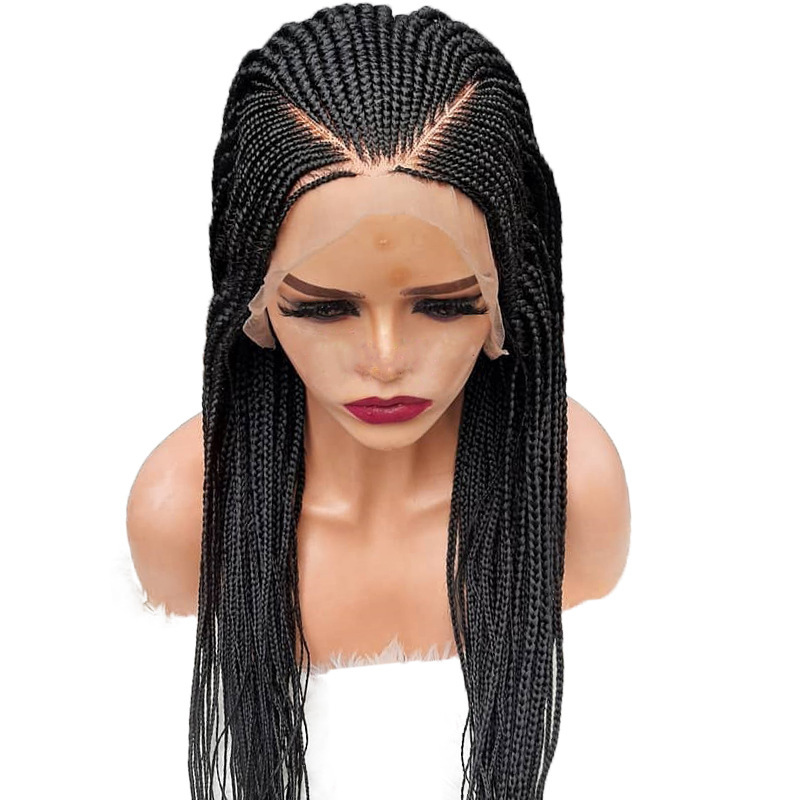 You need to maintain braided hair wigs to keep them looking great. If you don't, several issues can happen.
It can be hard to style and wear your wig if the braids get tangled and knotted. Tangles and knots can also lead to breakage and damage, which can make your wig look frizzy and unkempt. If your braid pattern is complex, this can be especially problematic.
It's also possible for braided wigs to lose their shape and structure if they're not taken care of properly. Braids that used to be neat and tight can start unraveling or flattening, leaving them looking messy and unflattering. If you bought a wig with intricate braids that you want to show off, that can be particularly problematic.
The third thing to remember is that if you don't wash and store your wig properly, you can develop a musty smell. This can be especially problematic if you wear your wig frequently or sweat a lot while wearing it. It can be embarrassing to wear a wig with a bad smell.
You can also stretch out or damage the wig cap if you don't care for your braided wig. When you wear a wig, it can feel uncomfortable, so it defeats the purpose. A damaged wig cap can also make it slip or slide around on your head, which makes it uncomfortable to wear.
The best way to make your braided lace front wig last longer and look great is to take care of it regularly. Follow the tips and tricks in our guide to make sure your braided wig looks great and feels comfortable.
What is the Action Plan for This Caring Project for My Braided Wig
It isn't too difficult to maintain a braided wig, but you should make sure that you bear in mind the steps and tips to make sure that your wig lasts for as long as possible.
Washing Wigs
It is important to remember that hot water should never be used to wash the wig. If you wish to avoid having your wig look chapped, you should use lukewarm water rather than hot water.
Additionally, if you have a synthetic braided wig, the hot water will damage the strands of the hair, so they will fall out as a result of being exposed to the high temperature.
Applying Shampoo
The braided units should be washed at least once a month by using a shampoo that is formulated to wash braided hair at least once a month.
The braided wig needs to be washed regularly in order to maintain its shine and remove any dirt that may have built up on the wig surfaces, as braided wigs get dirty too, especially if they are worn frequently.
Nevertheless, if you have chosen to wear a human hairpiece, you should still make sure to find a shampoo that is specifically made for wigs.
The chemicals used in conventional shampoo and other hairstyle products can be harmful to the strands of hair since they can cause frizz and can make the strands appear more glossy than they would normally.
Once that happens, there will be little chance of recovery from the damage. This can be quite upsetting and stressful, especially if you have just acquired the lace wigs in question.
You can place the unit in a shampoo solution and straighten it after each dipping while continuing to straighten it after each dipping.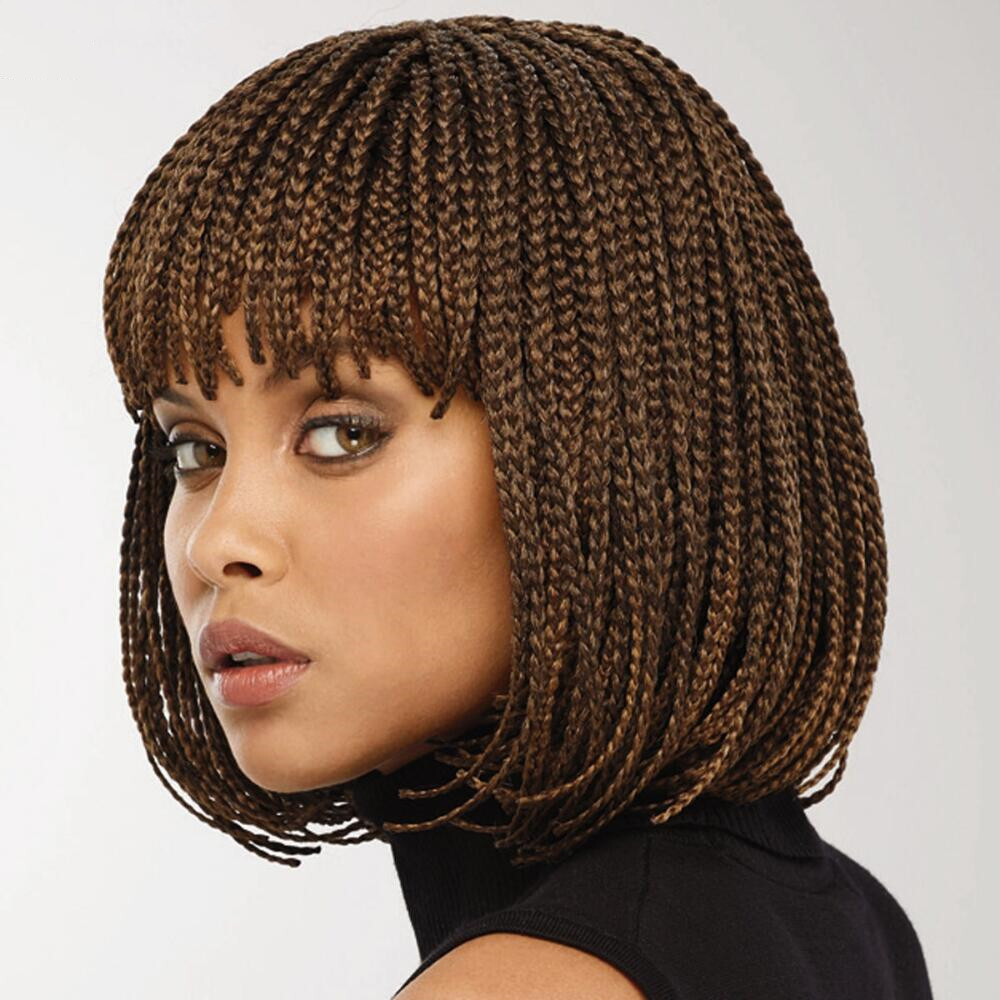 Conditioning Wigs
When the braided unit appears very dull and dry, we recommend conditioning it because it is an essential part of your real hair maintenance regime.
When it comes to conditioning, you'll want to follow the same guidelines that you do while shampooing your hair. There are products on the market that may be applied to wigs in the form of conditioners to prevent the braids from becoming lifeless.
Place your hair in a sink or basin that has been filled with cool water, and then add one or two capfuls of conditioner to the water.
Put your wig in the sink, then carefully work some conditioner into the braided, starting from the ends and working your way up.
Be careful when working with the roots since applying too much conditioner might cause the wig to get weighed down.
In addition, if you massage the wig too roughly, you run the risk of separating individual strands of hair from the cap.
Moisturizing Wigs
When drying your hair, it is recommended that a suitable quantity of mousse or serum be applied to your units in order to give your hair new vitality and a fresh new shine, as well as a healthy appearance and feel to your hair. This will ensure that your hair has a beautiful finish.
Moisturizing a human hair wig is exactly the same as moisturizing your own real hair, so don't skip this step! Yet, a braided synthetic wig will just require a light misting of serum on an infrequent basis. When there is too much of it, it will have an excessively glossy appearance.
In order to maintain the strands' softness, however, you will need to apply a moisturizer to the human hair braids after washing and conditioning them. Some good options for moisturizers are olive oil and coconut oil.
It is important to refrain from applying an excessive quantity of mousse since doing so will give the impression that your units are overly oily.
Drying Wigs
It is crucial to air out your units after taking them off, and we recommend purchasing wig stands to assist with this.
Wig stands should not be used in place of mannequin heads since they prevent the unit from receiving the required ventilation while it is not being worn.
When a wet wig is stretched, the cap might lose its shape and become excessively loose, which makes it more likely that the wig will fall off the head. Thus before beginning to dry off, you must first ensure that any extra water is removed by gently squeezing it.
It is strongly recommended that you do not wring out the wig since doing so may result in the braids becoming untidy or possibly falling out entirely.
When it comes to preventing the strands from being braideded or tangled, the unit should also be stored in a location that allows for ample room for them to fall freely.
If you take the time to maintain them, your braided wigs will continue to look their best for a much longer period of time. Taking care of your hair properly is an investment, so make sure you give it the attention it deserves.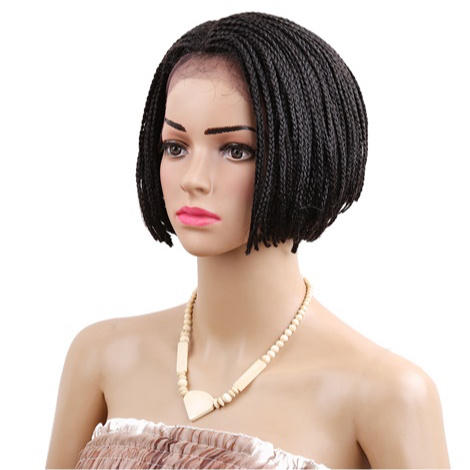 No Coloring Wigs
It is NOT RECOMMENDED to color the individual strands of a braided wig.
The strands of the braid are formed out of a synthetic fiber, which cannot have its color altered in any way.
Nevertheless, the human hair lace front wigs on which the braid is done may be colored, but it is not recommended to try coloring it because doing so can damage the roots of the hair, which in turn might cause the strands to start falling out.
There is no need to worry about bleaching the knots because this can be done easily and comfortably. To achieve the scalp illusion effect, the bleach is only used for a very short period of time on the lace.
Other Dos and Don'ts
You should never use a hair dryer on synthetic wigs unless they are marked with a heat-resistant label on the packaging.
Make sure you are not sleeping in your braided wigs because they may cause the tips to tangle at night.
When you wash your wig frequently, you may trap water inside the braided and possibly breed bacteria, resulting in a shorter lifespan of the wig. Therefore, it is strongly recommended not to leave your wig damp too often.
You should finger-comb the braids to loosen up tangles and ensure that the wig dries evenly as its air dries.
It is recommended to wash a wig made with human hair once per week or every other week. But, it is important to keep in mind that synthetic wigs may go a little bit longer in between washings. In most cases, once every two weeks should be adequate.
Final Action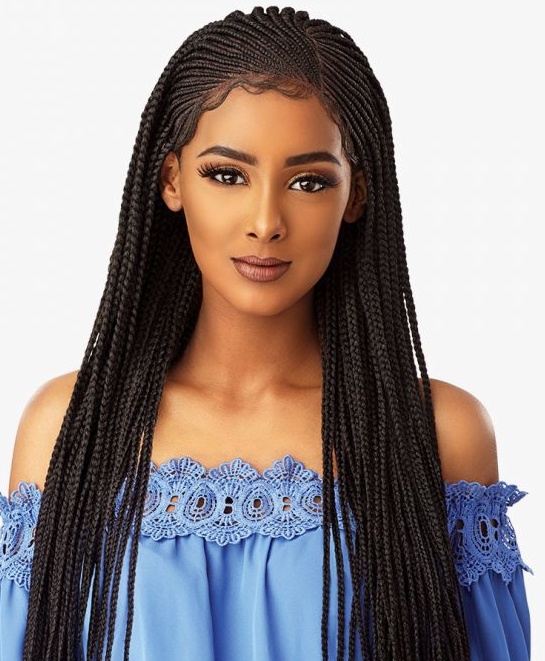 There you have it - our top tips for maintaining your braided hair wig. By following these simple steps, you can keep your wig looking fresh and fabulous for as long as possible.
Whether you're wearing your lace front wigs for fashion or convenience, taking good care of them will ensure that it lasts longer and looks better. So, what are you waiting for? Get out there and show off your perfectly maintained braided wig!