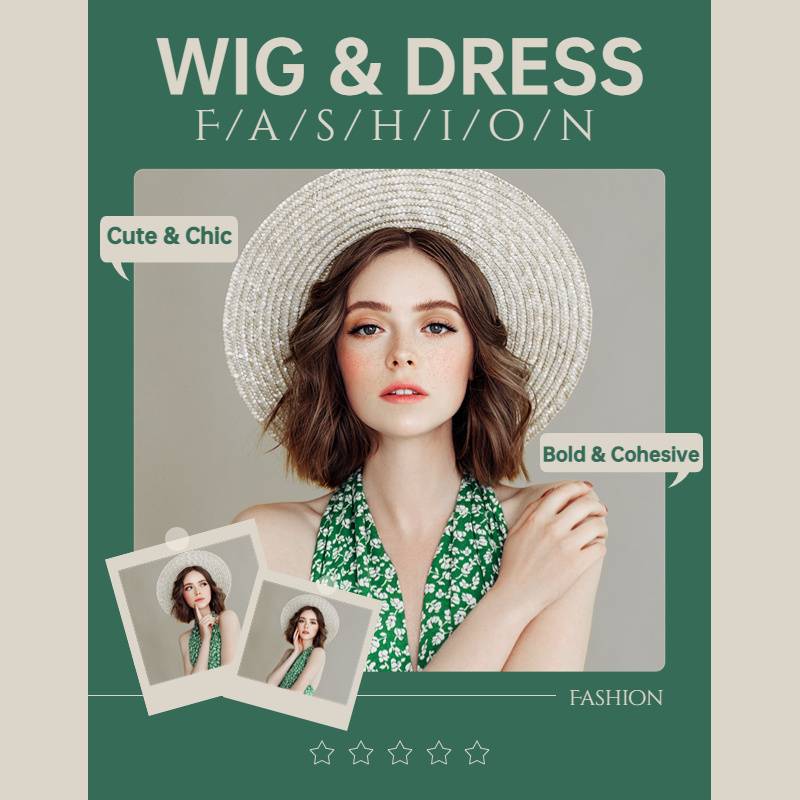 Welcome to my blog, where we'll explore the art of matching women's lace front wigs and dresses! This topic may seem trivial, but it's so much more than just fashion. It's about expressing yourself, feeling confident, and embracing your unique beauty.
Matching your wig and dress isn't just about following trends or conforming to societal norms. It's about expressing yourself in a way that feels authentic and empowering. When you look good, you feel good, and that confidence radiates to the world around you.
So, whether you're a seasoned fashionista or just getting started, I'm excited to share some tips to help you create a stunning and cohesive look. Let's dive in and discover how matching your wig and dress can unlock a whole new level of confidence and self-expression!
Choosing the Right Wig for Your Dress
Choosing the right wig is essential for completing your stylish look. Depending on the style of your dress, there are a few things to keep in mind when selecting a wig.
By taking these factors into account, you can choose the perfect wig to elevate your outfit and boost your confidence. Now let's take a closer look at some examples and explanations that match these examples.
1. Consider The Style Of Your Dress
The style of your dress can influence the style of your wig. If you're wearing a formal dress, a sleek and sophisticated wig can add a touch of elegance to your overall look.
On the other hand, if you're wearing a more casual sundress, you may want to opt for a more relaxed, natural-looking wig that complements the laid-back vibe of the dress.
2. Match The Color Of Your Wig To Your Dress
Matching the color of your wig to your dress is important because it helps create a cohesive and polished look. Consider the dominant color of your dress and choose a wig that complements or matches that color.
For example, if you're wearing a red dress, a wig with a similar shade of red or a complementary color like black or blonde can work well.
3. Consider The Occasion
The occasion you're dressing for can also play a role in selecting the right lace front wig. For formal events like weddings or black-tie galas, a more traditional and elegant wig may be appropriate.
On the other hand, for a night out with friends, a more playful and fun wig with bold colors or unique textures can work well.
4. Complement The Neckline Of Your Dress
Your dress's neckline can have a significant effect on the style of your wig. The neckline of your dress will have a direct influence on the style of your wig; a high neckline will require a longer wig, while a low neckline will require a shorter wig. The shape of the neckline will also determine the shape of the wig and how it sits on your head.
For example, if you're wearing a strapless dress, a wig with long, loose waves or curls can add softness to the neckline and draw attention to your shoulders and collarbone.
Alternatively, if you're wearing a dress with a high neckline, a wig with a sleek and polished updo can create a sophisticated and elegant look.
5. Choose The Right Length
The length of your wig is another important consideration when matching it with your dress. Consider the length of your dress and select a wig that complements it.
For example, if you're wearing a knee-length dress, short lace front wigs can help balance the proportions of your overall look. On the other hand, if you're wearing a maxi dress, a longer wig can add drama and elegance to your outfit.
Possible Examples for Cohesion of Wigs and Dresses
Whether you're wearing a casual sundress or a formal gown, selecting the perfect wig involves considering factors such as the style and color of your dress.
Here, we've put together a few examples of how to choose the right wig to complement your dress, so you can feel confident and beautiful no matter where you're headed.
Scenario 1: A formal, black-tie event
For a formal, black-tie event, a classic updo wig may be the perfect choice to complement a long, flowing dress. A sleek and sophisticated wig with pinned-up curls or a bun can add elegance and a touch of glamour to the overall look.
A dark color wig, such as black or dark brown, can complement any color of a dress. If you want to add a touch of sophistication, a wig with soft bangs or side-swept fringe can help frame your face and add to the overall look.
Scenario 2: A casual summer wedding
If you are attending a casual summer wedding, a more relaxed and natural-looking wig may be appropriate. A long, wavy wig with a center part can add to the carefree and relaxed feel of the outfit.
You can choose a wig in a warm and sunny color, such as blonde or light brown, to complement the bright and cheerful mood of the event. A loose braid or messy bun can also add to the effortless and natural feel of the outfit.
Scenario 3: A cocktail party
You may choose to wear a sophisticated wig that complements a short dress that you are wearing for a cocktail party.
A straight, chin-length bob can add a touch of glamour and elegance to the outfit, while a wig with soft waves or curls can add volume and texture.
A wig in a bold and daring color, such as red or purple, can add a pop of interest and make a statement. You can also choose a wig with a side-swept fringe to add dimension and frame your face.
Scenario 4: A beach wedding
The loose waves of a beach wig can complement an elegant, flowing, and airy dress that's perfect for a beach wedding.
A long, wavy wig with highlights or an ombre can add to the natural and effortless vibe of the outfit.
As an alternative option, some colored lace front wigs in a lighter color, such as blonde or sandy brown, can complement the beachy and sunny atmosphere. You can also add a flower crown or a headband to add to the beachy and bohemian feel.
Scenario 5: A business meeting
It is possible to complement a tailored and professional dress with a sleek and polished wig when you go to a business meeting.
Straight bobs and high ponytails are some of the best ways to achieve a professional and put-together look. When you wear a wig in a natural color, such as black or dark brown, it will enhance the natural look of your outfit and add a sense of class and refinement to it.
To enhance your overall look, you can also add a statement necklace or a pair of earrings to add interest and sophistication.
Scenario 6: A night out with friends
If you are going out with friends, you may want to choose something playful and fun that complements a short dress that you are wearing.
Voluminous and curly lace front wigs can be a great way to add a fun and lively vibe to your outfit, enhancing your fun and lively feel.
In a playful and festive environment, a wig in a bold and daring color, such as pink or purple, is a great addition that will make a statement and add to the festive atmosphere. It is also possible to complete the look by adding a pair of statement earrings as well as a clutch.
Styling Your Wig and Dress Together
When you style your wig and dress together, you can enjoy a creative and enjoyable experience. We would like to share with you some additional tips and tricks that will assist you in achieving a cohesive and stunning look.
You may add accessories--
Accessories can add the perfect finishing touch to your outfit. In addition to statement jewelry, you can also consider adding a scarf or a hat to your look.
A scarf can add texture and color to your outfit, while a hat can provide a touch of sophistication and elegance. A belt can also be added to your outfit to accentuate your waist and give your silhouette a little more definition.
You may match your makeup--
Your makeup should complement your wig and dress as well. Consider the colors and tones of your wig and dress when selecting your makeup. If your dress has bold colors, consider using more neutral makeup to balance out your look.
Alternatively, if your wig is more natural-looking, you can experiment with bolder makeup looks. You can also consider matching the colors of your makeup to the colors of your accessories for a cohesive look.
The most important element of any outfit is confidence. When you wear your wig and dress with confidence, you'll radiate beauty and elegance.
Remember that your style is a reflection of who you are, and embrace your unique beauty and personality. Stand tall, smile, and enjoy your look!
Wrapping Up
Matching your lace wig and dress is an important aspect of creating a fashion statement look. By considering the style, color, occasion, neckline, and length of both your wig and dress, you can create an outfit that exudes confidence and beauty.
Styling your wig and dress together involves experimenting with different hairstyles, adding accessories, matching your makeup, and most importantly, wearing your outfit with confidence.
By taking the time to carefully select the elements of your outfit, you can create a look that reflects your unique personality and style.
It's essential to remember that beauty comes in all shapes, sizes, and styles. Embrace your unique features and experiment with different looks to find what makes you feel confident and beautiful.