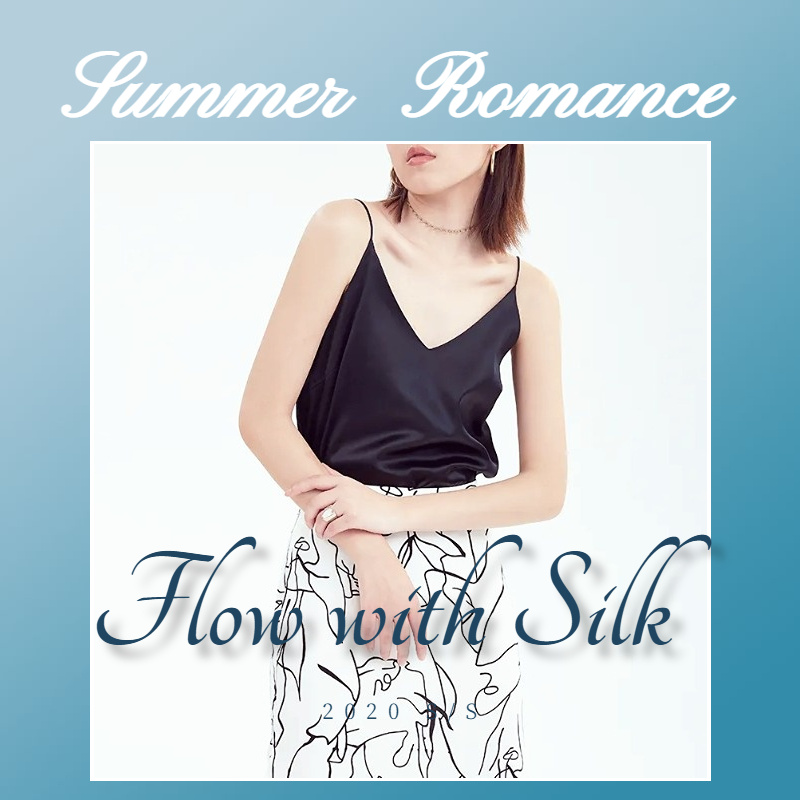 Welcome, silk lovers! If you're a fan of silk tank tops, then you know how luxurious and delicate they can be. Whether you're rocking a classic ivory camisole or a colorful, patterned blouse, silk is a timeless fabric that never goes out of style.
But let's face it: caring for silk can be intimidating, and it's easy to make mistakes that can ruin your favorite sexy tank tops. That's why we're here to help!
Want to explore more top tips and advice for caring for your silk tank top? No more waiting, and start your reading journey to our articles. And you can keep your silk tank tops looking gorgeous for years to come.
What Pitfalls Do Silk Tank Tops Have
It goes without saying that silk-made tank tops are perfect garments for women, making us look more glamorous and luxurious.
Silk, however, has some common pitfalls that come from the nature of the material itself. This makes silk more delicate and delicate than any other material, such as spandex, cotton, or linen.
Tank tops made of silk are prone to snagging and tearing, thus this kind of fabric ought to be treated with extreme caution. They are easy to get damaged if they are exposed to jagged objects or rough surfaces.
As a delicate fabric, silk may easily become stained and is notoriously hard to clean. It is important to exercise caution when wearing a silk tank top because of certain stains.
In particular, those caused by oil-based substances or red wine can be super challenging to remove from silk. Because of this, it is important to be mindful of what you wear and eat while you are wearing a silk tank top.
Again, due to its delicacy and luxury, extra caution is required to prevent damage to the fabric while washing and drying silk sexy women's tank tops. In addition, silk should be preserved correctly in order to avoid any damage or wrinkles from occurring.
How to Look After Silk Tank Tops
1. First Thing First: Read the Clothing Label
As smooth and thin as the material may seem, it is actually possible to clean the pieces at home as long as you are gentle when doing so, even if it sounds like something that needs to be handled by professionals.
The manufacturer may recommend Dry Cleaning as a method of cleaning on a label, but it may not be the only method that is available when it comes to washing silk tank tops. In many cases, a silk garment can often be washed by hand as an alternative to machine washing.
However, it is important to strictly adhere to dry cleaning instructions and to consider it to be one type of washing only when it indicates Dry Cleaning Only on the label.
2. Watch out for Color Fading
A dyed silk garment will fade when washed, so be sure to test for colorfastness before you wash it. The best way to test for colorfastness is by using a damp cleaned cloth or Q-tips to wipe an inconspicuous area like the inside seam.
If there is any bleeding of color on your garment, you will need to take it to the cleaners. In addition, brightly colored and darkly patterned clothing should also be left to the professionals when it comes to cleaning.
3. Top Washing Method: Hand Wash
While you may put your silk items through a moderate cycle in the washing machine, it is recommended that you hand wash each of these really delicate things in the sink one at a time.
The best way to maintain the color of your silk tank top is to fill it with cool or cold water, then add a mild detergent that does not contain harsh chemicals. It is recommended to use mild shampoo or a gentle detergent to wash your silk tank top.
In the meantime, the cold water prevents the fabric from shrinking and makes the colors of the tank top stay vibrant. The mild detergent helps remove any dirt and oil without damaging the delicate silk fibers.
Let the sexy tank top soak in the water for a few minutes, stir it to get bubbles, and then remove it from the water after a few minutes of soaking.
In addition, silk is also a fast-cleaning material, so it doesn't take a long time to get rid of dirt. Then you should drain the soapy mixture and rinse it thoroughly with cool, running water to thoroughly get rid of any soapy residues.
4. Gently Remove Stains
It is not necessary to purchase a stain fighter that is specifically designed for silk. Alternatively, you can combine 2 cups of lukewarm water with 2 tablespoons of lemon juice or white vinegar to make a homemade solution that you can use instead. A mixture of this type is well known and is good for removing stains caused by deodorant and perspiration.
The colorfastness of the fabric was tested, and there were no changes. It is as simple as filling a clean spray bottle with your mix and spraying it on the stain.
Apply the mixture gently to the affected area with the help of a sponge. It is recommended to make a circular motion and be gentle with your gesture, since rubbing can damage the delicate fibers if you are too rough with them.
5. No Wringing or Sun Drying
Silk items should never be wrung out or thrown in the dryer because they could damage the material of your crop tank tops. The fibers in silk are delicate and can be easily stretched and pulled out of shape.
Additionally, heat from the dryer can cause the fibers to shrink and become brittle, making them prone to breakage.
The best way to remove excess water from a wet tank top is to place it onto a white cotton towel in order to avoid twisting the fabric.
It is recommended that you fold the towel over and gently blot the tank top. After that, you can hang the silk tank top in the shade and dry place with good ventilation, using a padded hanger, and let it drip dry.
Please make sure that you don't hang your silk garments in the sun because this will increase the rate at which the items fade. Sun exposure can damage silk quickly as its delicate fibers will weaken from the heat and ultraviolet rays.
This can cause color fading, weakened fibers, and other damage. It shouldn't take more than an hour for the drying process to be completed.
6. Wrinkle Smoother: Steamer
It is normal to use either iron or a steamer to smoothen the silk, but when it comes to ironing, it is usually easier to do so than steaming.
Nevertheless, you can still use steam to flatten the wrinkled spot as long as your steamer is made for delicate fabrics so that you do not damage the fabric in any way.
Turn your cropped tank top inside out if you only have an iron, and use a low setting on your iron to start the process. You may want to sprinkle some water on the tank top so that it becomes slightly damp.
As we mentioned earlier, you can use a steamer instead. However, you should be careful not to use the steamer at a high temperature as this can damage the garment.
There is a likelihood that the steamer will drip and leave stains on your tank top due to leakage, and you must soak it in cool water and allow it to dry if this situation happened to you. As a result, you should be able to get rid of the spot by doing so.
7. Hang up for Storage
When storing silk items in your closet, make sure that they are hung on fuzzy hangers, and this will prevent them from slipping on the hangers and snagging on them. The best way to hang silk tank tops is to use a hanger with a wide bar.
This is because silk is a delicate fabric and can be easily damaged by the metal bar of a regular hanger. The wide bar of a fuzzy hanger helps to distribute the weight of the fabric more evenly and prevents the fabric from slipping off the hanger and getting snagged.
You should keep in mind that moths enjoy feasting on natural fibers such as silk if it is stored for a period of time. Therefore, if you wish to store silk clothing for the season, you must clean them before storing them.
Parting Word
We hope you found these tips helpful for caring for your silk sexy women tank top!
Remember, silk is a delicate fabric that requires a gentle touch and special attention. But with the right care, your favorite silk camisoles and blouses can last for years and bring you joy every time you wear them.
Don't be afraid to experiment with different washing and storage methods to find what works best for you.
And most importantly, have fun! Wearing silk should be a luxurious and joyful experience, and with these tips, you can keep your silk tank tops looking beautiful and feeling amazing for a long time to come.