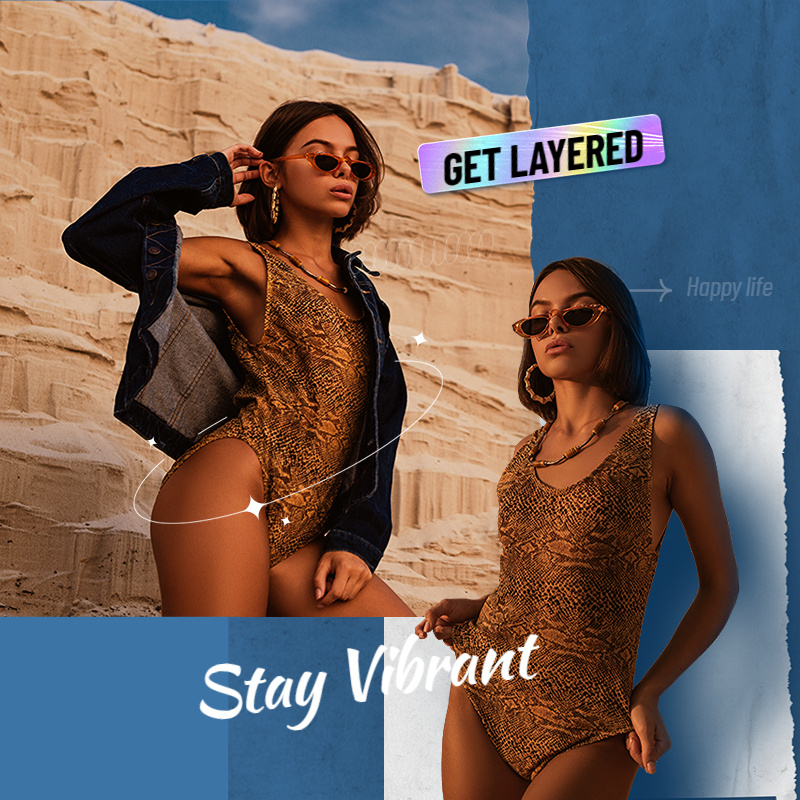 For many of us, we all know one thing: swimsuit season is coming up soon! While some may dread the thought of baring it all in a bikini, there's another swimwear option that's both stylish and comfortable: the one-piece swimsuit.
But how do you style a sexy one piece swimsuit to make it look and feel like more than just swimwear? That's where this post comes in. We'll be sharing our favorite tips and ideas for taking your one-piece swimsuit from basic to bombshell.
So whether you're lounging by the pool, catching some waves, or simply soaking up the sun, we've got you covered. Let's dive in and explore the wonderful world of one-piece swimsuits!
What can we get the most from styling one-piece swimwear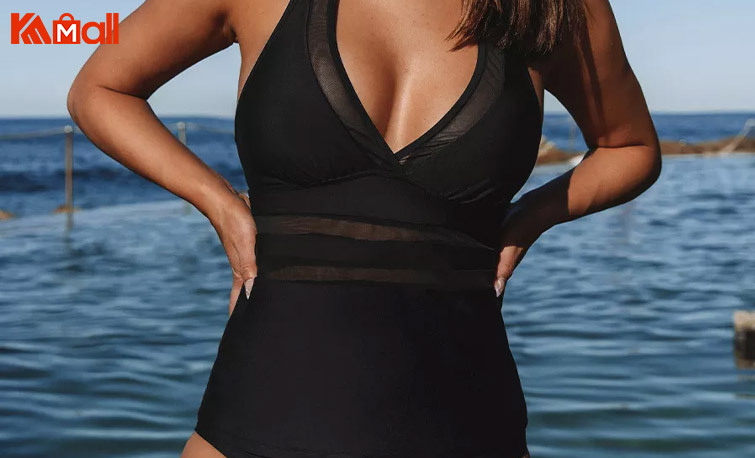 You may get more wear out of your one-piece swimsuit by accessorizing it with other pieces to make it appear like you're wearing many distinct outfits.
Dress up a one-piece swimsuit for a pool party or a formal resort event by adding a statement necklace and a wide-brimmed hat, or tone it down for a day at the beach by pairing it with a smart cover-up and some trendy sunglasses.
Styling properly may help you stand out from the crowd and highlight your own sense of style. Accessorizing and layering your one-piece swimsuit correctly is a great way to express yourself without speaking a word.
To shield your skin and eyes from the sun's damaging rays, consider wearing a sun hat and/or sunglasses.
Adding versatile elements to your one-piece sexy swimwear may help you feel more confident and at ease in your own appearance, both of which can lead to a more enjoyable outing experience.
More time and energy will be spent laughing and playing on the beach, poolside, or street if you feel stunning and confident in your fancy outfit, allowing you to show off your personal sense of style.
How to Achieve Fancy Look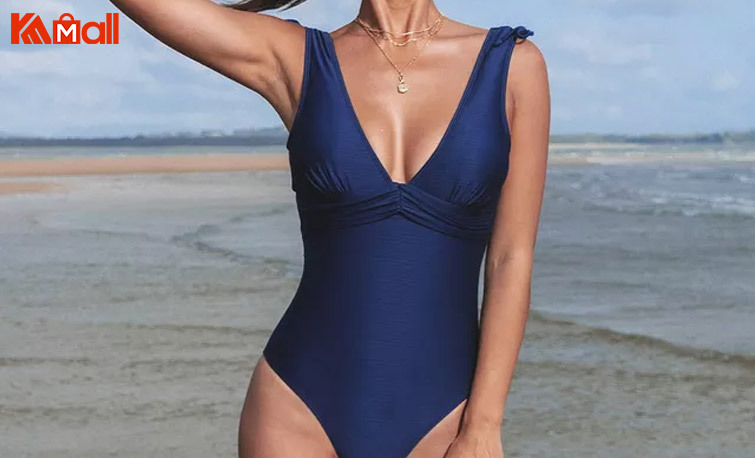 There is an increasing trend of wearing one-piece swimsuit styles on a daily basis, easily converting this summer staple into an easy-to-wear outfit of the day.
Whether you are going for a more formal look by wearing a blazer, a skirt, and some heels, or you are going for a more casual look by wearing a sarong and some sneakers, a one-piece swimsuit is always a basic layer that can be paired for everyone.
With this beach must-have, you are definitely getting more bang for your buck than you expected.
+ Caftan
Caftans are always a great option when it comes to dressing up when you are at the poolside, especially when you are wearing a one-piece suit. It is a good idea to choose a coverup with a pattern whose colors reflect the hue of the one piece you are wearing.
You can finish off the look with a simple piece of jewelry and flip-flops. You will know what you love about this look is that it's both chic and easy to wear!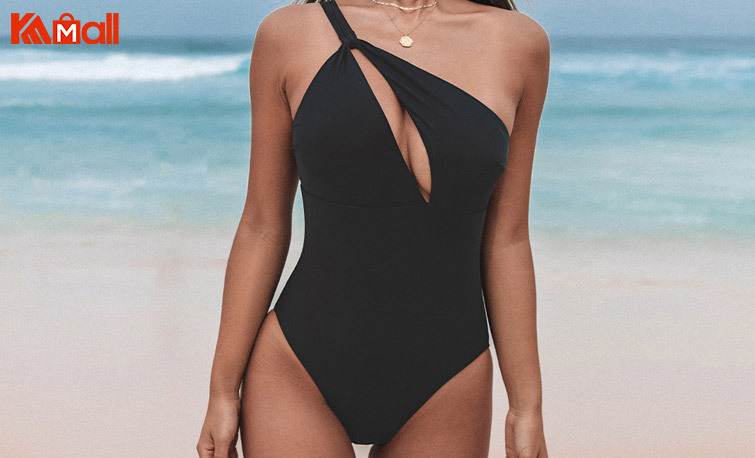 + Trousers
A one-piece sexy women's swimwear can be styled with a pair of wide-legged trousers to create the perfect summer look. Wear strappy sandals and a straw hat, and you will be good to go. If your accessories are minimal, keep them simple.
You can also choose to add a vibrant and colorful handbag for a pop of color. Opt for a statement necklace for an edgy look. Finish off the look with a pair of oversized sunglasses.
+ Mini Skirt
Adding prints and textures to your swimsuits can elevate your fashion game and help you stand out from the crowd. There are some pretty interesting and high-fashion looks that can be created with the use of unexpected cutouts and silhouettes.
If you are looking for a fashion-forward look for the beach or the city, you should pair your one-piece with an asymmetric or ruffled skirt that has a style of its own. Try to mix different prints and textures in the same outfit for a bolder look.
Alternatively, choose a single print or texture that speaks to your personality and style. Ultimately, let your creativity be your guide and have fun while creating a unique and stylish look.
+ Airy Shorts
There is something luxurious about an ensemble with an air of dolce far niente: the effortlessness of the look.
Take your patterned one-piece to the next level with a statement piece. You can dress up this outfit with airy shorts and a linen button-down shirt, along with a vibrant pair of sandals, keeping your accessories simple and elegant. A headband can be a great addition to the look if you're looking for something a little different.
For a more laid-back look, you can roll up the sleeves and tuck in the shirt for a more relaxed feel. Add a pop of color with a hat or a pair of sunglasses. Finish off the look with a few simple pieces of jewelry.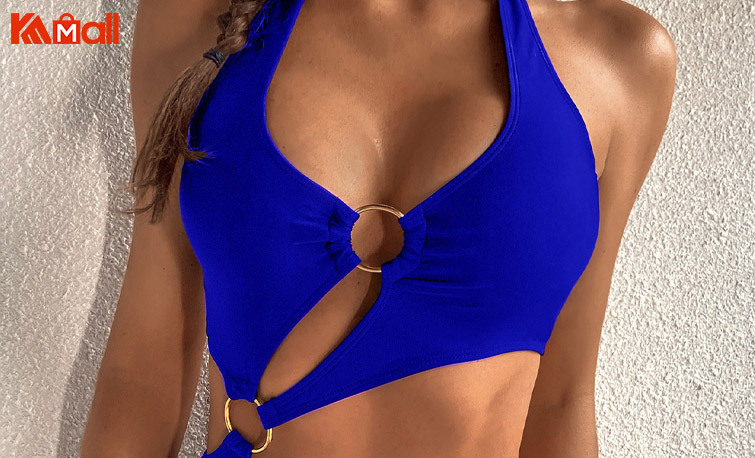 + Sarong
A good animal print never goes out of style for one-piece women's sexy swimwear. But because a leopard print really does the talking for you, you want to keep the sultry look fairly pared down in the form of a pareo, which can preferably go with black, a classic pair of shades, and a stylish sarong.
For the finishing touches, you can opt for a pair of dainty earrings, a straw hat, and a pair of sandals. All these accessories will bring the perfect balance to your look.
+ Denim Shorts
Adding denim shorts to your one-piece swimsuit is your quintessential beach look when you're on vacation at the beach.
To complete your OOTD, you only need a pair of nicely tailored cut-offs and a pair of sandals to complete your look. You can't go wrong with a clean, neutral suit as your base.
Accessorize with a beach hat, sunglasses, and a cute beach bag, and you're all set for a day of fun in the sun. Add a light beach coverup, and you're ready for a day at the beach.
+ Blazer + Skirt
There is no problem with wearing a swimsuit to work! The versatile maillot can easily be used as a bodysuit in addition to an outfit appropriate for the workplace.
Using a one-piece bathing suit with a blazer and skirt combo is a great way to wear it for your every work day. You will be sure to turn heads with this look and create a statement when you wear it.
Plus, swimsuits are usually made of lightweight fabrics that will keep you cool in the summer months while still looking professional. Invest in a good quality maillot and you'll have a stylish option you can wear to work all year round.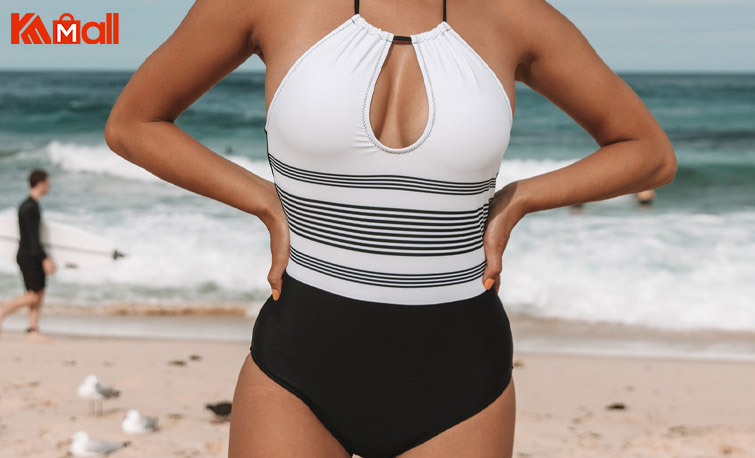 + Maxi Dress
There is no mistaking the effortless chic of this foolproof style combination no matter what the occasion may be. Adding a flowy maxi dress to your one-piece swimsuit will be the perfect match on a hot summer day.
This is a great cover-up that you can wear by the beach, or you can wear it while lounging around the house. The best part about this combination is its versatility.
You can dress up your sexy swimwear for women with a belt and jewelry for dinner, or you can add a pair of sandals for a more casual look. Whatever the occasion may be, this style combination will never fail to make you look effortlessly chic.
+ Denim Jeans + Denim Jacket
Adding a comfortable denim outfit to your one-piece swimsuit will make you look trendy and cool.
You can finish off your OOTD with a baguette bag and some strappy heels for that slightly retro look that is definitely on trend at the moment, and that gives a nod to the early aughts. To complete the look, add a pair of oversized sunglasses and a floppy hat for a touch of glamour.
Finish off with a spritz of your favorite perfume and lip gloss with bright and pop color to add more vibrance, and you'll be ready to turn heads.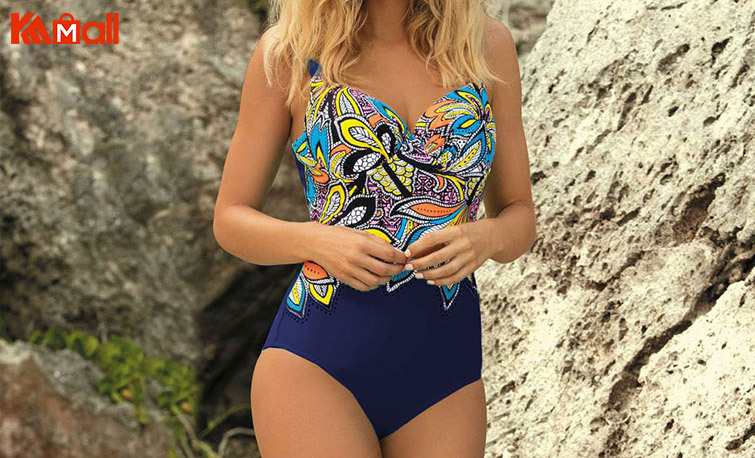 + White Button-Down Shirt
There is no doubt that less is more when it comes to this look.
For a simple, breezy summer look that's perfect for lounging at home or making the most of your sailing holiday, pair your one-piece swimsuit with a simple white button-down shirt for that easy, breezy look that'll make you look great.
Complete the look with some white sneakers and a pair of shades, and you are ready to go! This effortless style is perfect for those days when you want to look chic but feel comfortable.
Plus, it's easy to customize with different colors and pieces to create a unique look that's all your own.
Heat Call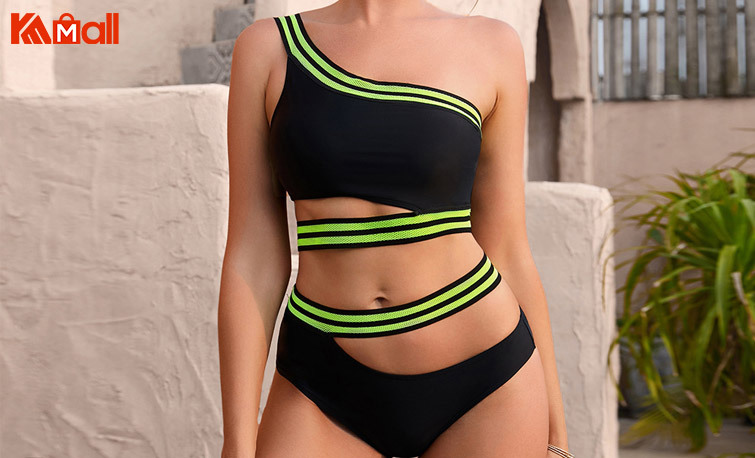 And there you have it, folks: our top tips and advice for styling your one-piece swimsuits like a pro.
Whether you prefer bold prints, sleek cuts, or playful details, there are endless ways to make your smart and sexy swimwear work for you. So don't be afraid to experiment, mix and match, and have fun with your beach looks this season.
After all, the best swimsuit is the one that makes you feel confident, comfortable, and ready to take on the world (or the waves!).