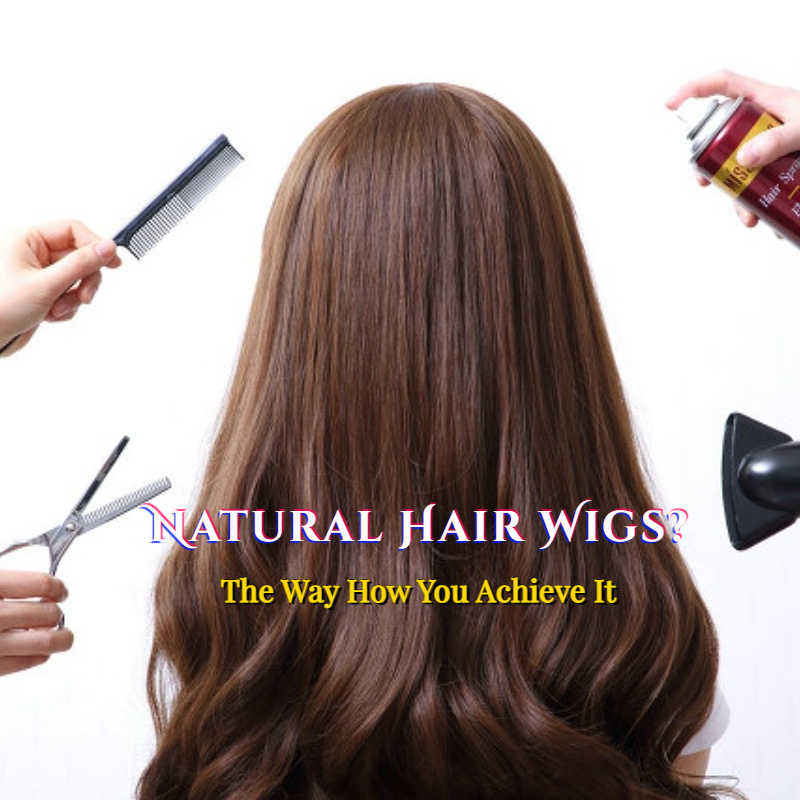 Welcome to our blog on how to make hair wigs look natural!
Wigs have become a popular choice for people who want to switch up their look or conceal hair loss, but getting a wig to look natural can be challenging. Fortunately, you can make your lace wig look like your own hair with some tiny teeny tips, and no one will ever know the difference.
In this post, we'll be sharing our expert advice on how to make your wig look as natural as possible. We'll cover everything that we believe you would like to know about maintenance tips that will keep your wig looking its best.
So, if you're ready to rock a natural-looking wig that will leave everyone impressed, keep reading!
What Makes Your Hair Wigs Unnatural
One of the biggest giveaways that a wig look fake is a high shine or gloss. Natural hair has a more matte finish, so wigs that reflect light too much can look unreal.
When buying a hair wig that looks glassy and glistening, you should consider using some products to make it seem less glassy and glistening. The sheen can be reduced by spraying dry shampoo or talcum powder on the wig or by using a wig-specific matte spray.
Another factor that can make a wig look fake is an incorrect hairline. Natural hairlines have subtle variations and imperfections, whereas wigs that have a straight hairline or look like a solid line can look unnatural.
It is therefore recommended that if you find yourself stuck with creating a more natural-looking hairline, you pluck a few hairs from the front or consider wearing a lace-front wig.
Synthetic fibers are often used in wigs because they are less expensive than human hair wigs, but it is also another hidden problem that makes your hair wigs look less natural.
Synthetic fibers are usually shinier and have a different texture than natural hair. Human hair wigs are more expensive but can be styled and treated like natural hair, making them look more natural.
There is also the possibility of making a wig appear fake if it has unnatural colors. Lace wigs that have bright or unrealistic colors can look artificial, so it's best to stick to colors that are similar to your natural hair color or try a shade that complements your skin tone.
Getting the right fit for a wig is of the utmost importance. Wigs that are too big or too small can look unnatural. It is essential to measure your head and choose a wig size that fits you properly. You can also use wig grips or clips to ensure a secure and comfortable fit.
How to Achieve Natural Beauty on Your Hair Wigs
Choose The Right Type of Hair Wig
If you are a newbie who is interested in learning how to make hair wigs look natural, you may begin by considering the many types of wigs available and deciding which one would give you the most natural appearance.
Lace front wigs are an excellent choice since they create the impression of a natural hairline and can be styled in a wide variety of ways.
Because the wigs are made to appear as natural as possible, the hair on the wigs may move freely, and the parting in your hair can be placed anywhere you want it to be. This is a terrific option for those of you who enjoy experimenting with different ways to style your hair.
It's possible that you've encountered situations in which you've found that certain synthetic wigs give off an excessively sparkling appearance.
When deciding which wigs seem natural for a novice, this fact may be a little bit off-putting since, while the majority of people aim to obtain such a shine in their real hair, the shine on a wig might appear to be too fake.
Yet, there are certain hair wigs that do accomplish such a natural look. This is natural for glossy synthetic fibers, which are used in the construction of your wigs produced from synthetic materials.
But, there is no need to be concerned. Dry shampoo, talcum powder, and the wig-specific matte spray that we discussed earlier are some of the hair treatments that are available on the market for you to use in order to reduce the shine that your synthetic wigs give off.
Properly Position Hair Wigs
To make a wig look natural, and to make sure it remains in place on your head the entire time, you need to position the wig in the right place on your head, by aligning it correctly with your natural hairline.
You may have to spend a little bit more time putting on the hair wig if you want to achieve the most natural look possible, but it's worth it in the end. Make sure that you align it properly with your natural hairline.
Doing so will ensure that the wig looks indistinguishable from your natural hair, as it will cover any skin or scalp that would otherwise be visible. Additionally, it's important to make sure that the wig is secured properly so that it won't shift or fall off throughout the day.
Get Some Hair Bits
When it comes to creating a wig that looks natural, the secret is to use wispy bits!
Every person with natural hair has a few wisps or baby hairs along the length, which indicate that your hair is real and that it grows naturally if you want to make your hair wig look real.
It is possible to create an illusion of these natural wispy bits if, by lightly trimming a few areas on both sides of the wig, you can achieve this.
It would be best if you were able to take the hair to your hairdresser for a natural look if you are not confident in doing this yourself.
There is of course a big difference between cutting random hairs and cutting your own hair. However, it is important to note that this kind of cutting is meant to not be precise, so one does not need professional skills to do it.
Choose Pre-parting Hair Wigs
If you are not the most daring person when it comes to arranging your hair, there is no need for alarm; you may select a wig that already has a parting in it. The good news is that these wigs are often of a far higher grade.
Nonetheless, they assist you in accomplishing an appearance that is significantly more natural. As an alternative, if the wig is not laced well on the top, opt for a side parting, as it will be less noticeable in the wig.
It is important for you to keep in mind that if something appears too perfect and in place, then that can give away what you are wearing.
The best way to make a wig look natural for beginners is to embrace imperfections, which will enhance the natural look of the wig and can help you make it look more realistic. It all boils down to finding the right balance on lace front wigs.
Choose A Wig with Fringe
There is a strong correlation between a wig's hairline and its authenticity. Having a fringe on your wig is a great option if you want something that is easy to wear, without too much adjustment or moving around on your hair wigs when you want to put them on.
The hair at the front of the wig will conceal any lines that might be visible on the wig, regardless of whether you choose a full fringe or not.
If the hair wig you selected has too many fringes and you do not want them to be too thick, then you should take it to the hairdresser and let him work some fringe magic on it!
Choose the Right Colors
There is a certain amount of dimension to all hair, and it is very unlikely that the color of your natural hair will be only one color without any gradients in between.
There are many options available when it comes to wigs, such as wigs with rooted colors, wigs with natural highlights or lowlights, or wigs with a combination of both, that give a great appearance on your colored lace front wigs.
Wigs with rooted colors are pre-colored and offer a greater range of colors than natural highlights or lowlights. Additionally, a combination of both rooted colors and natural highlights or lowlights can create a more natural-looking color and provide more depth and dimension to the overall look of the wig.
Conclusion
And there you have it - our top tips for making your hair wigs look natural! We hope that these tips have given you the confidence to experiment with different wigs and hairstyles, knowing that you can make them look just like your natural hair.
Remember, choosing the right wig for your face shape and skin tone is the first step in achieving a natural look. Proper styling techniques, such as cutting, coloring, and curling, can also help you create a style that suits you.
Finally, don't forget to take care of your wig by washing and conditioning it regularly. With the right care, your wig will last longer and look more natural. We hope that you've found this post helpful and informative.
Thanks for reading, and we wish you all the best on your lace front wig journey!