Do you want to buy baskets, sheets, and pots from China? Do you want to save time, money, and energy? If so, you're in the right place. Kameymall-agent is your best choice for online international wholesale shopping.
If you are a business owner, consumer, and wholesaler, we can be your best choice to buy cheap and the best commodities in China. Kameymall is an experienced cross-border shopping platform, and we know how to match the right Chinese manufacturer to you.
No matter whether you are shopping for yourself, family, or friends, no matter whether you are looking for some specific products or need a comprehensive range of goods to fill your store shelves. With our help, you can save about 30-65% of your money and time in the purchasing process.
Who We Are
Kameymall, an online shopping platform originating from China, is an e-commerce platform that is used by sellers from overseas for their cross-border e-commerce business.
As one of the biggest English online shopping sites in the world for overseas buyers, we are utilizing a commission system on this website. Also, we only collect fees from the buyer and seller after the transaction has been completed successfully.
In fact, a total of 30 first-level industry categories are covered by Kameymall, which includes 3C, clothing, home furnishings, accessories, etc.
The dominant and popular products among these are mainly the following: garments and apparel, mobile communications, footwear and bags, beauty and health, jewelry and watches, consumer electronics, computer networks, furniture, and automobile items such as motorcycle accessories, lamps, and other things.
Currently, we are working towards improving customer service as well as meeting the growing needs of our customers. It is now with great pleasure that Kameymall is launching a new value-added service, Kameymall-agent, a cross-border purchasing agent.
What Is Kameymall-agent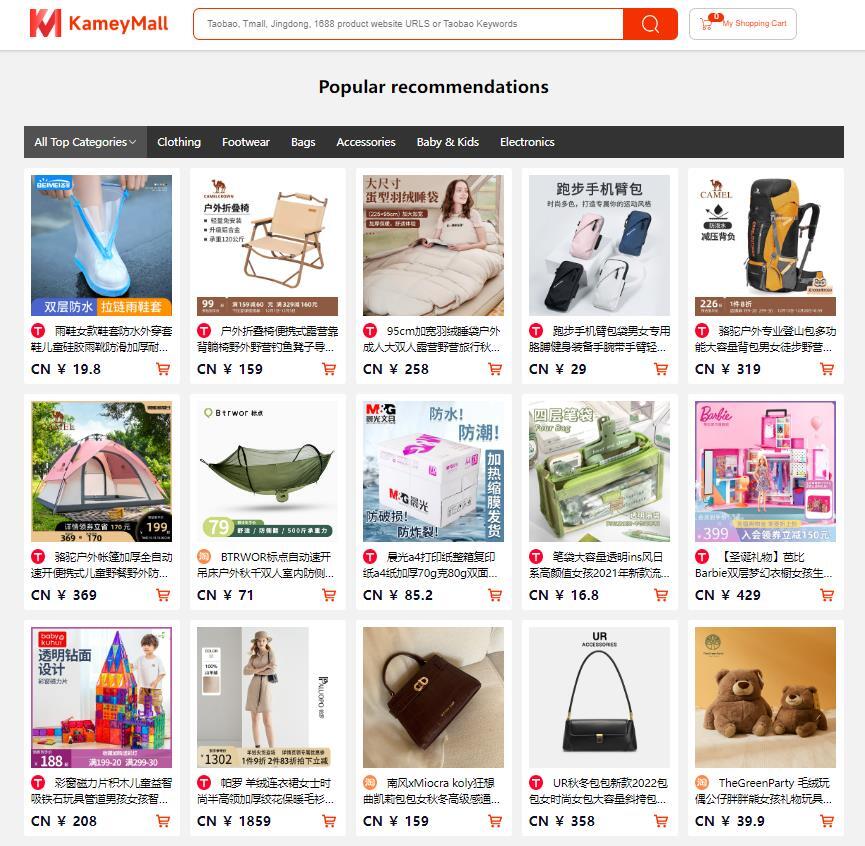 This is a new type of business that Kameymall is now undertaking for a new adventure. In addition to the original services, Kameymall-agent provides services to overseas buyers and merchants to assist them in purchasing goods in China.
Kameymall-agent is designed to allow more people to be part of the waves of online shopping that have been taking place in China, allowing foreigners to enjoy high-quality and cheap Chinese products with Chinese consumers at the same time.
At Kameymall-agent, we provide a wide range of products from China's online shopping giants, such as Taobao, Tmall, and JD. As a Taobao/Tmall/JD agent, we are responsible for finding, ordering, buying, and ensuring the goods are correct and shipping them from a Chinese online shopping seller to a client who has placed an order.
Kameymall-agent is a kind of escrow account that guarantees the protection of your transactions with Chinese sellers, but it is also an agent for shipping your goods in order to make the shipping process safer and cheaper.
You may say "oh, my browser has a feature that allows me to translate the page content"; You may however find that you are not allowed to do that when you proceed further into placing orders and paying the shipping fees, as you may find out that the sellers on those platforms do not provide international courier services, so you may not be allowed to do so.
If you have faced these issues, then it is time for you to find out why you need Kameymall-agent for ordering goods from Taobao/Tmall/JD.
About International Shipping Issues
In the case of international logistics processes, overseas courier services are one of the main issues. There are a number of things that should be kept in mind when selecting a courier company. An example of this would be the delivery time, the cost, the quality of the customer service, the response time when an issue arises, and so on.
Individual buyers often suffer from difficulties when it comes to identifying a reliable courier for international services and are not aware of how to locate a proper logistic carrier for the purpose of ordering goods from Chinese online shopping platforms, as they are not familiar with how to identify a reliable courier for international services.
It is possible that you could be charged a high shipping fee even if you accidentally find an international carrier. For now, you are not aware of any other options you have to compare prices in order to negotiate a better price.
In other words, if you have not been able to find a suitable courier for your shopping and that has been a barrier to you placing an order, then you should consider this option. The Kameymall-agent team is here to help you out!
In our capacity as a reliable and experienced third-party shopping platform for overseas buyers, we always understand how vital the international courier service is to an international shopping experience. Aside from that, as a commercial organization, we have more access to cheaper and more reliable shipping companies than any other commercial organization.
About International Shipping With Kameymall-agent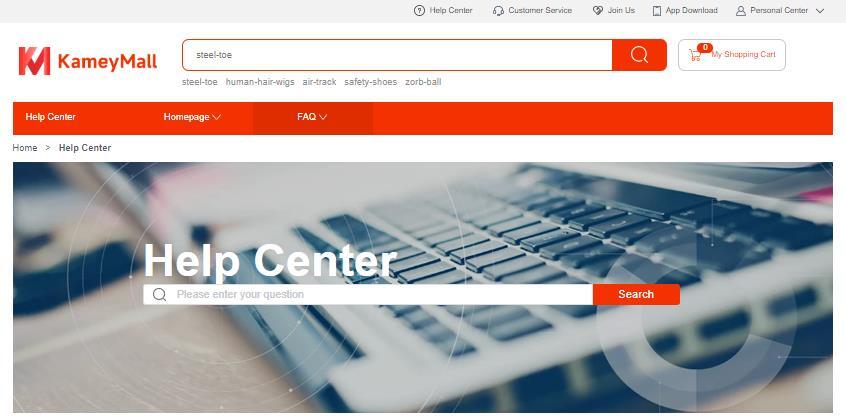 Therefore, considering the fact that we have been working with our courier company for a long time, we are completely confident in the fact that we will deliver what you have ordered to you unquestionably, except for any acts of God, such as earthquakes, tsunamis, hurricanes, etc.
There is one more important factor: if you place multiple orders on different domestic platforms in China, you will have to pay duplicated shipping fees for each order because you cannot combine all orders together on any of the Chinese platforms at once.
The good news is that Kameymall-agent can do it for you right now! We at Kameymall-agent will be able to make all the orders you place as one parcel and will be able to deliver it to you regardless of what platform you purchase from.
As a customer with us, you are able to browse as many shopping pages as you like and place as many orders as you like without having to worry about how much you will have to pay in shipping fees at the end of your shopping.
Aside from that, we are also able to provide a wide variety of options when it comes to international courier services. Therefore, it does not matter where you are, we can reach you with the best and cheapest rate as well as premium customer service without a doubt.
As a Taobao agent, we make sure the following things are made to ensure we are the best:
1. This is a very quick and efficient way to process a whole order;
2. Easy and simple Taobao shopping experience for you;
3. There is a very low cost associated with your purchase and shipping;
4. You will find it easy and convenient for you to communicate with us;
5. Our main goal is to ensure that you are satisfied with our products and services.
Solve Your Translation Difficulties
As we all know, Google Translate Add-in is a helpful buddy when it comes to translating a page, however what if you want to chat with Chinese sellers, since Taobao/Tmall/JD are Chinese shopping platforms, and the only language they speak is Chinese?
It is important for buyers to be able to read and speak Chinese in order to check information and communicate with Taobao sellers. There is a requirement that you have an e-banking account with a Chinese bank in order to complete a transaction.
At Kameymall-agent, we are able to solve your translation problems for you. The product pages of Kameymall-agent have been translated into Chinese and the hotline at Kameymall-agent is proficient in both Chinese and English.
On the main page of Kameymall-agent, you can browse suggested products with all item details in English so there is no confusion about what the item is going to be. We make the purchasing process as easy and simple as possible.
Minimize Your Shopping Risks
The moment that you place an order with Kameymall-agent, we start to monitor the following process in order to ensure that everything related to your purchased items is being handled correctly from beginning to end.
We will check with sellers about the products, styles, and quantities you ordered, and we'll let you know. To ensure that all the details of the products are aligned with what you are seeking, our staff will also conduct detailed inspections when we receive items from online sellers.
Furthermore, if you wish to keep track of the status of your parcels, you may go to "My Package" under the "Kameymall-agent" section for more information about the shipping process.
Overall, we make sure that the Taobao seller actually does send out the items, we inspect the items for visual defects in our warehouse, we let you know the photo of the items you are purchasing, and we repack the items to ensure that they are safe for shipping to your address.
Come To Join Kameymall-agent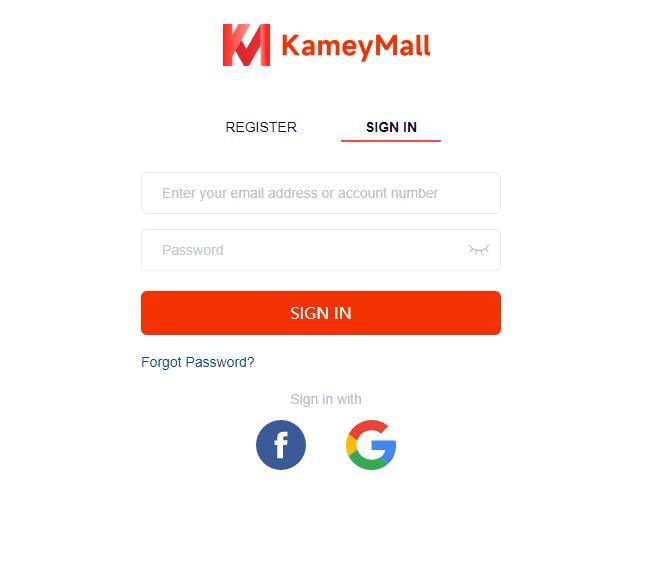 Kameymall-agent, which is a combination platform for shopping and parcel delivery, has provided the best service to its customers that has made them the best and most enjoyable online experience.