The warm, sunny days of summer are finally here, and that means it's time to break out our favorite swimsuits and head to the beach or pool. But if we're like most women, we probably want to achieve that perfect, sun-kissed glow that looks amazing in swimwear.
Getting the perfect tan lines can be tricky, though. We might end up with awkward stripes or uneven colors, and nobody wants that. But don't worry! With a little bit of preparation and the right techniques, we can achieve a flawless tan with our favorite swimsuits.
In this post, we'll share our top tips for getting that perfect tan with sexy swimwear. Get ready to look and feel amazing all summer long!
Sun Tan Gives Us Healthy Glow thru Swimwear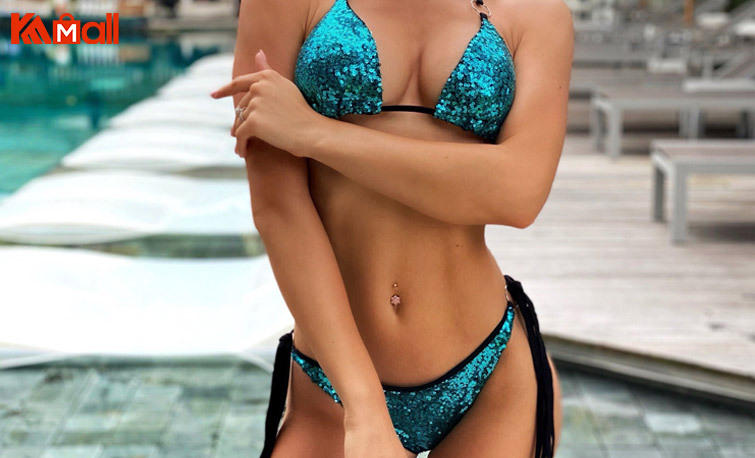 There is something undeniably alluring about going to the beach with the perfect tan, accompanied by the right swimwear. There is something about this look that radiates a sense of confidence, sexiness, and vitality.
If we have a flawless and even tan with a well-defined tan line, then our curves will be accentuated, and we will feel like a goddess of the sun with such a tan.
With the right swimwear, we can enhance our best features and create a stunning silhouette, while a perfect tan can complement any outfit and give us the feeling of glowing from the inside.
A good sun tan on our skin, combined with the right swimwear, can also be a symbol of an active and healthy lifestyle beyond its aesthetic appeal.
This is a great way to show off our hard-won achievements and acknowledge our commitment to fitness and well-being.
In addition to providing a boost of confidence that radiates from the inside out, a good tan can also make us feel like we can take on the world, making us feel like we can overcome anything.
The perfect sun-kissed tan line with the right swimwear is a look that is sure to turn heads and will make us feel like a summer goddess no matter if we are lounging by the pool or on the beach.
Don't be afraid to show off our sun-kissed skin, wear our favorite sexy women's swimwear, and let our inner confidence shine through!
What Factors be Considered for Tan Thru Swimwear Selection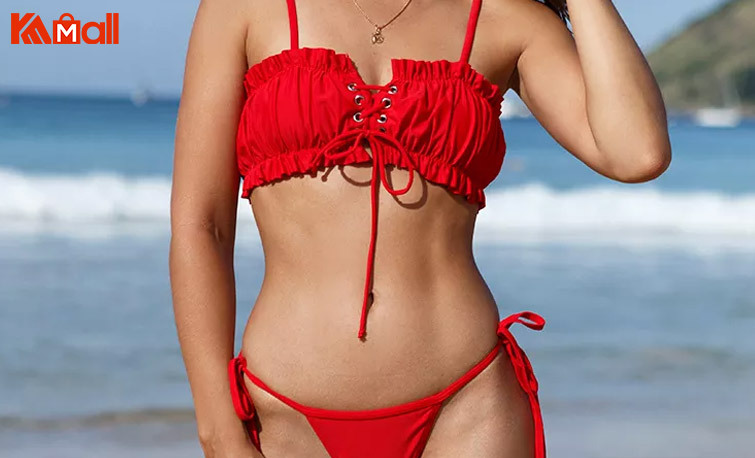 It is important to consider some factors in order to ensure that we choose the right swimwear in order to achieve a flawless, sun-kissed tan that matches any outfit in our summer wardrobe.
Style--
Swimwear can have a major impact on how tan lines appear as a result of the style you choose. Consider wearing a strapless or halter-style swimsuit if you would like to avoid tan lines on your shoulders for example.
Consider wearing a high-waisted bikini or a one-piece swimsuit with a higher-cut leg if we want to minimize the appearance of tan lines on our hips and legs.
Color--
Our sport bikini swimwear can also have an impact on our tan lines, depending on the color we choose. The darker the color of your clothing, the more sunlight it will absorb, and the more likely you are to develop tan lines as a result.
Meanwhile, lighter colors, on the other hand, can help minimize the appearance of tan lines because they reflect more sunlight. If you want to achieve an even tan, you should opt for white or pastel colors.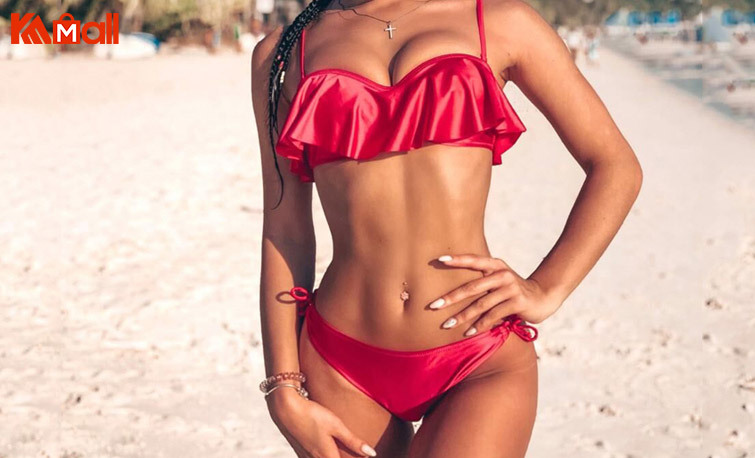 Fabric--
The fabric of our swimwear can also play a role in our tan lines. Thicker fabrics can prevent sunlight from penetrating, while thinner fabrics can allow more sunlight through. Choose a fabric that is comfortable and breathable but also allows enough sunlight to reach our skin.
Fit--
We believe that the fit of our swimwear is essential to achieving a great tan. You should make sure you choose a size that fits us well and doesn't slide around or bunch up when we wear it.
When our swimsuits fit snugly, we will be able to minimize tan lines and make sure that they stay in place even when we move around.
Cut--
There is also a possibility that the cut of our swimwear will influence the appearance of our tan lines. Cut-out swimsuits or bikinis with unique designs can be a great way to add a sense of visual interest to your look and create unique tan lines.
Best Tan-thru Swimwear for Perfect Sun Tan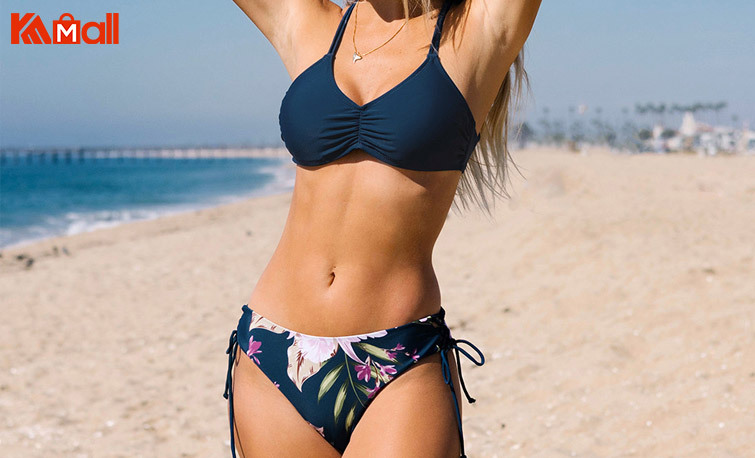 Having a natural tan is something that we love, so that's why we have designed the perfect swimwear for you to enjoy. Our swimwear is designed in a way that enables you to have a less noticeable tan on your body
Bandeau Bikini
An ideal type of bikini is the bandeau bikini, which is a two-piece swimsuit with a strapless top. Because it allows maximum exposure to the sun, this style is an excellent choice for getting a uniform tan on our shoulders and upper back.
We don't have to worry about straps getting in the way, so there won't be any unwanted tans on our shoulders.
High-Waisted Bikini
Bikinis with a high waistband are two-piece swimsuits that have a higher waistband that sits above the hips of the wearer.
In this style of a bikini bottom, there is a lot more coverage compared to a lower-cut bikini bottom, so this is a great option to minimize sun tan on our hips and lower back.
It is also the high-waisted style that gives our sexy high cut swimwear a retro and vintage touch to make it look cool and stylish.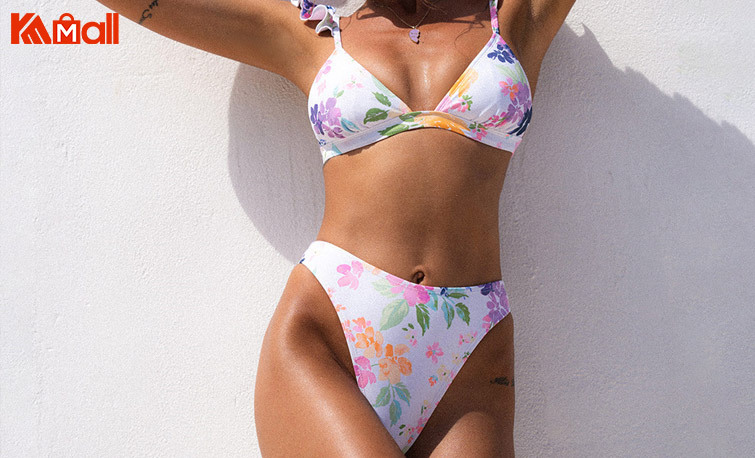 Cut-out Swimwear
A cut-out swimsuit is an example of a one-piece swimsuit or a two-piece swimsuit that has cut-outs on the side or back of the garment. This is an excellent way to create an interesting and unique tan line that will attract the attention of others.
Choose a style with cut-outs on one or both sides of the garment so that sunlight can reach different areas of our skin from different sides or backs.
A cut-out style adds an element of surprise and fashion-forwardness to the look of our swimwear, making it stand out from the crowd.
White or Pastel-colored Swimsuit
The use of white or pastel-colored swimsuits is one of the best ways to achieve a flawless and even tan while in the heat wave.
The lighter the color of the swimsuit, the more sunlight will reflect off of it, which will reduce the number of tanning lines. Choose a style that flatters the tone and shape of the skin.
Triangle Bikini
Triangle bikinis are two-piece swimsuits that have triangular cups and are constructed from two pieces of fabric. As a classic style, this tan is great for achieving a seamless tan on the chest and back of our body.
A triangular cup of this bikini top allows the wearer to get the maximum amount of sun exposure, while the thin straps ensure that there will not be any visible tan lines left behind when we wear it.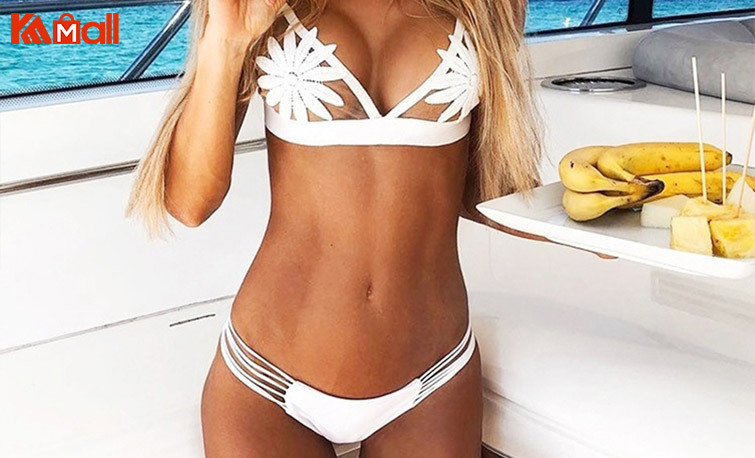 Brazilian Bikini
A Brazilian bikini can be defined as a two-piece women's sexy swimwear with a minimum amount of coverage. This style is a popular choice for sun tanning due to the fact that it allows for plenty of exposure to the sun, allowing for an even, seamless tan to be achieved.
Please keep in mind that this style may not be suitable for everyone since there is very little coverage left behind with this style.
Halter-neck Swimsuit
There are two types of halter-neck swimsuits, one-pieces, and two-piece, each of which has a high neckline and a thin strap that ties behind the back.
Similarly, achieving an even and smooth tan on the back and chest of our body will be made much easier with the use of this style.
Having a high neckline and thin straps helps to avoid any noticeable tan lines as well as giving you plenty of opportunity to get some sun exposure as well.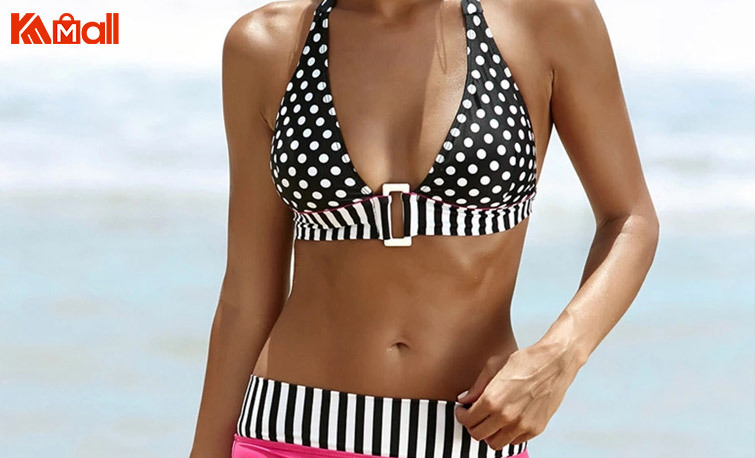 Monokini
Generally, a monokini is a one-piece swimsuit with cutouts on the sides or the back of the suit. If we want to create interesting and unique tan lines, then we should consider this style as a great option.
The cut-outs can be positioned to allow for more sunlight exposure, or less sunlight exposure, depending on the look we would like to achieve. There is no doubt that the monokini style makes our swimwear look a bit more sexy and original.
String Bikini
There is a string bikini which is a two-piece swimsuit that offers minimal coverage and is adjustable in size. There is a thin string that allows you to be able to adjust the coverage in order to ensure you get the maximum amount of sun exposure.
Please be careful when tying the strings, as if they are too tightly tied, they can sometimes leave visible tan lines on your body. String bikinis add a playful and flirty touch to the look of our swimwear collection that adds a touch of fun.
Final Say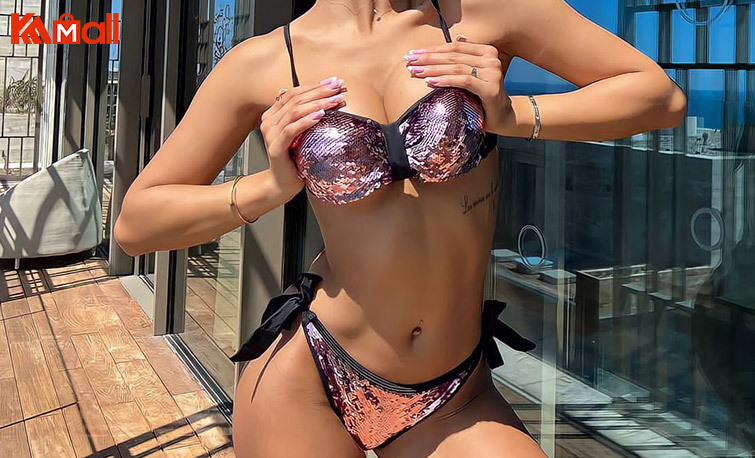 Now that we have the inside scoop on how to achieve the perfect tan lines with sexy swimwear for women, it's time to hit the beach or pool and show off our new look!
Remember to stay safe in the sun by applying sunscreen regularly, staying hydrated, and taking breaks in the shade. And most importantly, embrace our tan lines with confidence and joy. Happy summer!