The purpose of safety work shoes is to protect the feet from hazardous substances or conditions such as electrical currents, chemical spills, and biohazardous substances.
When purchasing a pair of safety shoes, it is very important to get the right measurement of your feet before you purchase them. It is a good idea to measure the length of your foot at least twice so that you can get a better idea of what it is.
Why Comfortable Safety Shoes Important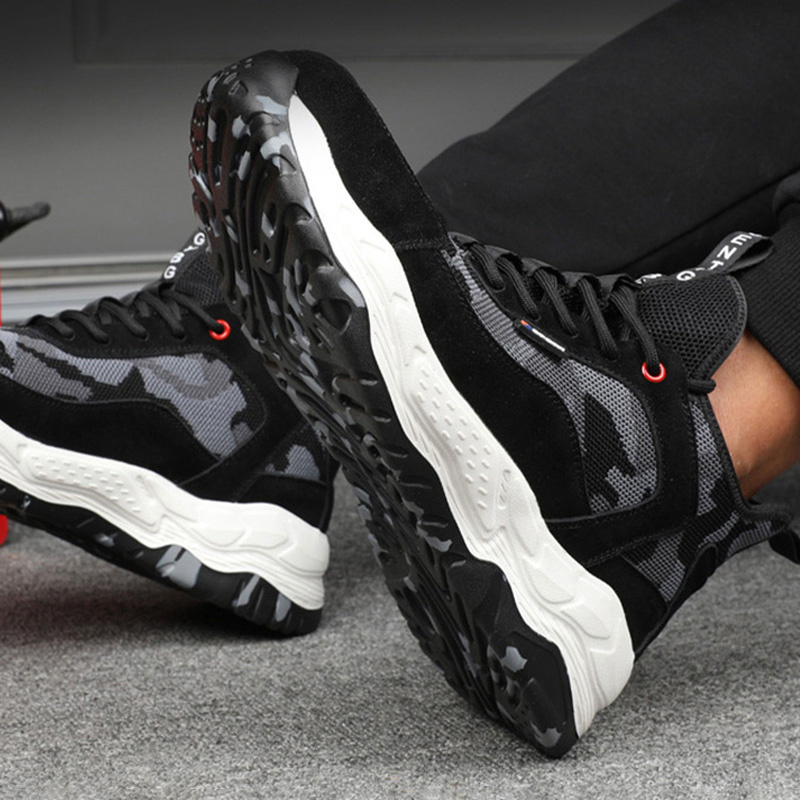 It is extremely common for workers who are required to wear safety shoes all day to complain about foot pain and foot problems very frequently. It has been found that 55% of 358 miners who participated in the study suffer from foot problems, 57% of which have been attributed to their safety shoes.
It is estimated that three times more miners experience discomfort due to incorrectly fitting safety working shoes than they do in the general population, and this discomfort is not an acceptable level.
Tight Shoes Bad For Foot
It is possible for serious foot problems to occur when safety shoes are too small. It is very possible to entrap nerves in the foot when you wear tight shoes, which can cause numbness, pain, and discomfort as a result.
There is also evidence that long-term wearing of shoes that are too tight may damage the intermetatarsal nerves (metatarsus) and may result in the development of a benign fibrous tumor known as Morton's neuroma, which is a relatively common benign tissue growth.
Loose Shoes Bad For Foot
A pair of safety shoes that is too large can also cause complications when worn. Amongst the considerable percentage of workers that wear safety shoes, it has been found that many of them are way too big for them so that they can wear the required width of a shoe.
People generally wear too big safety shoes rather than too small shoes due to comfort.
In the swing phase of the gait cycle, safety shoes that are too long pose a tripping hazard because their length reduces the amount of clearance from the ground during the swing phase.
Also, the calf muscles are put under a greater amount of strain due to the reduced amount of elastic energy stored in the plantar fascia and Achilles tendon.
It has also been shown that shoes that are too loose can also cause blisters because they do not fit tightly on the foot, and they are more likely to move the foot within the shoe.
Sizing Safety Shoes For The Right Fit
There is never an easy way to buy a pair of shoes online, because there is such a vast variety of shoe brands in this world, and each shoe brand measures its sizing differently.
As a general rule, you should measure your foot in the morning since it is likely to be smaller by the end of the day as the day goes on.
There is no doubt that getting the correct size of your foot can be a bit tricky, but it does not have to be a headache. For you to ensure that you make the right measurement for the best safety toe work shoes, we have prepared a list of useful tips in order to assist you in conducting your measurements.
Tips For Ensuring The Length Of The Foot
It is understandable that when purchasing shoes online, determining the right size for you can be a challenging task. As a general rule, the sizing of our safety footwear is similar to the sizing of any other kind of shoes that you would normally prefer to wear. Therefore, getting an accurate figure of your foot is of importance.
1. A good place to place your heel is against a wall.
2. The measurement tape should be positioned along the same side of your foot as the edge of your longest toe, normally to your first or second toe.
3. Take a measurement and record it.
4. It is recommended that you repeat steps 1-3 two more times in order to get the average measurement. Add another 5 mm to the average of foot length and you'll be able to get the proper length of your feet! A 5 mm increase is to allow swelling during work.
5. You are advised to choose your size based on the size chart provided with each model of our shoes. You can refer to the chart below.
Size Conversion Chart
Feet Length (mm)

235

240

245

250

255

260

265

270

275

280

EU Size

36

37

38

39

40

41

42

43

44

45

US Size

3

4

5

6

7

8

9

10

11

12

UK Size

2

3

4

5

6

7

8

9

10

11

Note:

For instance, the average length that you obtained from step 4 was 265 mm, so if added 5 mm to that length, this will be 270 mm.
In the case that you have measured 270 mm, then you should select 270 mm for your working safety shoes. According to the chart above, your shoe size should correspond to EU 43, UK 9, and US 10.
Tips Before You Try Shoes On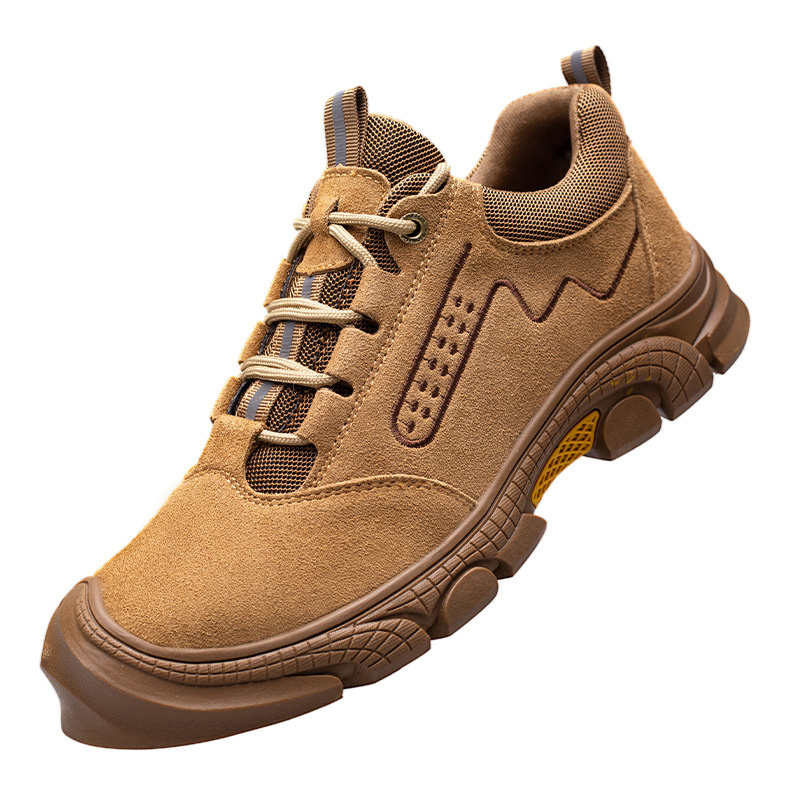 Getting the right size of shoes is the first thing that we need to do in the whole picking process in order to make sure that they are correct and relatively accurate. The next thing we need to do plays an equally important role in making sure that we get the right size shoes for ourselves.
When it comes to buying working shoes, the best time is in the afternoon or early evening when the foot is at its largest. If you must purchase it early in the morning, remember that your feet will swell later in the day. Make sure to give yourself extra room when you are fitting.
In addition, it is important to bring your socks along with you when you go to try on the safety shoes you wish to purchase so that you can get a real feel of how they feel and make the right decision regarding your purchase.
To be able to make the right choice, you need to consider fit more than style when you make your decision.
However, for some people, they have one foot larger than the other. When selecting the size, choose the one that is the largest. Styles vary in size, so be sure to purchase shoes, such as Indestructible composite steel toe safety shoes, by feeling as well as measurement.
Measurement is merely a starting point. You might need to wear up to one full size differs depending on the brand or style.
Tips For Trying Shoes On
As you try on the shoe, you should push your toes forward until they touch and your index finger should fit behind your foot so you can see if the shoe fits properly by doing this. If the shoe does not fit properly, it may be a good idea to return it.
In addition, you should make certain that the widest part of the shoe is wide enough to accommodate the area of protrusion at the base of your big toe in order to ensure that it is a comfortable fit for you.
The safety toe shoes should be fitted about a half size larger than normal footwear. Because the safety toe shoes have a hard cap, there are not a lot of stretches in the toe box area. You do not want your toes to touch the end of the safety shoe.
The fit should be snug rather than tight. A safety toe shoe shouldn't stretch near the toe area while leather footwear should stretch behind the toe box. Always remember that if it doesn't feel right when it is new, it probably won't do so later as well.
One more thing that should be kept in mind is that if you do not tighten your shoes or boots, in many cases, they will slip slightly when new if they are not laced tightly. However, as soon as the sole of the shoe or boot becomes limber, slight slipping will stop. This will especially be noticeable in slip on shoes and non lace shoes and boots.
Words To Remember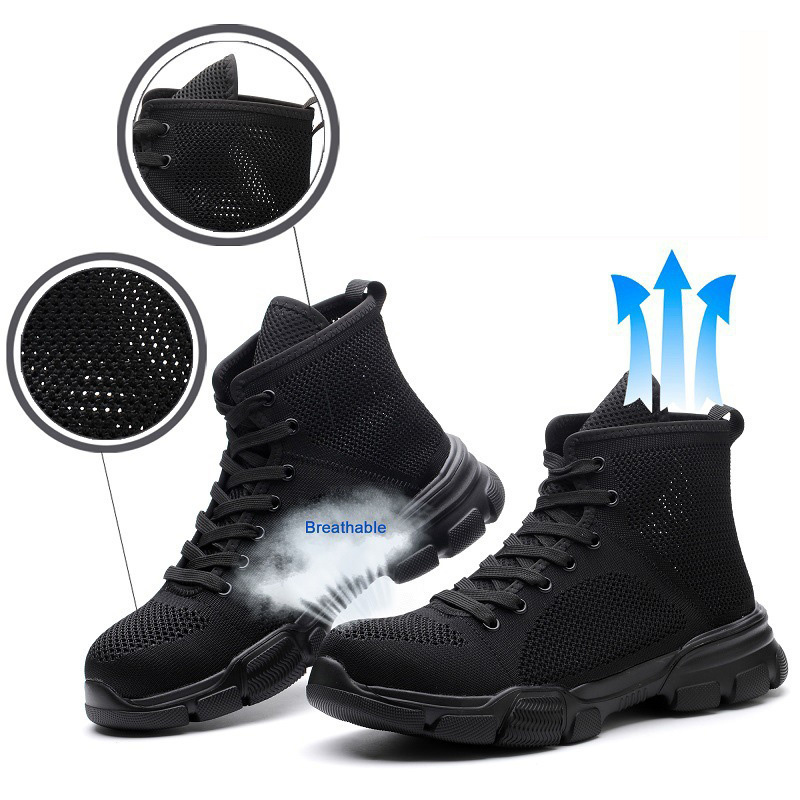 The most comfortable shoes are an essential part of protecting your feet from injuries at work. It is very important that you take accurate measurements of your feet before you purchase a pair of safety boots.
In order to protect your feet from injury, make sure you have the right size shoe for your feet while you are trying them on, regardless of whether you are a man or a woman. Good safety shoes can only protect your feet if they are properly sized for them.