As you know, shopping is a universal activity, and people shop online on thousands of websites every month. With this in mind, we have created detailed guidance for you all to shop via KameyMall-Agent.
It's a step-by-step walkthrough that will show you how to use the best features of the site. There are great tips and tricks that can help you quickly find items on KameyMall-Agent. In addition, I've also included how to save money by using the KameyMall-Agent membership alliance.
What Is KameyMall-Agent?
Before talking about the KameyMall-Agent shopping guide, we can get to know about KameyMall-Agent. It is a global online shopping community for online shopping bargain hunters. It is committed to providing the best Chinese products at cheap prices and good quality.
Actually, KameyMall-Agent is a middleman but not a seller. It is called 3rd party merchant that provides an opportunity for shoppers outside China to easily buy Chinese goods from major Chinese shopping sites.
If you doing shopping at KameyMall-Agent, and the first experience, you will understand the sense of unfamiliarity and anxiety. However, we believe that such anxiety could be largely eased by following our comprehensive shopping guide for Chinese goods.
Signing Up + Membership Bonus
Sign up here for $10 off your total price: https://www.kameymall.com/login?loginType=1
There is no better way to begin your Chinese grocery shopping than to become a member of KameyMall-Agent before you begin. To become a member, you will need to click the "Join Us" button at the top of the main page. Or you can simply enter our website address: https://www.kameymall.com/login?loginType=1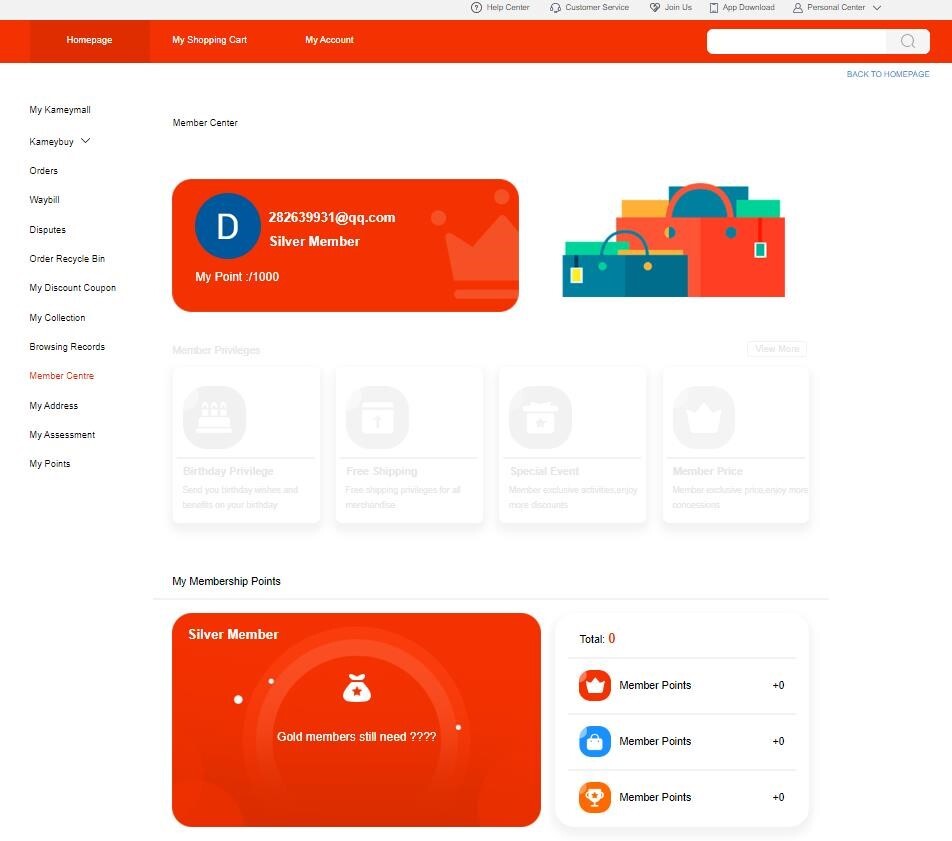 In order to simplify the registration process for you, you will be able to use either your Google account or your Facebook account to sign up.
It's good to know that once you successfully register for the membership with us, you will be eligible to join our membership club, called KameyMall-Agent Promotion Alliance, which enables you to promote our products and services.
In our alliance, there are many outstanding benefits of becoming a promoter. One of them is that you will receive a membership bonus, followed by generating your unique QR code or personal invitation link that can be shared with your fellow associates and thus gain their attention to join and shop at KameyMall-Agent.
Your new member will be considered as your associated user once you have invited them to become a member. The more users you invite, the greater the bonus you will get, which can be used to get good shopping discounts for your future shopping with us.
KameyMall-Agent Illustrated Buying Process
Getting the shopping journey started with KameyMall-Agent is the most important step after becoming a member. You may find this process challenging if it is your first time buying something from us. Be assured that we break down the whole process by specific steps so that you won't get lost.
Step 1 - You can access KameyMall-Agent by going to http://www.kameymall.com/ and clicking on the "KameyMall-Agent" button on the very right of the navigation bar.
Step 2 - Please search on popular Chinese shopping sites (Taobao, Tmall, Jingdong, and 1688) for the product you are looking for with our handy product searching function, and copy and paste the link to the product onto our search bar.
Alternatively, if you know the keyword of the item you wish to buy, you may type the word into our search bar in either Chinese or English.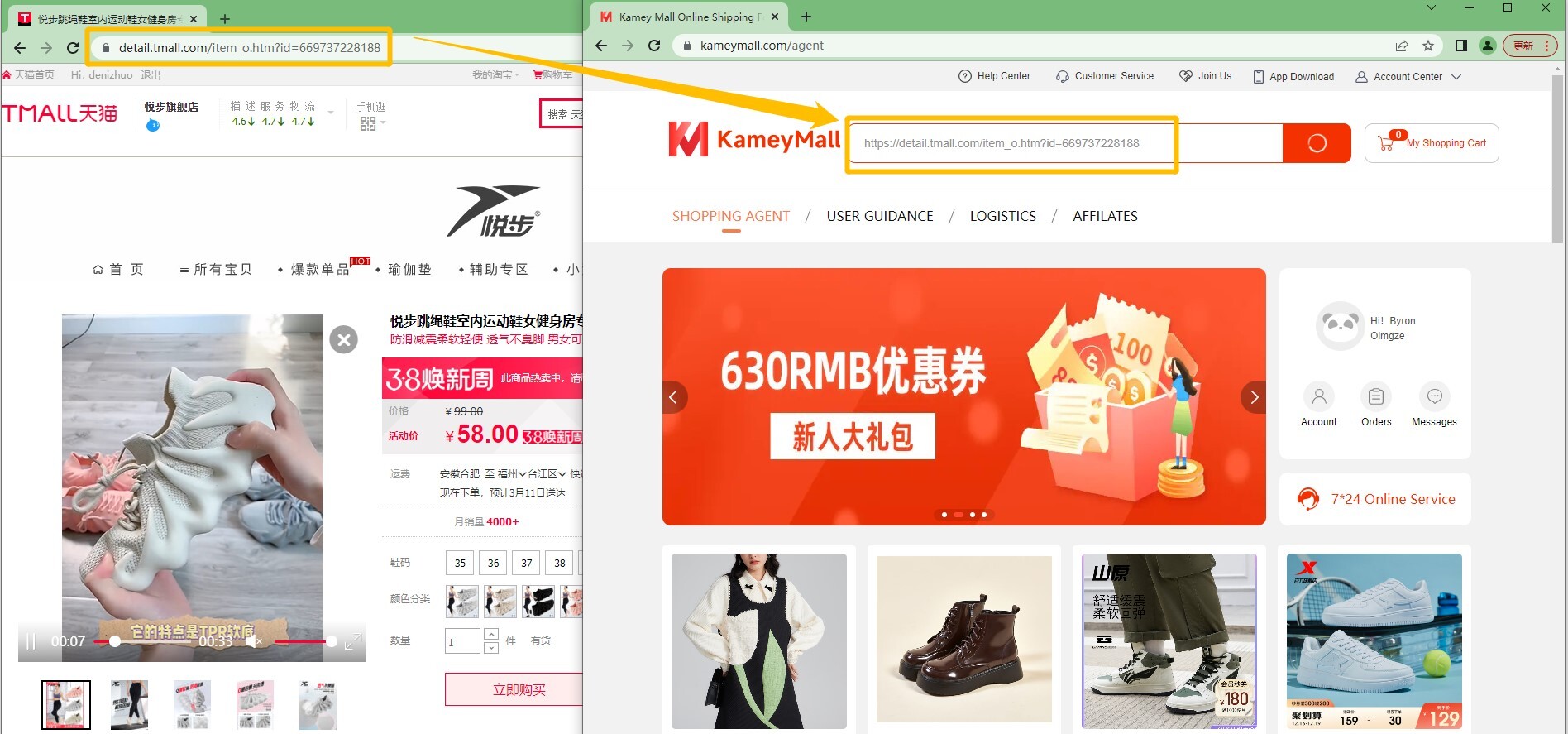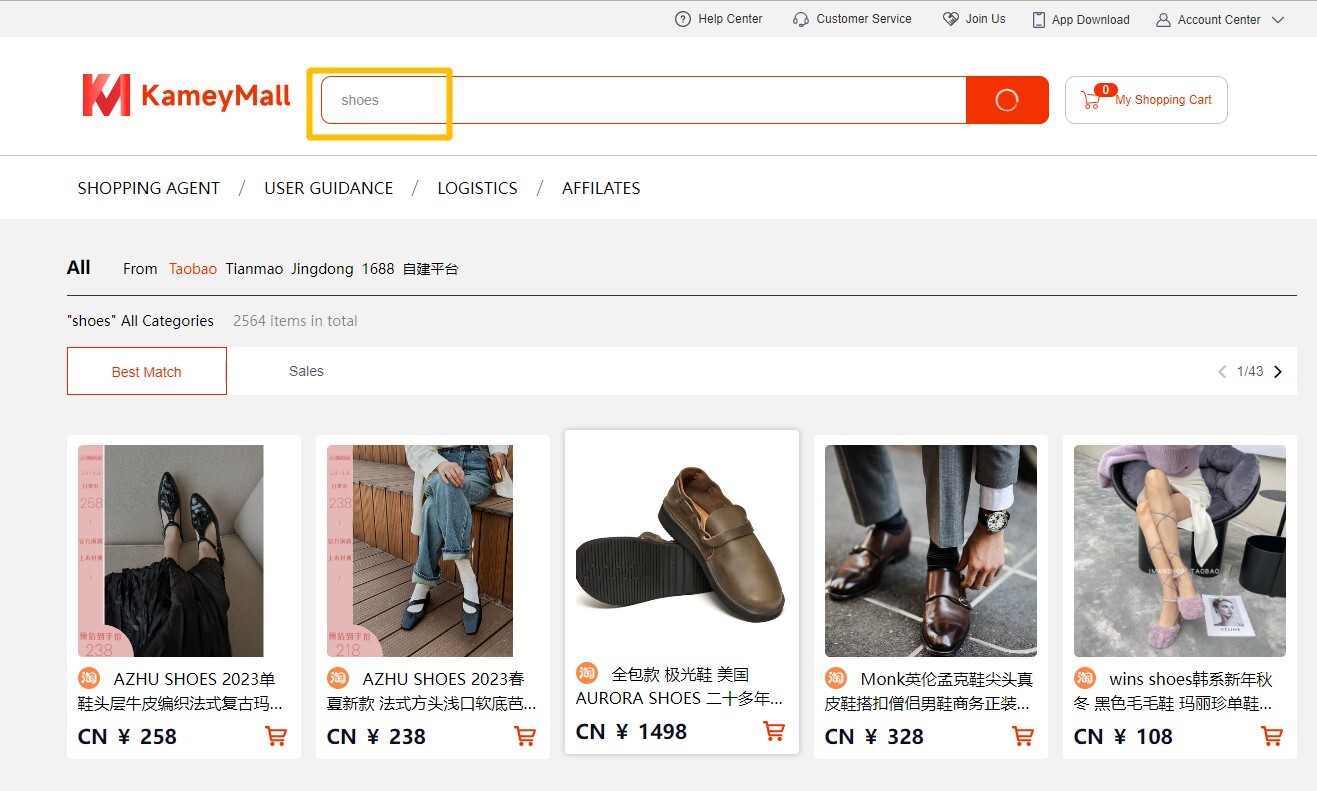 Step 3 - You will then be directed to the KameyMall-Agent site where you will be directed to a specific product page. In the module of product specification, we translate the colors and sizes for you.
All you have to do is select a size that fits your body and the color that you prefer. After you have selected your preferences, you can either "Add to Cart" or "Buy Now."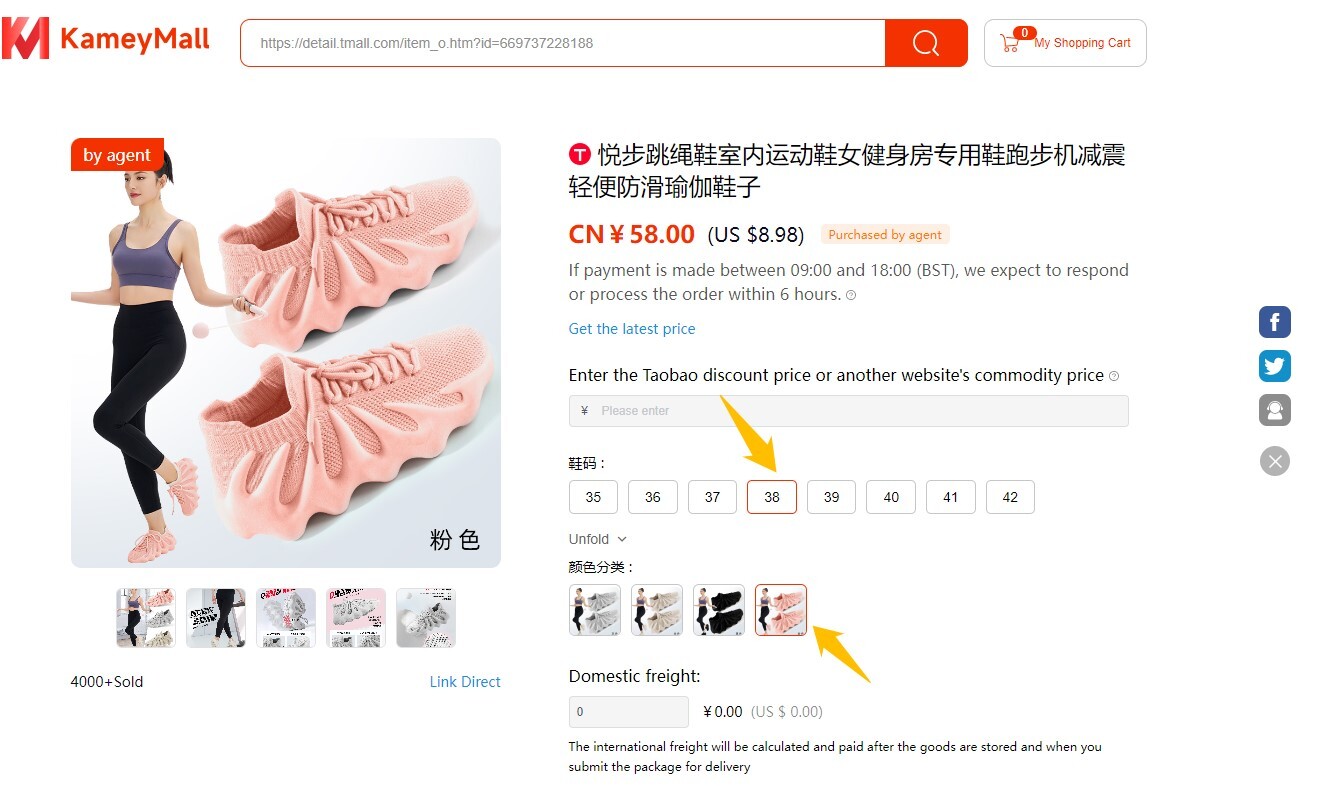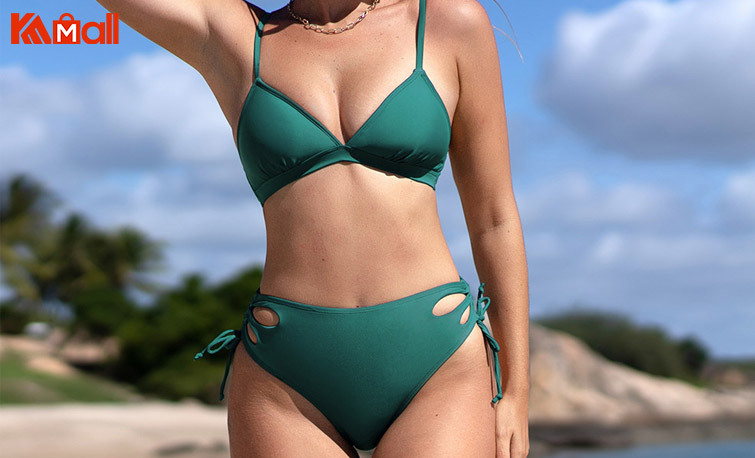 Step 4 - You will be taken to the order page after clicking on the "Buy Now" button. On this page, you will be able to choose the country of destination from a list of countries, then click on the "submit" button in order to be taken to the payment screen so that the purchase can be completed.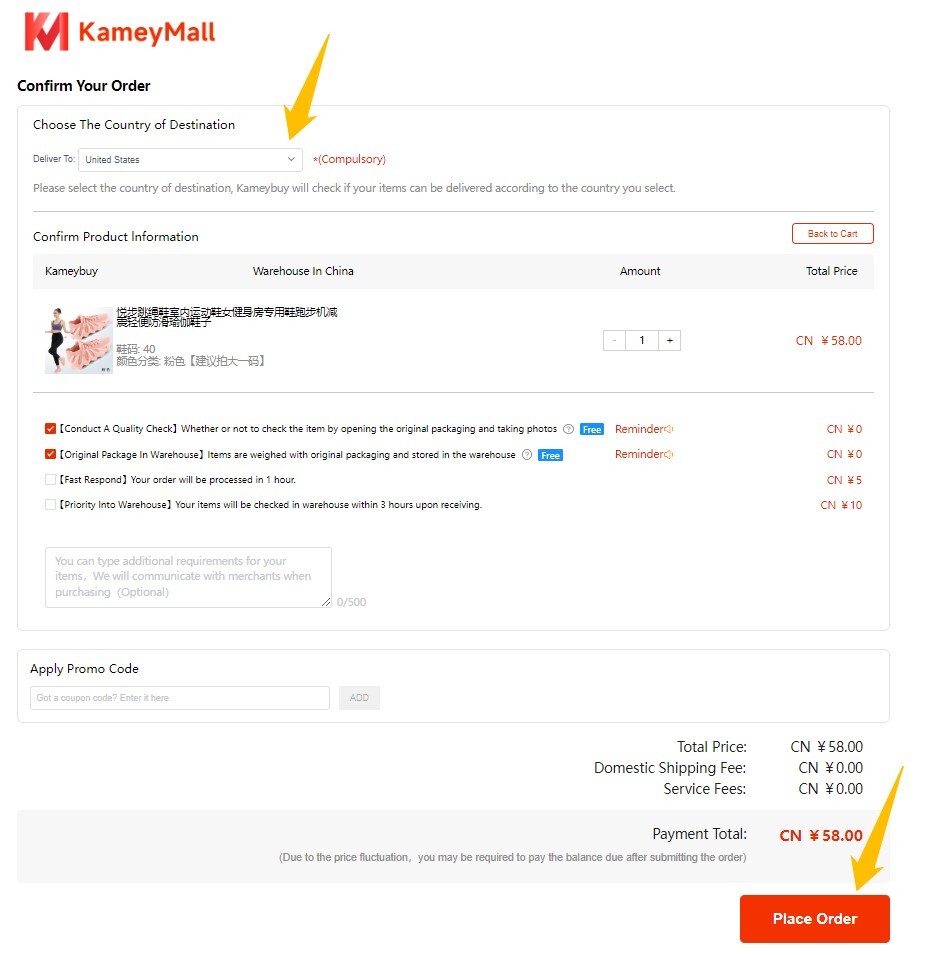 On this page, more importantly, you can, for instance, choose whether you want your items' packages open for inspection. Also, you can choose whether to keep the original package or de box it.
Please note: Those two options are free and defaulted by us. If you don't want one, just untick it.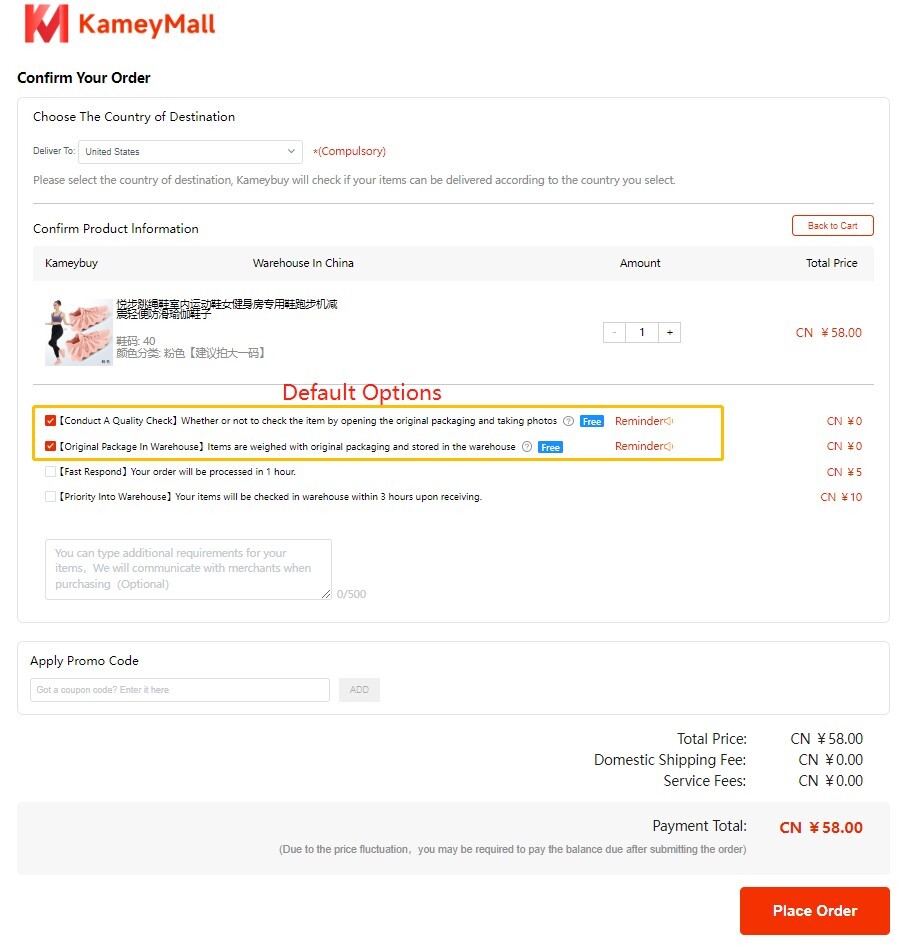 Step 5 – As soon as you click "Place Order", you will be redirected to the payment page where you will be required to enter your delivery address for parcel shipments.
The payment page enables you to see that the payment must be made within an hour of placing your order. Your order will then be canceled automatically if you do not complete the payment within the required time.
Also, it is straightforward to see the breakdown of your total price with item price and handling fees.
As you might have noticed, we have set multiple payment methods for you to choose from so that you can choose the one that best suits your situation, including PayPal, Credit Cards, and Alipay, which enables you to make quick purchases.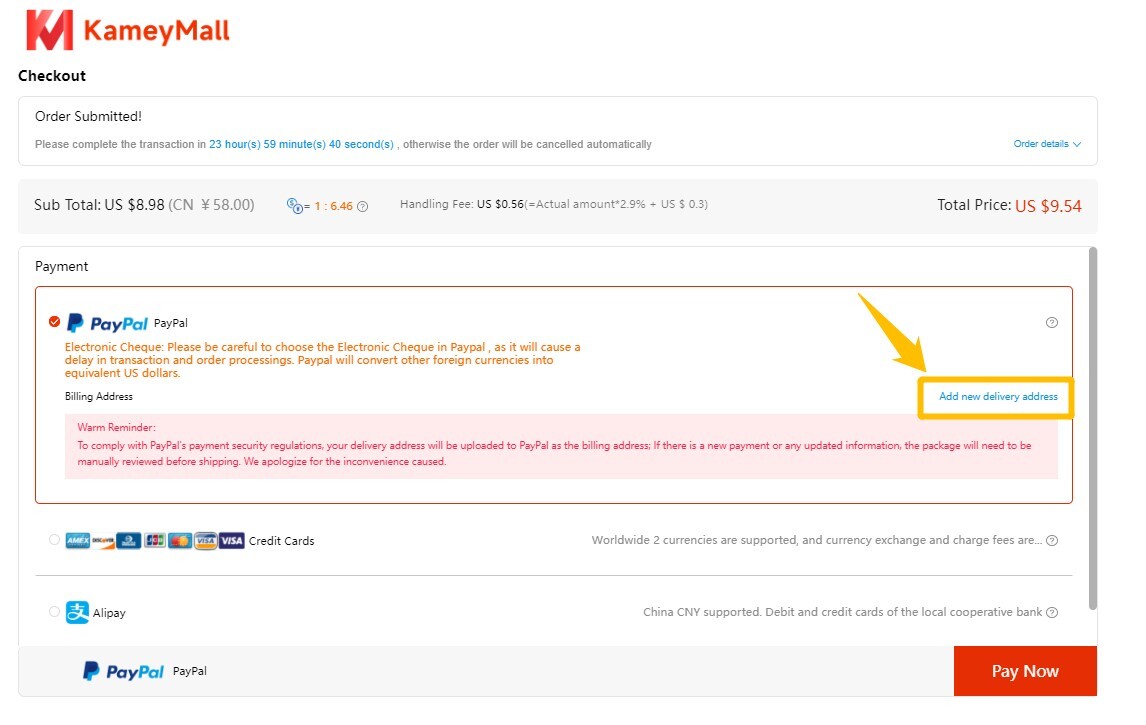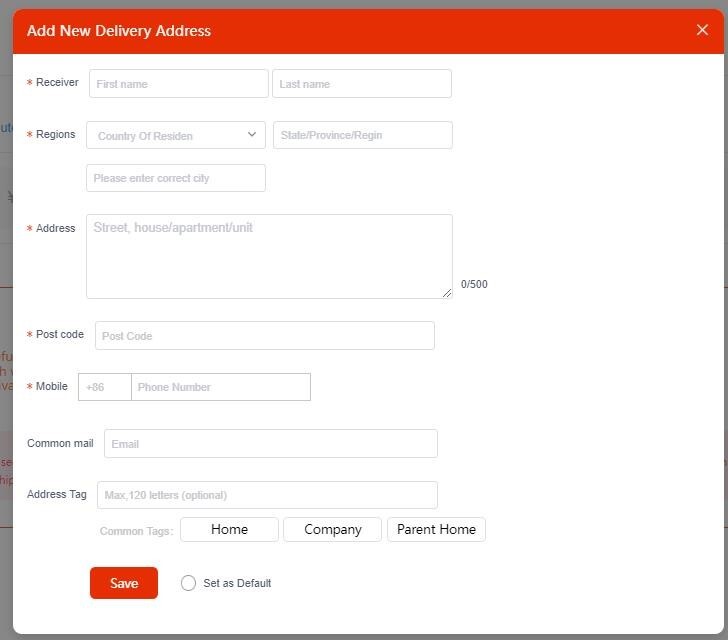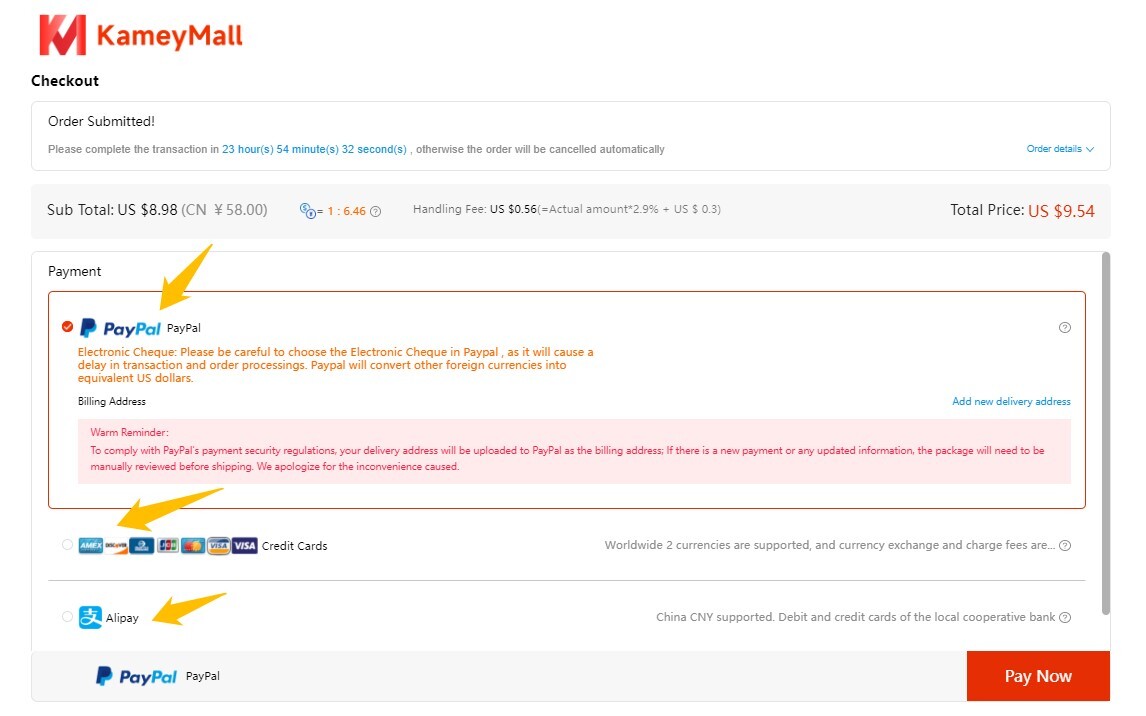 Step 6 – In the next step, you will be taken to a sign-in page for PayPal by clicking "Pay Now", if you choose PayPal as your preferred payment method. You will need to log in with your PayPal account in order to finish off the transaction.
Step 7 – When you have finished making your payment, you will be sent to the 'My Order' section of the 'KameyMall-Agent' menu. Here, you will be able to view the payment status of each of the orders that you have made in the KameyMall.
You may also view the specifics of your order on this page, and if you find that you require a refund for any reason, you can pick the option to "Apply for Refund."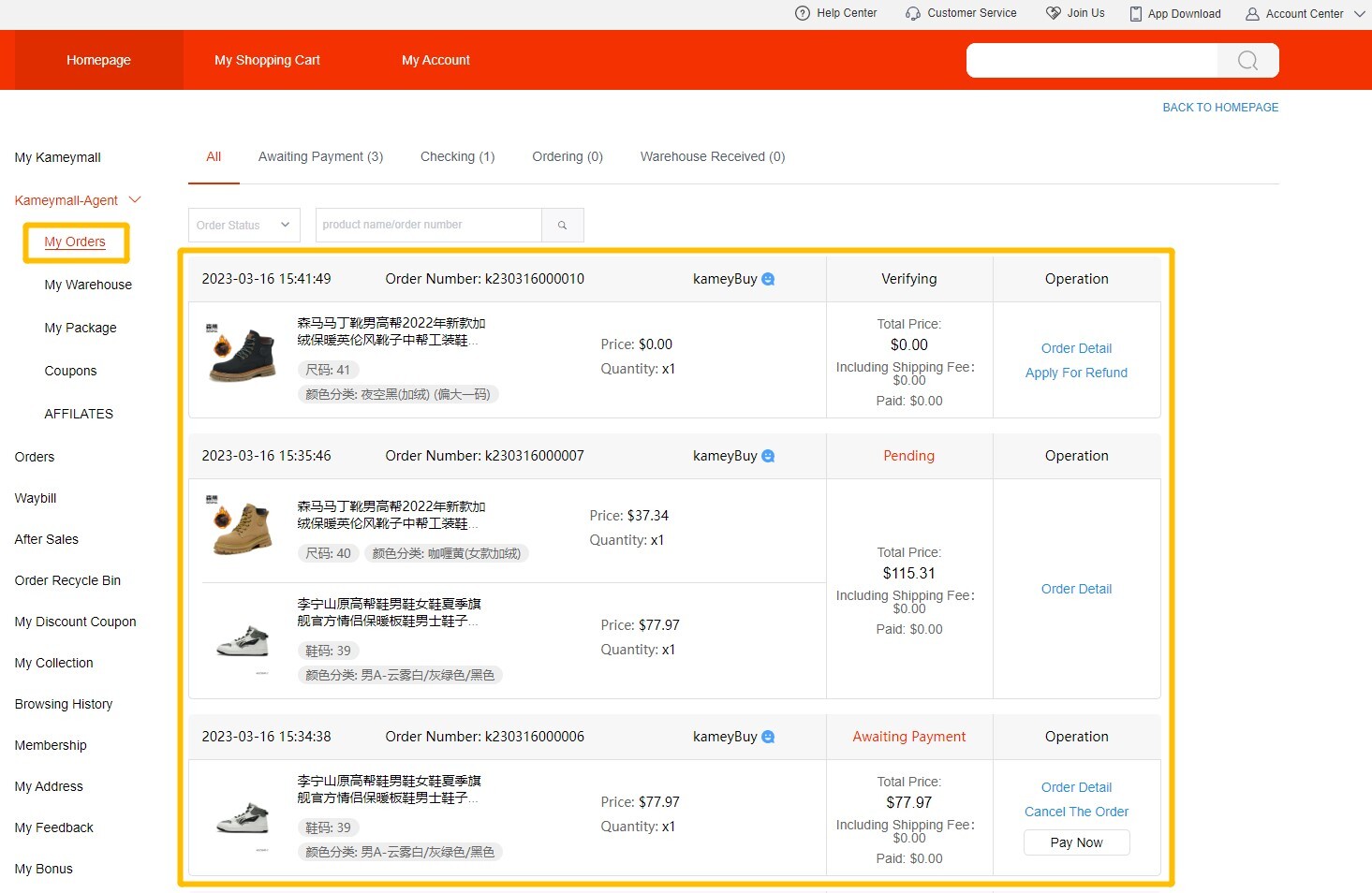 Step 8 – When you have finished making your payment, you will need to wait for the things that you have paid for to be delivered to our warehouse. It usually takes anything from three to ten days. Hence, at this period, you should not be confused and should become familiar with other functions that have been set up on our website.
Step 9 – Your order has been received and is currently being inspected. You can examine this item by going to "My Warehouse" and then clicking on the "View Inspection" button that is located on the right-hand side of the page. This will allow you to view the photographs that we have taken of the real products.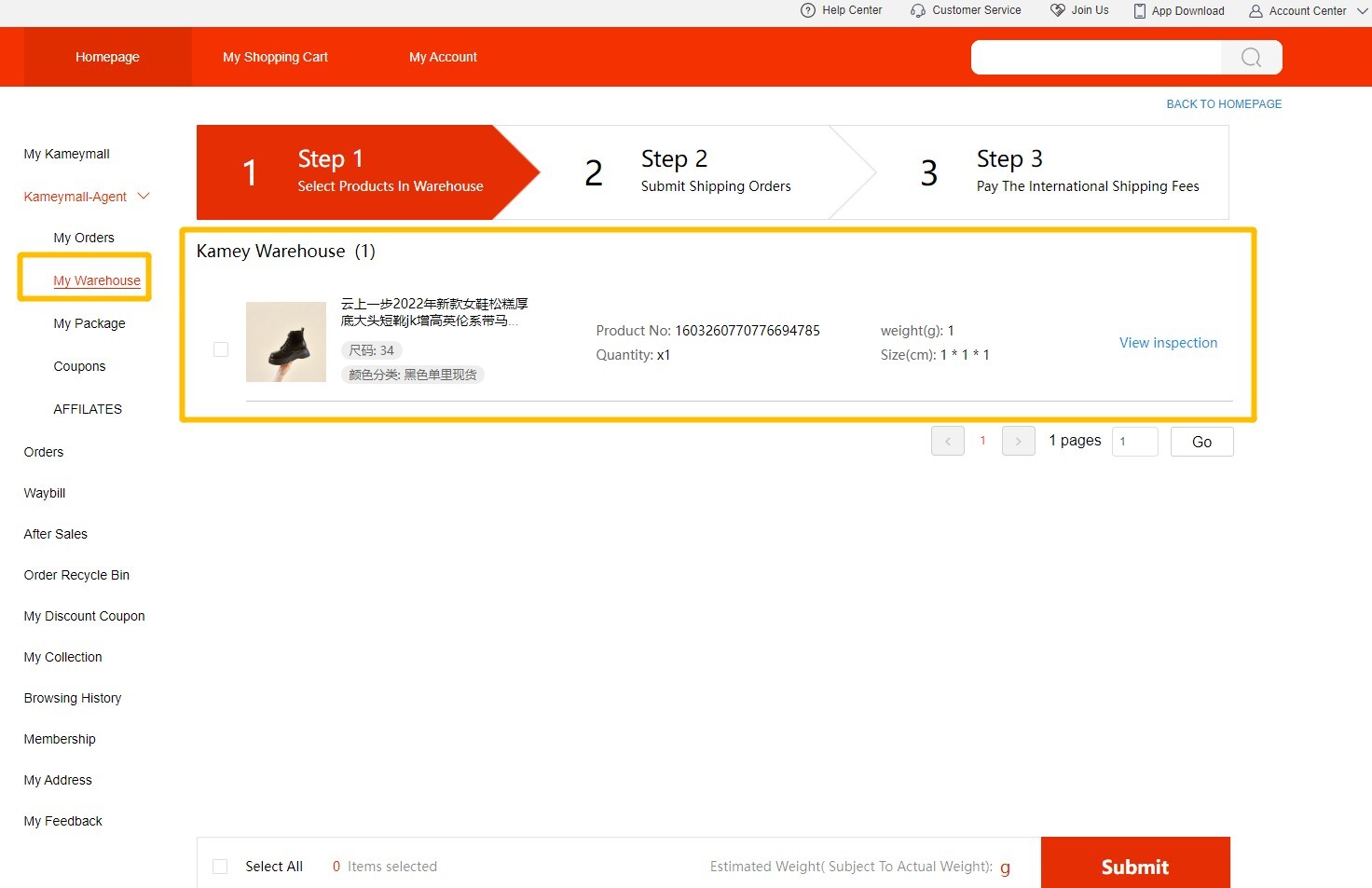 Step 10 – If you have determined that the item meets your expectations, you may proceed to "My Package" to finalize the payment of the associated shipping price. Here, you will also be able to view the total cost that you will incur to ship this international package.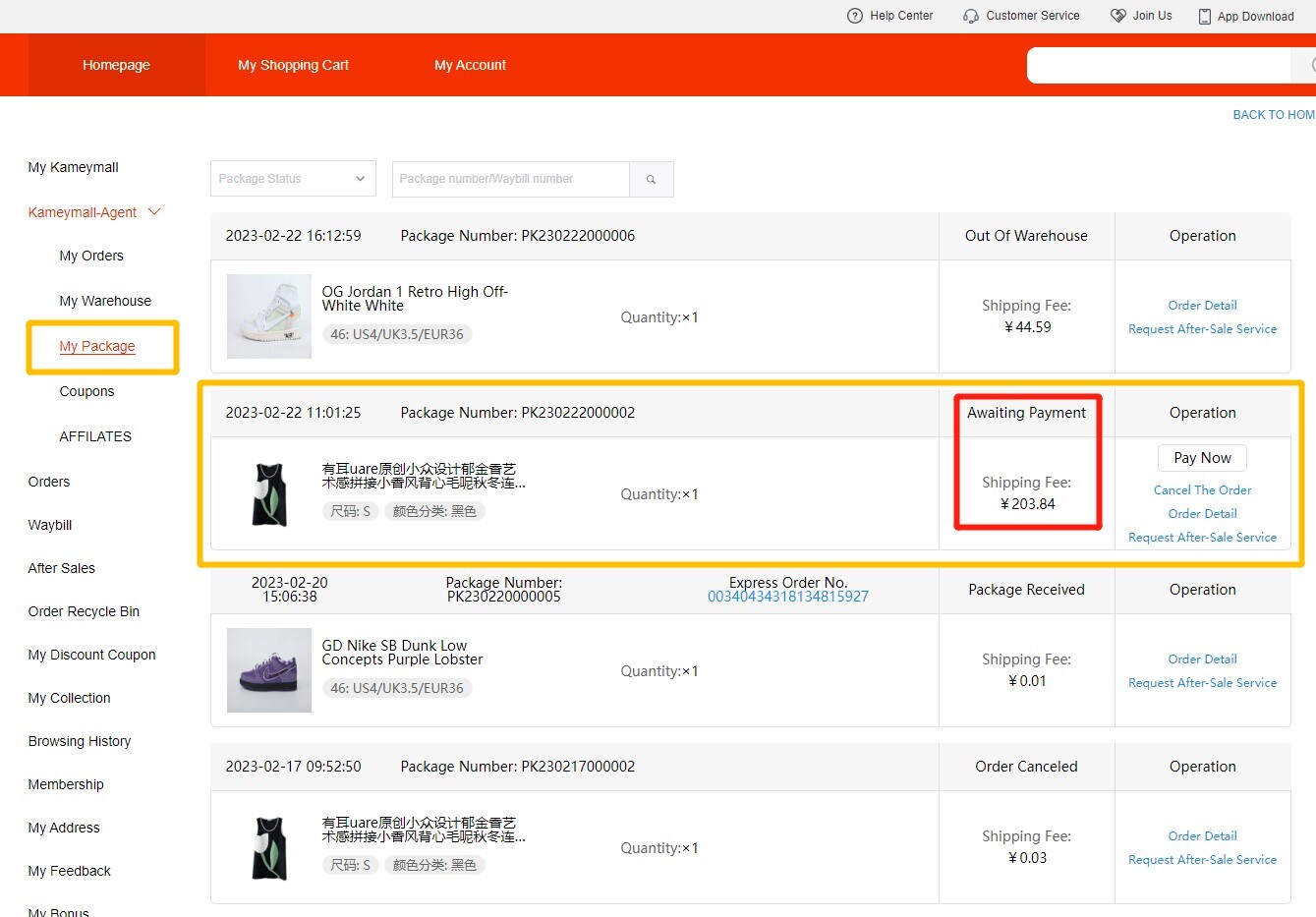 Step 11 – Upon the successful completion of the payment for an overseas package and the carrier's collection of your parcel, a tracking number will be produced for you and made available on "My Package." After clicking on "Express Order Number," you will be sent to the following website, which will allow you to track your package and provide you with information on its current location.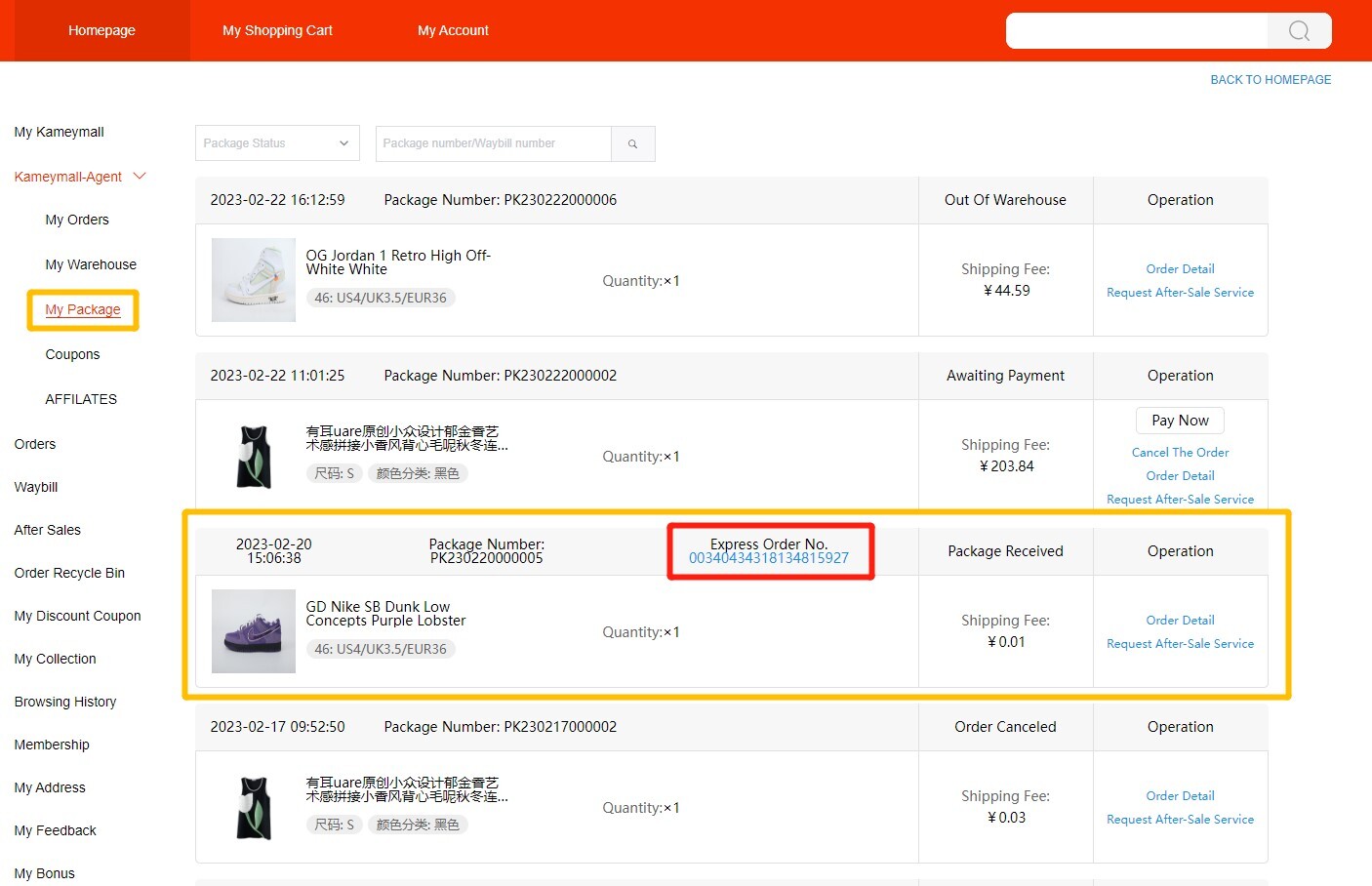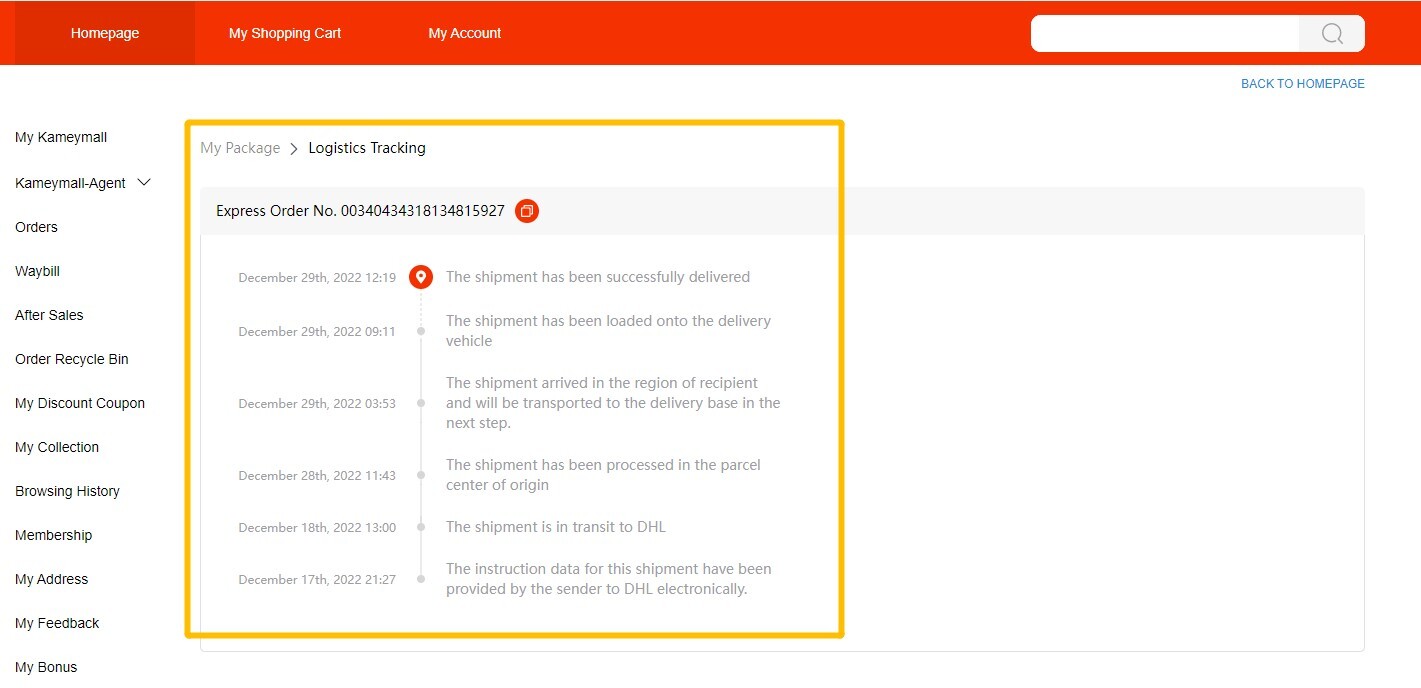 Frequently Asked Questions
While shopping at KameyMall-Agent is hassle-free, there are still some things you might be confused about.
Q: How to save on my shipment fees?
It is normal for shipping fees to cost a fortune during international shipping, so we have prepared some useful shipping tips that will help you settle down your concerns.
Upon receiving all of the items in our warehouse, you will have to request that they be consolidated. To put it simply, you pay a small amount to have them packaged up, weigh, and measure them. So we can then input these values into the shipping calculator in one go to minimize the total cost of your shipment.
In addition, for the stuff that is not urgent, you may think about using ship freight instead of air freight, which can also reduce your cost to the most extent.
Q: How to accelerate my delivery?
There is no doubt that waiting for your favorite stuff to arrive at your door can be extremely frustrating. However, you should keep in mind that this is how international logistics work. The efficiency of the process could be greatly impacted by many factors, such as the weather, the peak season, etc.
It is only a matter of relaxing and being patient. If necessary, you can also check the logistic status of your parcels in "My Package" located under the "Personal Center" if you wish to stay proactive.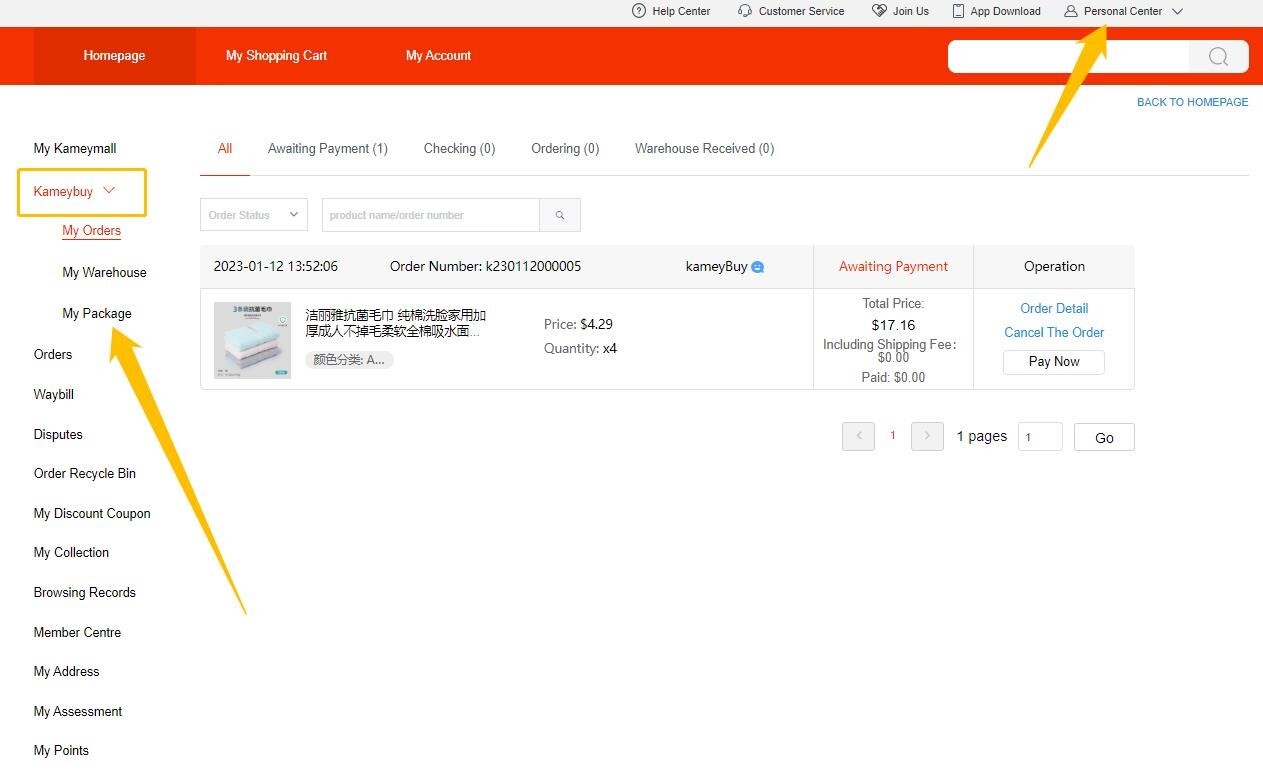 Q: How long should I wait?
There can be various waiting times due to a variety of factors, including the courier company you choose, the shipping methods you use, or the destination you designate. Here is a list of all the waiting times for different regions.
| | | | |
| --- | --- | --- | --- |
| Country/Region | Shortest Delivery Time | Average Delivery Time | Longest Delivery Time |
| Australia/ New Zealand | 9 | 12 | 15 |
| EU | 7 | 17 | 44 |
| Canada | 10 | 30 | 60 |
| US | 4 | 16 | 62 |
| UK | 6 | 12 | 40 |
Whenever you are experiencing any delay in receiving your parcels, it is a very likely situation that you have not received them for a long period of time. We encourage you to get in touch with our customer service team. We are more than happy to help you communicate with the courier company on your behalf.
Q: Why there are no updates about my parcel after paying the freight?
In spite of the fact that you may have purchased your parcel today, it will not be collected by a courier company by tomorrow. It takes time for the company to physically bundle up your parcels, allocate a tracking number and arrange for them to be shipped out.
Usually, it takes 2 to 3 business days for your packages to be updated with the tracking number activating and the shipping status to be updated.
Unique Features of KaymeyMall'agent
This is why KameyMall-Agent stands out from other agents with the unique features they're developing for the community to use. Here are some of my favorite features that will make your experience better than any other.
As part of KameyMall-Agent, we have compiled a comprehensive list of the most popular items available on Chinese shopping sites and put them under the heading "Popular Recommendations" on the home page of the website.
There is a wide range of popular products available at KameyMall-Agent, and if any of them interest you, we will direct you to its product page at KameyMall-Agent.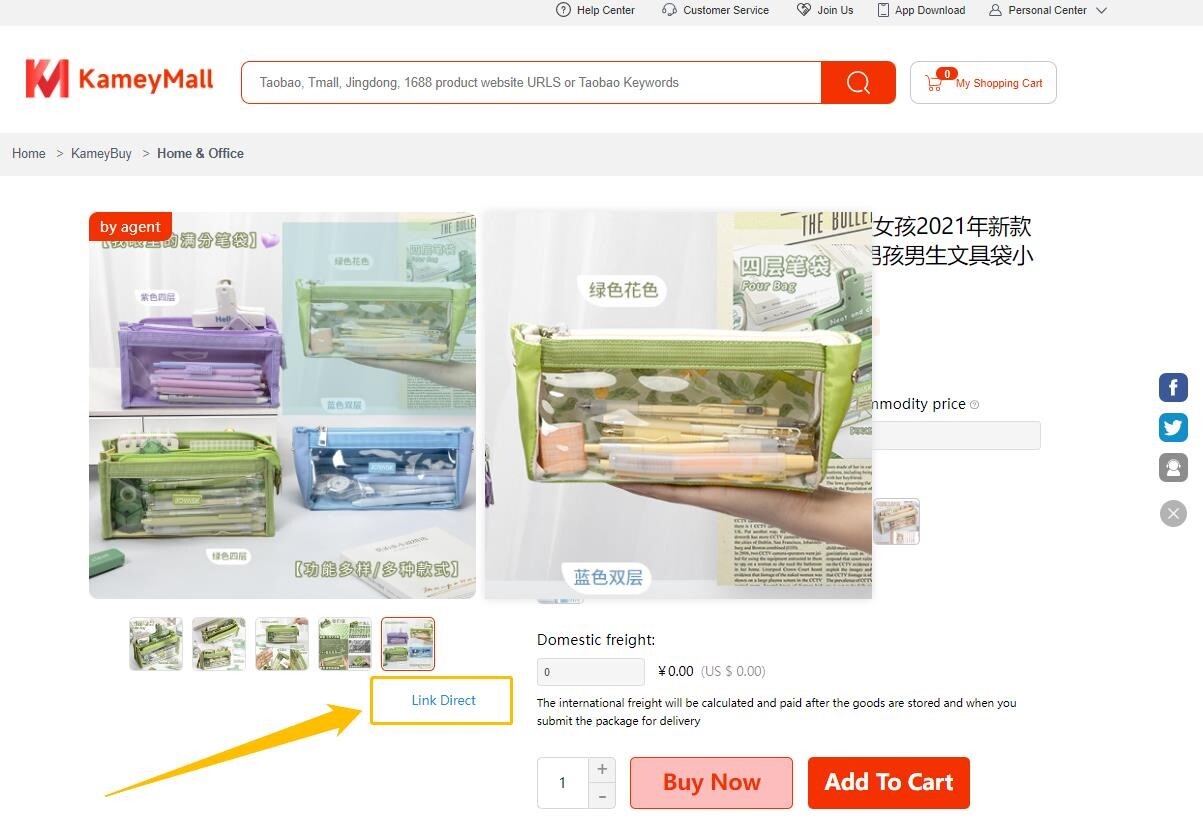 In this way, you are able to gain more knowledge about the product that you are interested in buying. You can use the "Link Direct" function on the left side of the page under the image of the product that you are interested in.
As a result of this function, you will be directed to the original product page on Chinese websites, where you will be able to browse more specific information about this item and allow you to make an informed decision before making a purchase.
Additional Service Options On Payment Page
If you proceed to the payment page, you will notice that there are additional service options about how you want us to handle your items when they arrive.
Depending on your preference, you can select whether you'd like to process your order in a quick and instant manner as well as you'd like to have your items checked within 3 hours of receiving them from the seller.
Please feel free to leave us a message in the blank box below if you have any other requirements other than those listed above.
Please note: Keep in mind that there are additional charges associated with both of those options.
As you can see, Kamey Mall-agent has another feature, which is the ability to manually update the price of a specific item.
As we know, China has plenty of shopping carnivals on the internet, for example, Doub Eleven, Double Twelve, 6.18, etc. Almost all of the prices of products on these platforms will be cheaper than usual, which may result in a price difference between now and then.
Thus, if you are worried that you might miss out on huge discounts, just click on "Get The Latest Price" under the price section on the product page so that you will not miss out on them!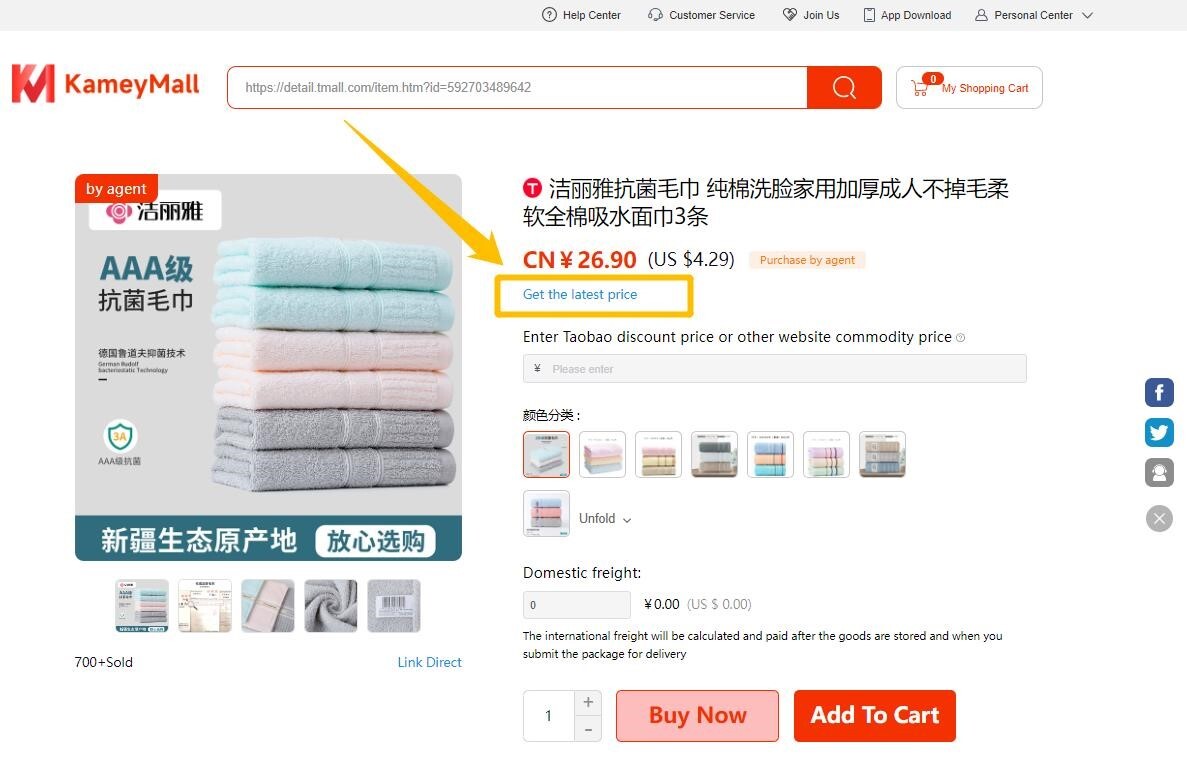 Join And Become One Of Us Now!
Shopping made easy! You have learned how to shop online with KameyMall-Agent shopping. We are the best international online shopping mall, and you can find all your favorite products here.
After joining the KameyMall-Agent community, you will gain a lot of opportunities to enjoy heaps of unique membership advantages, not limited to membership bonuses, considerate customer service, and cheap Chinese goods.
Do not make yourself miss out on any chances of taking advantage of KameyMall-Agent, and you deserve to have as many benefits as possible from us!