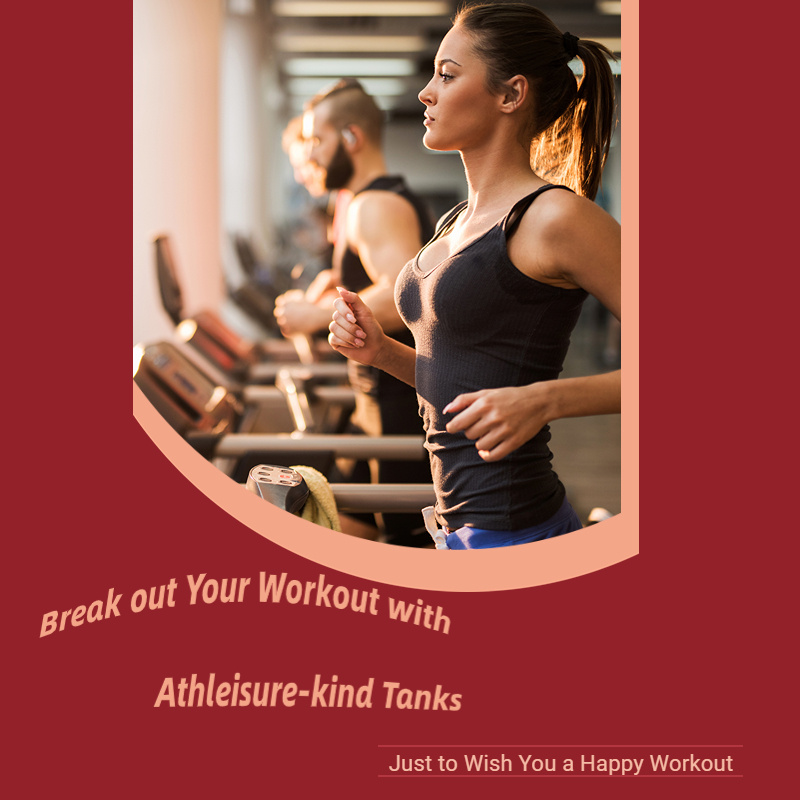 Are you looking for a versatile and comfortable option for your workout wardrobe? Look no further than the trusty tank top! Not only is it a staple in athletic wear, but it can also be a stylish choice for athleisure fashion.
From its moisture-wicking material to trendy prints and patterns, the women's athletic tank top offers both functionality and fashion.
Trust me, you will get more out of this article. We'll explore how to rock a tank top both in and out of the gym, with tips and trends to help you slay your workout and style game.
Why Tank Tops are the Best Choice for Workout Wear?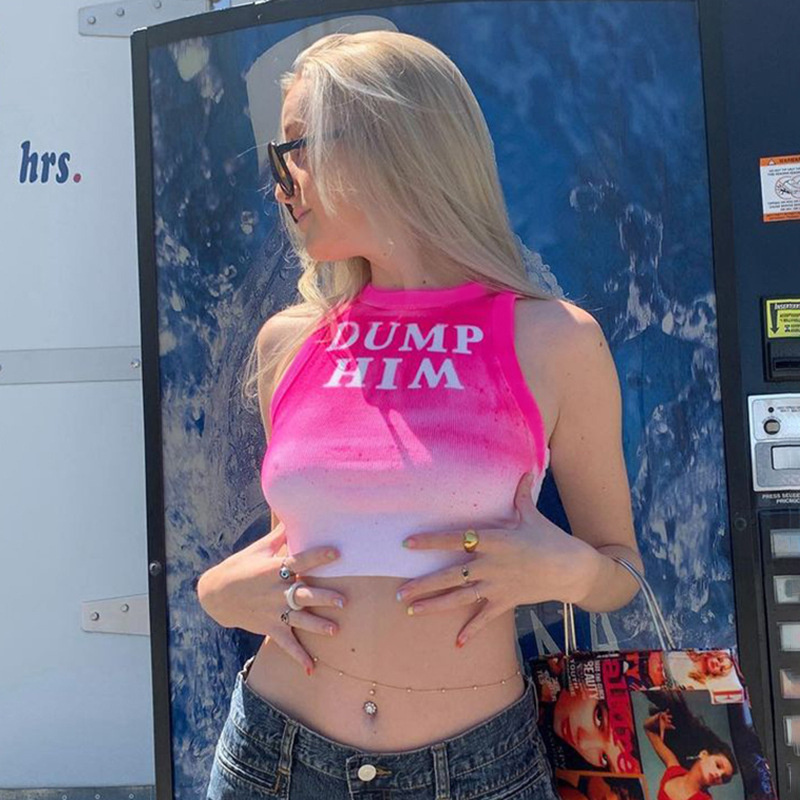 Due to the fact that they are not only light and airy, but also comfy, tank tops are an excellent option for anyone looking for fitness clothing that combines both comfort and practicality.
While you're working up a sweat, you need garments that will keep you cool and dry, and tank tops are an excellent choice for accomplishing both of those goals.
The lack of sleeves allows for increased ventilation, and the fabric's ability to drain away moisture helps to prevent perspiration from accumulating on the skin, which helps to keep you dry and comfortable.
In addition, the absence of sleeves enables you to move your arms freely throughout their complete range of motion, which makes it simpler for you to walk around, lift weights, or practice yoga positions.
A tank top will keep you cool, dry, and comfortable during your workout, regardless of whether you're heading to the gym, going on a run, or doing your go-to yoga sequence.
Things Needed to Consider When Choosing Tank Tops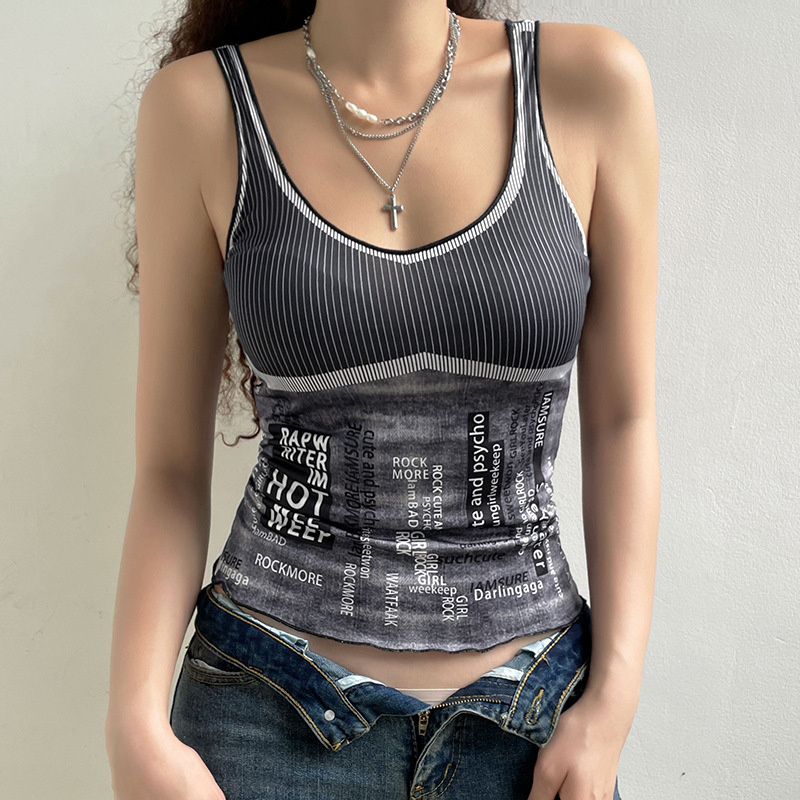 The sexy tank tops you chose for exercising should be made of moisture-wicking fabric, have the proper fit, be the right length, and have the right detailing so that you feel confident and comfortable while working out.
Start with tank tops designed from a fabric that can absorb sweat. Sweat is drawn from the skin and deposited on the outer layer of the fabric, where it may dissipate more rapidly, making this type of cloth ideal for hot, humid climates.
Materials like polyester, nylon, and spandex, which are lightweight and breathable, are great options for their moisture-wicking characteristics. In addition, they dry faster than cotton, which may be cumbersome and unpleasant when wet.
You should also pay attention to how your tank top fits, not just the fabric. A tank top that is too tight might make it difficult to move and breathe during exercise, while a tank top that is too loose can be a nuisance.
Instead, try to find a tank top that fits you closely but is not too tight across the chest and shoulders while yet allowing you some breathing room at the waist.
It's important to make sure a tank top fits well and provides adequate support by trying it on and moving about in the store.
The length of the tank top is another factor to think about. If you want your tank tops a little longer, try to choose cuts that end at or just below the hip bone.
Get a tank top that falls at or just above the hips if you like a more modest length. This will provide the necessary degree of protection while enabling you to move around freely.
Last but not least, focus on details and accuracy. Tank tops with racerback designs and flatlock seams, which prevent irritating chafing, are what you should be on the lookout for.
The Latest Trends in Workout Tank Tops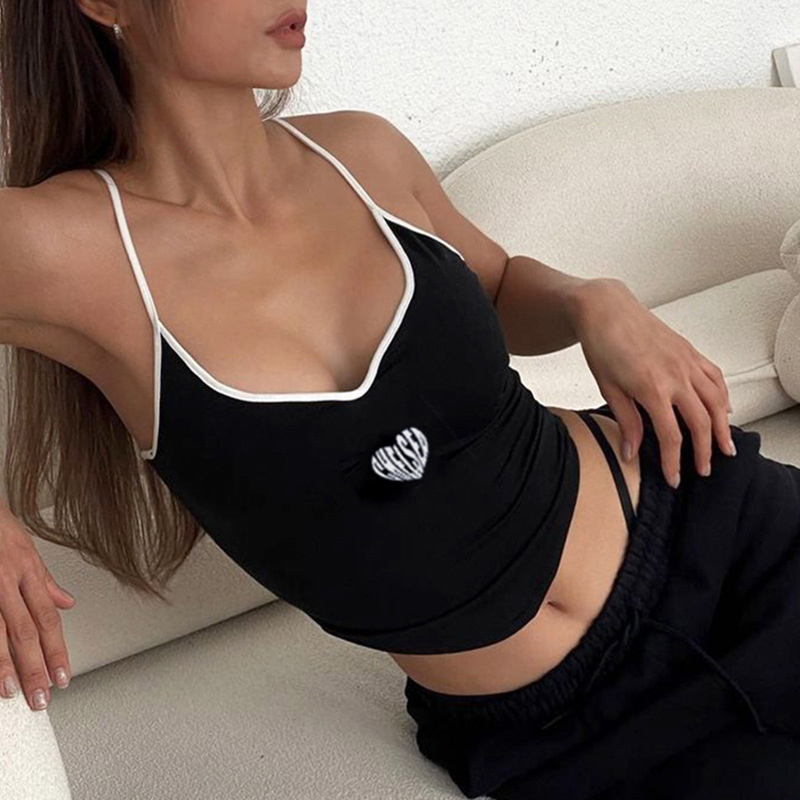 Athletic tank tops have changed over time, just like any other style. One of the most current fashion trends in fitness tank tops has been the use of vivid, eye-catching hues.
Adding a splash of color to any exercise ensemble, neon colors like green, pink, and orange are all the rage right now. These vibrant hues have been shown to improve both motivation and performance in the gym.
Graphic graphics and inspirational messages are other popular choices for exercise tank tops. You may get tank shirts from a wide variety of companies with encouraging slogans like "stronger every day" and "never give up."
These messages might help you stay focused on your goals and keep going even when the going gets difficult throughout your workout.
A cropped tank top ends around the rib area of the body, which has become a fashion staple among people who want to flaunt their six-packs in a stylish way.
For intense workouts when you need to be as mobile as possible, these shorter cuts are ideal. High-neck designs are also on the rise since they provide modestly more coverage without sacrificing elegance.
These cuts are well suited to physical practices like yoga and Pilates, which require their practitioners to bend and stretch in unusual ways.
Workout tank tops with mesh panels and cutouts are also quite fashionable. These details improve airflow, keeping you cool and comfortable even during the most strenuous of exercises, while also adding an edgy twist to your training ensemble.
All in all, there is always a workout tank top out there for everyone, whether they like a more traditional look or are more interested in trying out the current trends.
You can select a tank top that not only feels amazing to wear but also inspires confidence and motivation in your exercises among the wide variety of styles and designs available.
How to Make Your Workout Tank Tops More Athleisure Look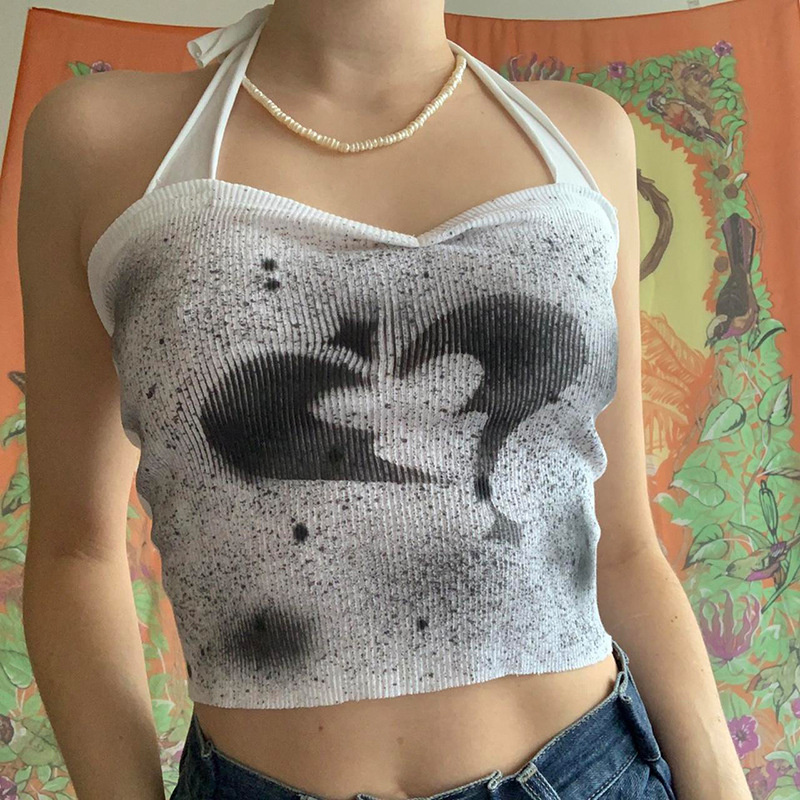 It is quite easy to dress tank tops up for workouts by styling them in a variety of ways. Here are some tips on how to style tank tops for both workouts and athleisure. However, it is best to keep the accessories to a minimum when going to a gym and exciting.
Graphic tank top + Leggings + Denim jacket
When choosing a graphic tank top, look for designs that resonate with you or provide a source of motivation.
You can also opt for a neutral-colored denim jacket to balance out a bold graphic design. Additionally, choose leggings with a high waistband to provide support and create a flattering silhouette.
Cropped tank top+ Sports bra
When choosing cropped tank tops, consider the length and fit. Look for a tank top that falls just above your belly button and has a snug fit to prevent it from riding up during your workout.
It is possible to choose a sports bra that has a fun print or color to add a little bit of personality to your outfit as well.
Mix and match textures
When experimenting with different textures, consider the occasion and season. A cotton tank top paired with a mesh tank top can provide ventilation during a summer workout, while a silk tank top paired with joggers can create a chic athleisure look during cooler months.
Flowy tank top + Bike shorts
Look for flowy tank tops made of lightweight materials like cotton or linen to keep you cool during warmer weather. Choose bike shorts with a high waistband for added support and a flattering fit.
+ Functional accessory
If you are working out, you should use functional accessories like hair ties or headbands to keep your hair out of your face while you are working out.
To protect your feet during high-impact exercises, you should pick sneakers with good arch support and cushioning, as these will give you a more comfortable workout.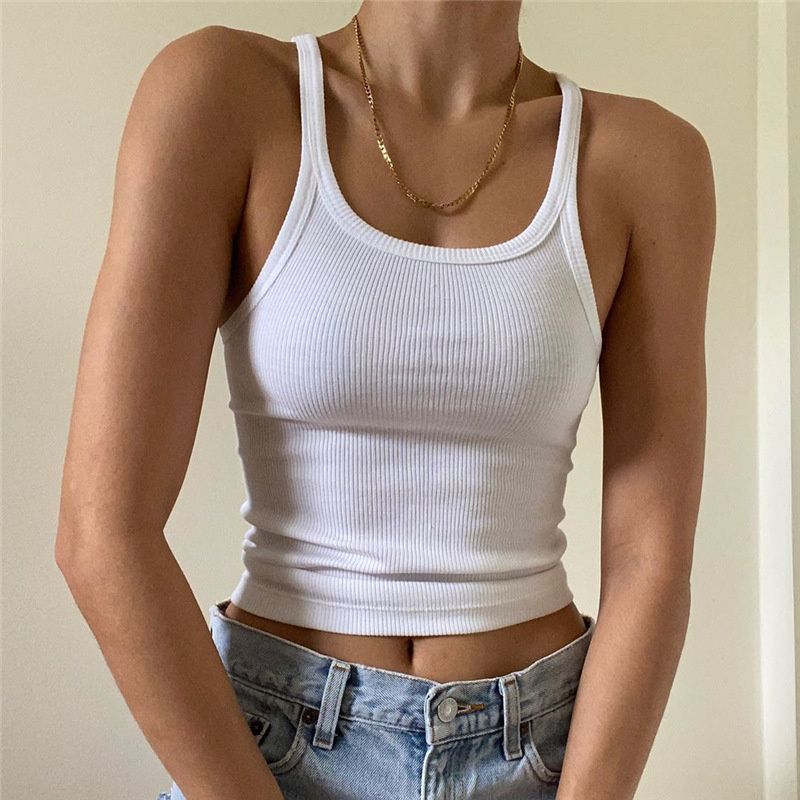 Knot your tank top
Instead of tucking your tank top into a jogger or shorts, try knotting it at the waist. This is a great way to add some shape and definition to your outfit while still keeping it casual and comfortable.
To knot your tank top, grab a section of the fabric at the side or front of the top, twist it a few times, and then tie it in a knot. You can also experiment with different knot styles, such as a loose knot or a tight knot, to create different looks.
+ Hoodie
If you're looking for an extra layer of warmth, try layering your tank top with a hoodie. This combination is perfect for cooler weather and can be dressed up or down depending on the occasion.
Choose a hoodie that is fitted or oversized, depending on your personal style, and layer it over your tank top. You can also experiment with different textures and colors to create a unique look.
Experiment with different lengths
If you want to create a unique and dynamic look, layering tank tops of different lengths is one of the best things you can do. For example, you can layer short and crop tank tops over a longer tank in order to create the illusion of a layered look.
It is also possible to play with the hemlines of your tops by tucking one of them in while leaving the other out for a stylish, to create an asymmetrical look.
Play with patterns
Make your tank tops stand out by mixing and matching different patterns and prints to create a unique and eye-catching look.
Pair a floral tank top with a graphic patterned legging, or mix stripes and polka dots for a playful combination. When mixing patterns, try to stick to a similar color palette to create a cohesive look.
Parting Word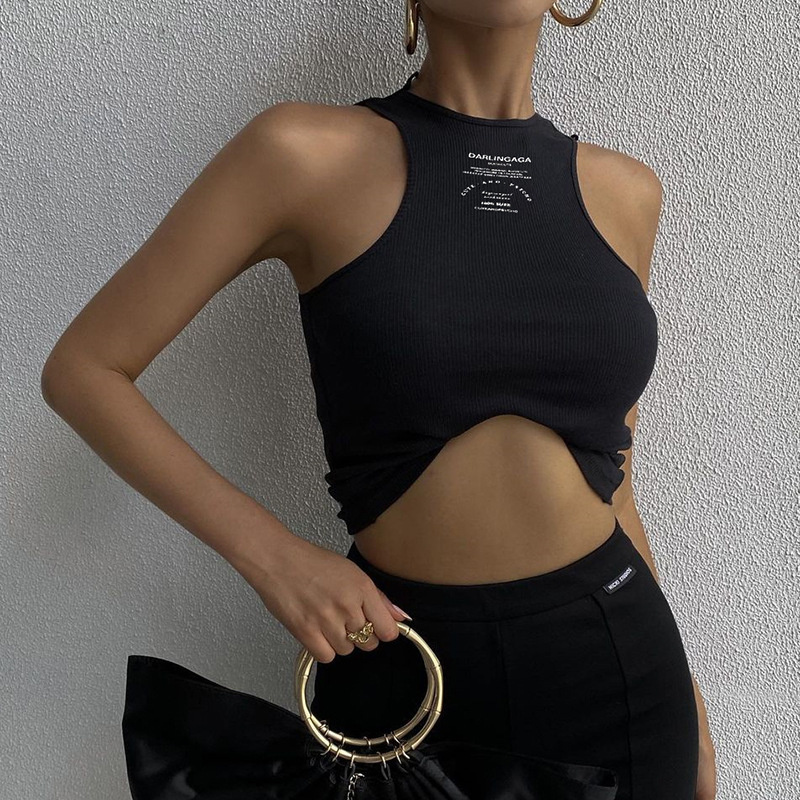 Whether you're hitting the gym, running, or meeting up with friends, the tank top is a versatile and stylish option for any occasion.
With its comfortable and functional material, trendy prints and patterns, and ability to elevate any athleisure look, it's no wonder why tank tops have become a fashion staple.
So the next time you're looking for a comfortable and stylish option for your workout wardrobe, remember the trusty and sexy tank tops for women and all the ways you can rock them with confidence and style!