Welcome to our guide to different types of swimwear bottoms! With summer just around the corner, it's time to start thinking about your swimwear game.
While swim tops may get all the attention, swim bottoms are just as important. There are so many styles and designs to choose from, each with its unique benefits and features.
Have you crossed your eyes yet? Don't worry, we'll walk you through everything you need to know about the various types of sexy swimwear bottoms, so you can make an informed decision and feel confident and comfortable at the beach or pool.
Why Swimwear Bottoms Emerge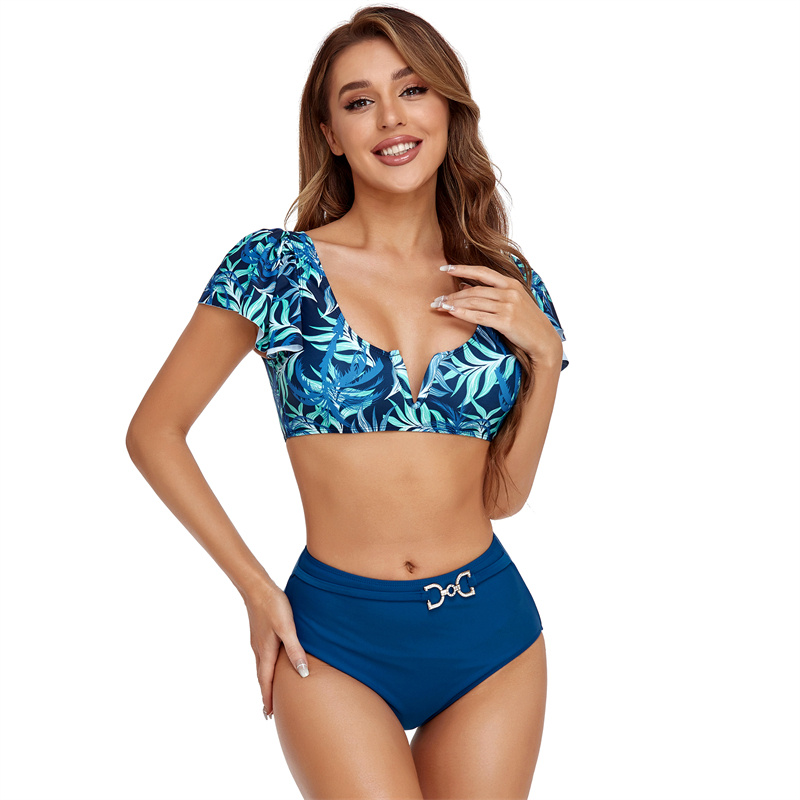 Swimwear bottoms, like many other types of clothing, have evolved over time in response to changes in fashion, social norms, and practical considerations.
Historically, swimwear for women was modest and covered most of the body, including the legs. However, as attitudes toward women's bodies began to change, swimwear became more revealing.
Later by the early 20th century, women were wearing one-piece swimsuits that exposed their arms and legs.
As swimwear continued to evolve, designers began experimenting with different styles and cuts, including BIKINI BOTTOMS.
The first bikini was introduced in 1946 by a French fashion designer, and it was a two-piece swimsuit that revealed the midriff and navel. And The bikini bottom was designed to be a small, triangular piece of fabric that covered the pubic area and was held in place by strings tied at the hips.
Since then, swimwear bottoms have continued to evolve, with designers experimenting with different cuts, materials, and styles to create bikinis, one-piece swimsuits, and other types of swimwear that are both fashionable and functional.
Today, there are many different types of swimwear bottoms available, from high-waisted retro styles to tiny thongs, and they continue to be an important part of swimwear fashion.
Versatile Bikini Bottom Cuts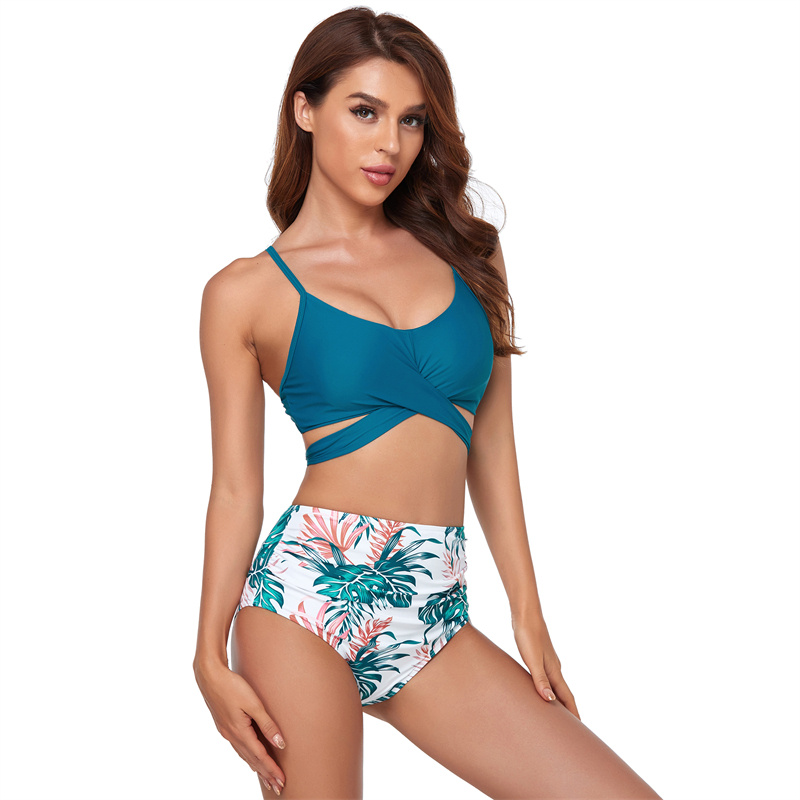 The beauty of wearing a bikini is that you are able to mix and match nearly any bikini top with a variety of different bikini bottoms to create a totally unique look. There are no limitations to how you can mix these pieces, and the result can be a fantastic look that is all about you! You can achieve a sexy or unique look.
As an alternative, you can choose items that are comfortable and sporty. The selection of bikini bottoms and bikini tops can vary greatly from style to style depending on the type of cut you want.
Classic Design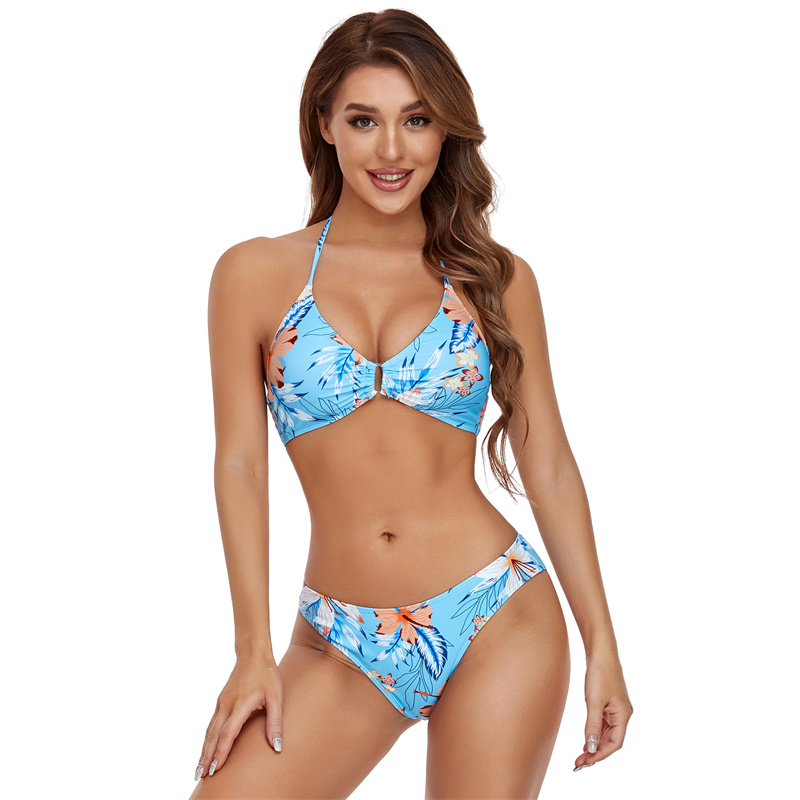 In all likelihood, when one thinks of bikini bottoms, one thinks of the classic cut. It has a proportionate design and offers moderate coverage in the hip area.
There is a certain allure to the simple style that attracts many women as they offer a nice balance between being sexy on the outside and still being comfortable on the inside.
It is common for classic bikini bottoms to feature a simple slip-on style, or they may be equipped with string ties located on the side. Whether you are looking for coverage or a balanced look, classic bikini bottoms are going to satisfy both of your needs for sexy women's swimwear.
High-waisted Design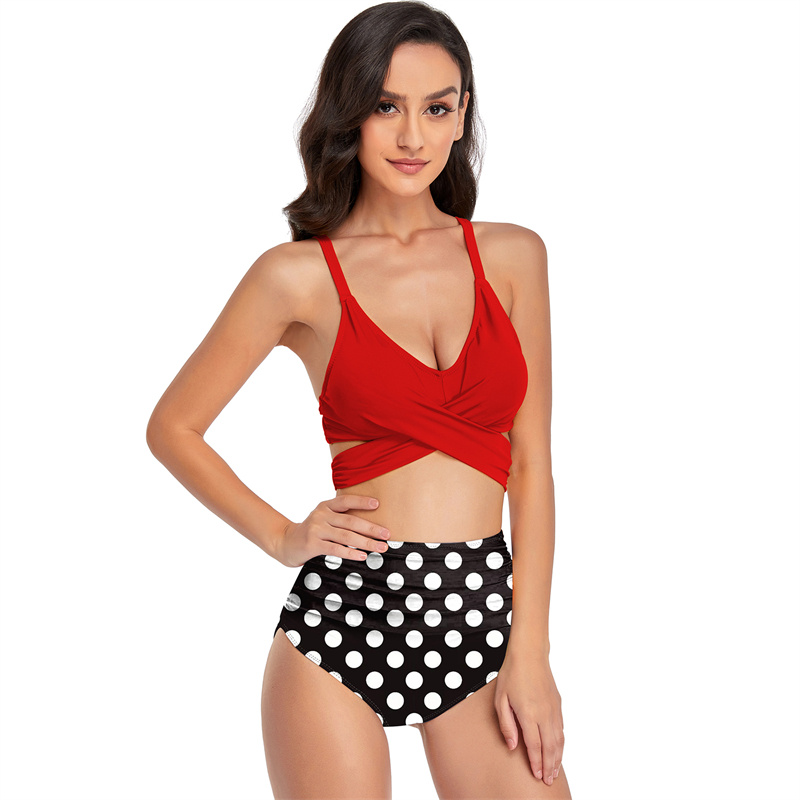 There is also a term called full-coverage bikini bottom that can refer to high-waisted bikini bottoms.
It is possible to adapt this cut into a retro look by giving you ample coverage for your lower half up to the belly button, or it can give you a flirtier bottom while still providing you with adequate coverage for your upper half.
Over the last few years, this type of look has become increasingly popular. As these bottoms can make legs appear longer, they are very flattering for many types of bodies as they can enhance the legs' appearance.
There is nothing we like better than a simple yet flattering look like this one. It is a good idea to choose high-waisted bikini bottoms if you want a little extra coverage and are not bothered about tan lines.
Thong Design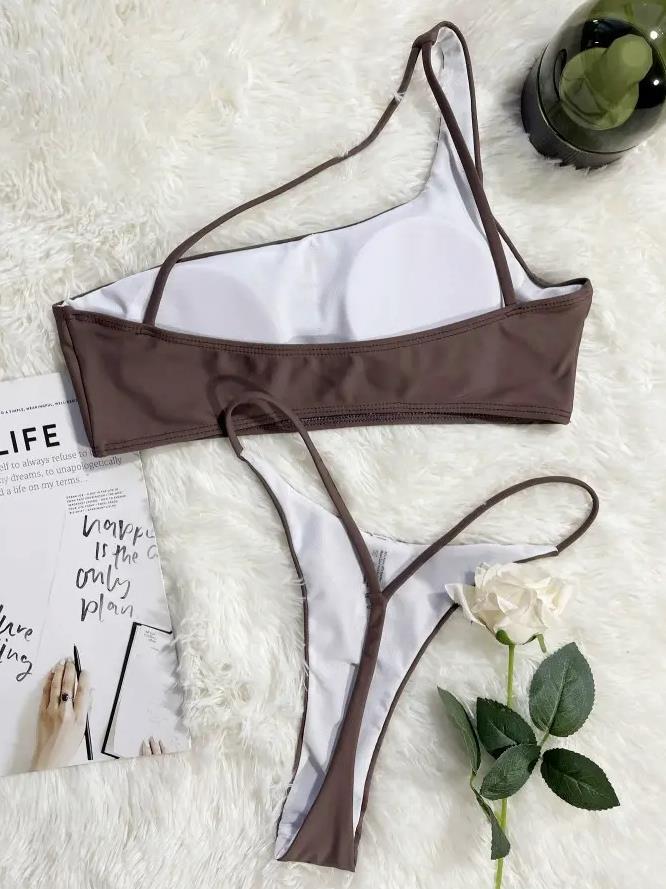 In most swimwear, the front of the garment is covered fully, as well as the hip straps and strings along the side. When it features strings on the side, the bottoms may be called tonga bikini bottoms.
A thong bikini bottom can also be divided into three types, including classic T-back thongs, banded thongs, and low-waist thongs, which are all suited for various types of swimwear.
This look is known for its variations, but all women are familiar with the style of thong bikini bottoms, which can be described as a classic.
In general, thongs are suitable for showing off your butt and tanning since there will be little tan lines on the bottom of the legs.
There was a time when the thong bikini bottom was considered slutty, but now it is more mainstream and is widely accepted in most countries across the globe. In this bikini bottom, we are exposing the entire backside of your body for all to see!
Cheeky Design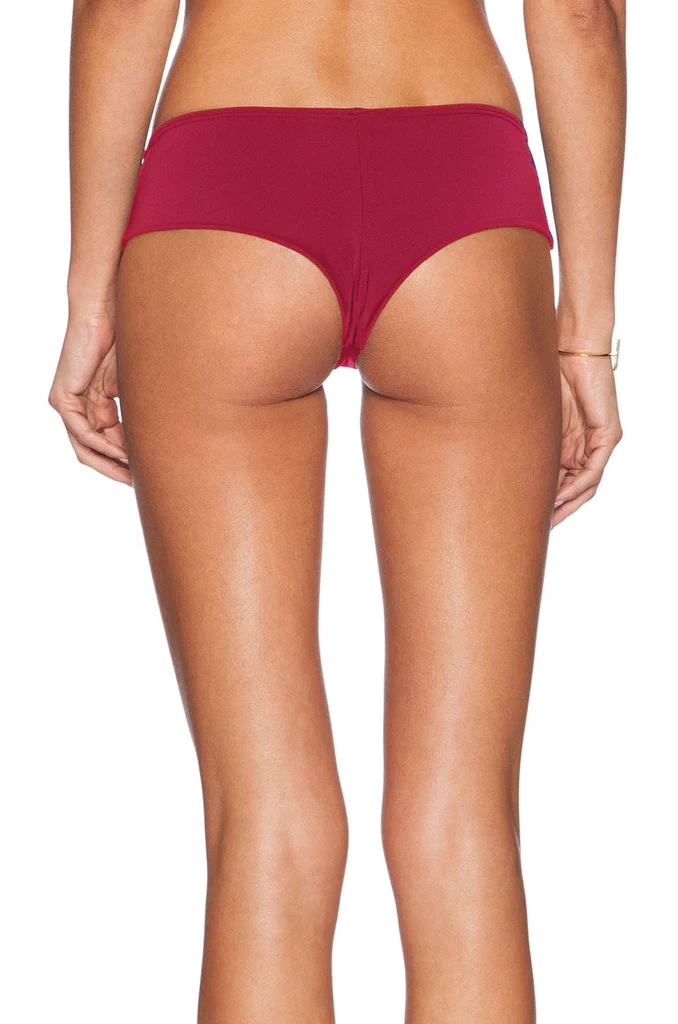 A cheeky appearance is often referred to as buttock cleavage in terms of its appearance. This is one of the most versatile looks available out there and is capable of being as sexy as you want it to be.
Having a cheeky cut is very versatile and can be paired with any sexy swimwear bottoms styles that adds a little more skin but without the total exposure that a thong provides, for example, a high waist, or even a low-rise bottom design.
It has only been in recent years that cheeky bikini bottoms have become truly popular with most women, while most are familiar with classic and thong bikini bottoms.
In the majority of cheeky bikini bottoms, the front is cut as a triangle, and the back is covered to a moderate extent. A bikini bottom like this reveals more than a classic bikini bottom, but not as much as a bikini bottom with a thong.
Brazilian Cut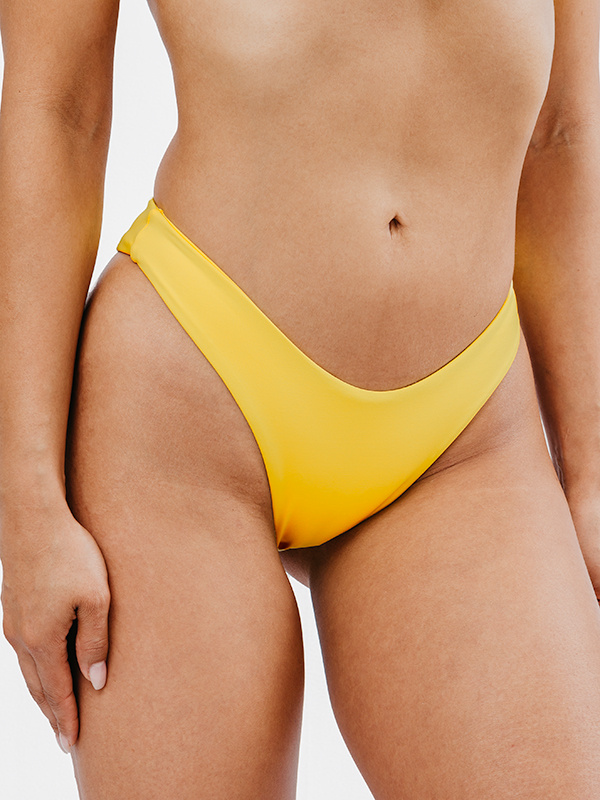 A Brazilian bikini bottom is one of the most popular bikini bottoms in many areas of the world. There is a great deal of revealing fabric in these styles, so they may require more confidence than some other styles.
By wearing these clothes, one can keep their tan lines to a minimum and highlight the body's silhouette at the same time. The look can be summed up in one word: eye-catching.
In most Brazilian bottoms, the front is a low-rise cut, while the backside is a higher cut. There are straps or strings that can be attached to the sides of these pieces of clothing.
French Cut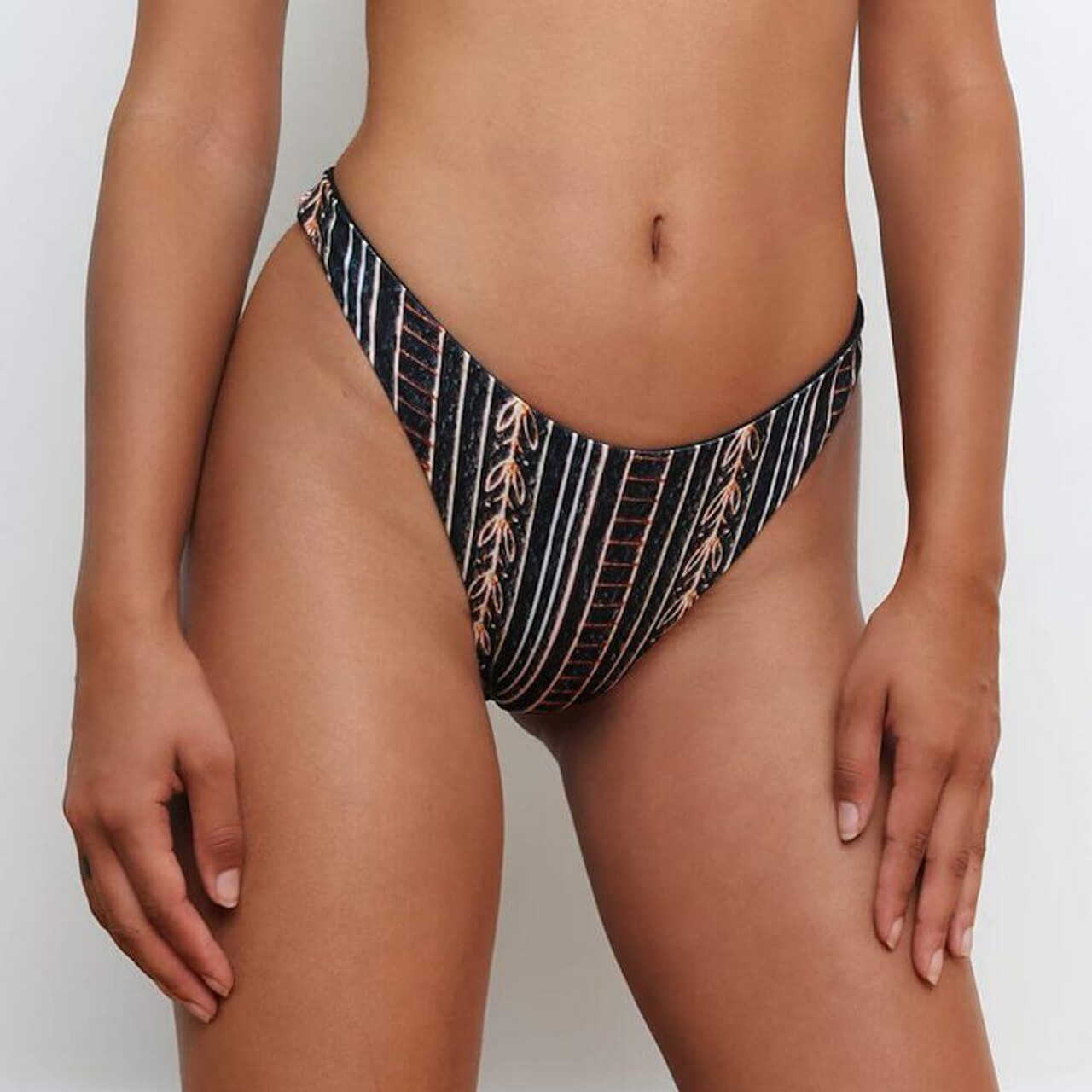 Bikini bottoms with French cuts have been a trend in recent years and are still popular today. This pair of bottoms feature an ultra-high-rise silhouette that reveals your hips to the fullest extent. To give the impression that the legs are longer, the sides of the legs are placed above the hip bone.
A French cut bottom may also have a band at the top that narrows the waistline, which is another feature that makes this style flattering.
The French-cut bikini bottoms may take some getting used to when wearing them for the first time, but with the upcoming summer just around the corner, these bottoms will definitely be on trend with your sexy swimwear for women!
Trunks Design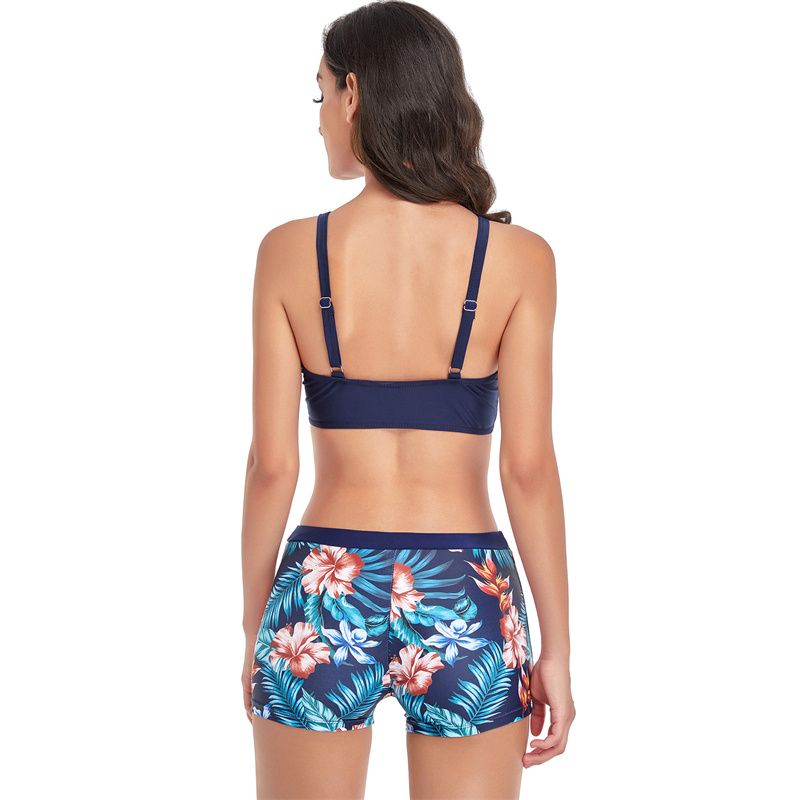 It was popular a few years ago to wear trunks as bottoms for a bikini and remains a popular choice today.
The tomboy style appeals to women of all ages with athletic bodies because they are usually for sport swimwear. Compared to the cheeky bikini bottoms, these bottoms have a more modest cut and provide full coverage on both the front and back of the bottoms.
The area covered by these trunks is generally the same as that covered by many briefs. Although boy trunks may not seem sexy, they can still have an incredible amount of heat to them.
Besides being perfect for a long day of biking, playing volleyball, swimming and even playing golf, they are often comfortable too. There is also a spotlight on the stylish aspect of this swimwear piece, and it is also very eye-catching.
Hipster Design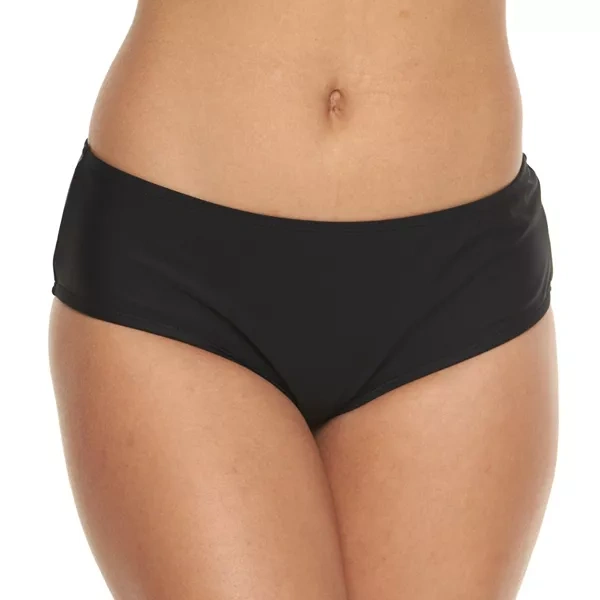 Hipster bikini bottoms are a figure-flattering shape that originated in Australia. They are almost universally worn today.
They have a classic look that works well with a variety of different body types. Also, they are available in many styles. For instance, they have a moderate amount of coverage, a low front cut, and typically have thick straps across the sides that dip below the hip bone.
They normally come in a bandeau style. You may also find hipster bikini bottoms with a French cut, which is a hybrid of the two designs and combines them by offering a broad strap that sits atop the hip bone and gradually narrows into a low front cut.
This attractive combo is ideal for a wide variety of activities that may be done on the beach.
Conclusion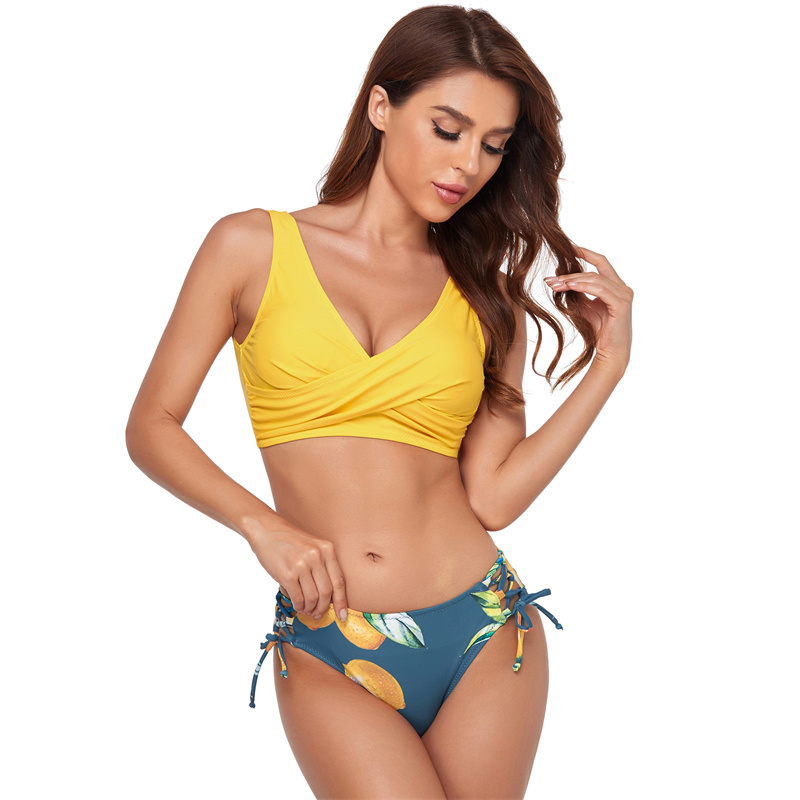 We hope this guide has been helpful in your search for the perfect swimwear bottom. Whether you prefer classic bikinis, trendy high-waisted bottoms, or sporty shorts, there's something for everyone.
Remember, the most important thing is to choose a style that makes you feel comfortable and confident, so you can enjoy your time in the water without any worries.
So go ahead and make a splash in your new smart and sexy swimwear bottom – we can't wait to see you rock it at the beach or pool!