There are a lot of foam rolling mats out there, differing in size, shape, quality, and price. If you have been searching for a mat that covers it all – both affordable and durable – then air track mats on Kameymall should be your number one choice.
You need to pick the gymnastic air track mat carefully. Not only for shopping online but when you buying it at a sporting goods store. If you are an individual who wants to have fun with friends from time to time and improve your body, then this article is for you.
Who Should Read it?
If you are a white-collar worker who sits in front of a computer all day typing and suffering from sub-health; or if you are a parent who is worried about how to provide your child with a more fun and innovative way to play; or if you are a gymnast who wants to show off your athletic physique and movements anytime and anywhere. Then it is suggested you take a few minutes to read it.
In this post, you will read about the most important aspects of the gymnastic air track mat which will come in handy in your research. The gymnastic air track mat is great for kids as well as for adults; you can even use it for exercise or as a camping bed. It gets inflated easily within 1 to 3 minutes and it's very enjoyable to use.
What is an air track mat?
With the increase in health concerns amongst people, inflatable gymnastics mats began to gradually replace the traditional sponge ones, slowly becoming popular in the crowd, and gradually extended to the campus, taekwondo classes, dance classes, martial arts gyms, sports gyms, and water sports activities
Equipped with an air track mat pump, this new type of mat can be inflated according to your needs. Made with PVC material, it is weather resistant, waterproof, flame retardant, and can be used on land, water, indoor, outdoor, and other different sites. And not affected by the hot or cold weather, the tumbling mats possess enormous incomparable advantages that traditional sponge gymnastics don't have.
What types of air track mats?
Now you already know the latest hi-tech sports mats, so the next thing you may want to know is whether this kind of mat only has a unified type or has different ones.
A variety of different types can be found in the world, which can be categorized into three general categories:
inclined mats (Air Blocks), square mats (Air Blocks), and rectangular mats (Air Tracks).
This is the most common type of inflatable mat that is available on the market today. Based on the different shapes, you will be able to identify which one will be the best suited for your needs based on where it's going and who will be using it. The age and ability of the user, along with the space that is available to the user, are important factors to consider.
How thick a mat is?
There are two different thicknesses of air tracks that can be used for home use:10cm and 20cm. An inflatable air track floor mat provides a greater level of impact protection to ensure a safe landing and a reduced chance of injury or jarring in the event of a bad landing or fall due to the fact that they are inflatable.
There is usually 10-20cm of thickness on air track mats so they can withstand great force. It is important to have a thicker mat for gymnastics and aerobic exercises so that you can land safely. The thick PVC material makes inflatable mats durable enough to use indoors and out, while just about anything can be thrown at them within reason.
As a more affordable option, 10cm mats can be an excellent alternative, but these mats do not have a very wide range of uses and may not be the best choice if you intend on using these mats as a tool to refine your skills from beginners to intermediates and advanced.
A mat that is 10cm thick and thinner does not provide the same amount of bounce as a mat that is 20cm thick, so you are limited to the activities you can safely perform on them. They are not as suitable for the low-inflation pressure training that beginners need.
However, having a mat with a 20cm thickness means that it will bounce back more while performing tumbling passes, will offer better protection, and will provide a longer lifespan and enhanced durability, especially for beginners who will use the mat at a lower pressure.
What is the right one?
What are the right air track mat sizes? Well, it depends, and this is one of the most common questions we receive from our customers. Considering all the different sizes of mats, it might be a bit confusing to figure out which one would work best for your needs.
Here we will go over a sizing guide for air track in order to assist you with your purchase. There are different sizes available and you will need to understand their different sizes in order to choose the right size for yourself.
Air Mat – 10ft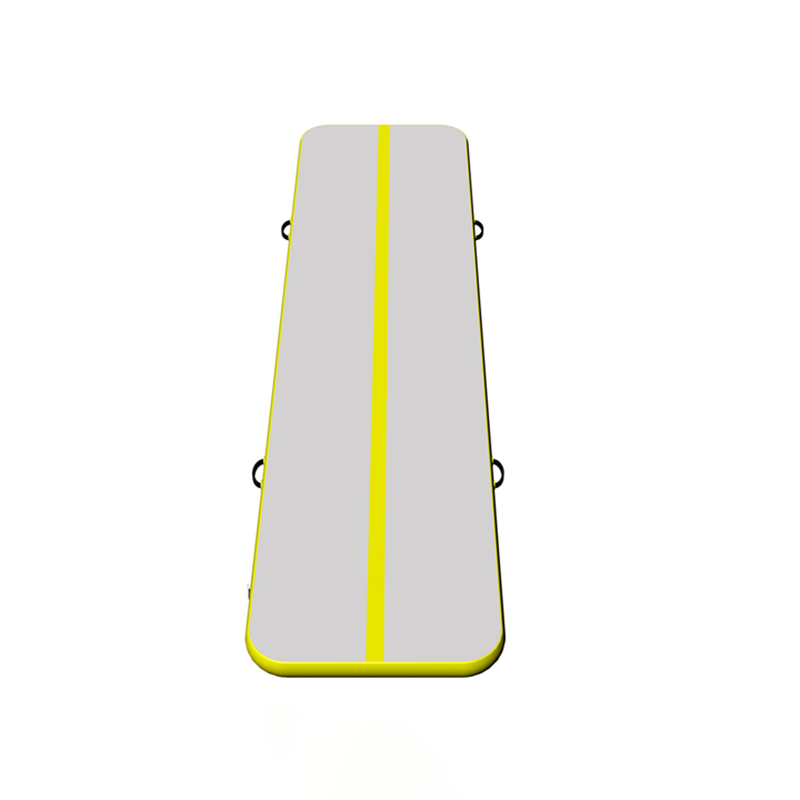 A typical practice area is 3x10ftx4, which is perfect for smaller spaces. A small backyard, a gym, or a studio can easily accommodate this mat; it's long enough for you to perform tricks but compact enough to fit in a small space.
Including the foot pump, this mat weighs approximately 30 pounds with a carrying bag included in order to make transporting it as easy as possible. With this feature, you can easily transport them from one gym to another and even take them with you on vacation!
Air Mat – 13ft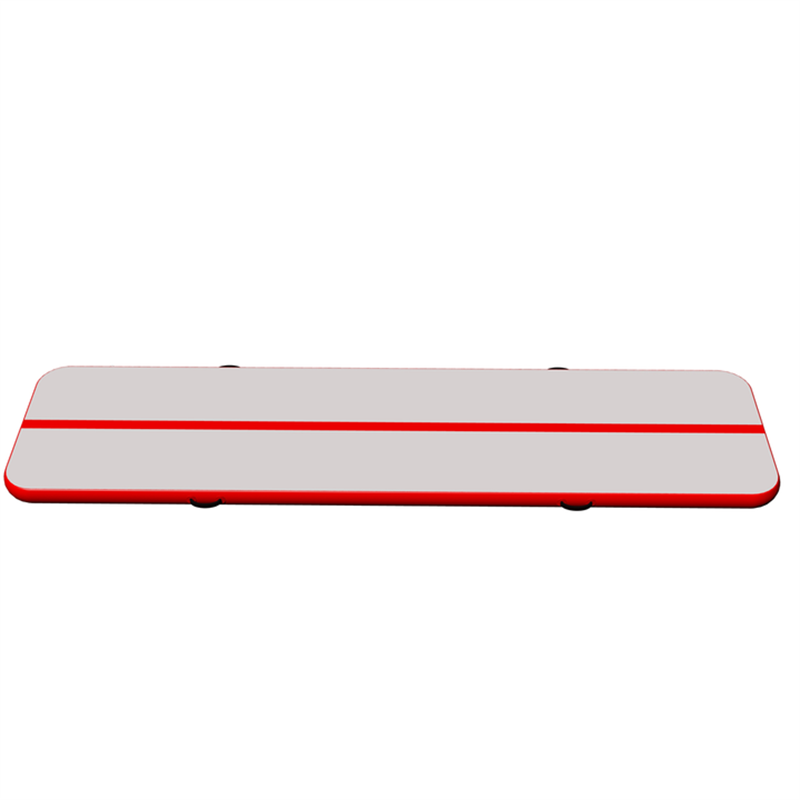 Similarly to the 10ft one, this mat offers a 3-foot extension over the 10ft, which is perfect for trainers who are confined to small spaces or for those who have to train in larger areas.
With the foot pump included, this mat weighs just 37 pounds, which is still a small and compact package that almost anyone, regardless of their size or age, will be able to carry with the included carrying bag.
Air Mat – 16ft
There are 3x16ftx4 dimensions on the 16ft mat and it is well suited to gym settings. In spite of the fact that it is a bit on the large side, it is ideal for backyards with large spaces. In addition to being able to do more tricks in one pass, this length also allows you to introduce a transition before you start a pass, such as a roundoff.
It weighs approximately 45 pounds with the foot pump, which may take some extra strength, but it is still very lightweight and portable for almost anyone of almost any size and age with the carrying bag included.
Air Mat – 20ft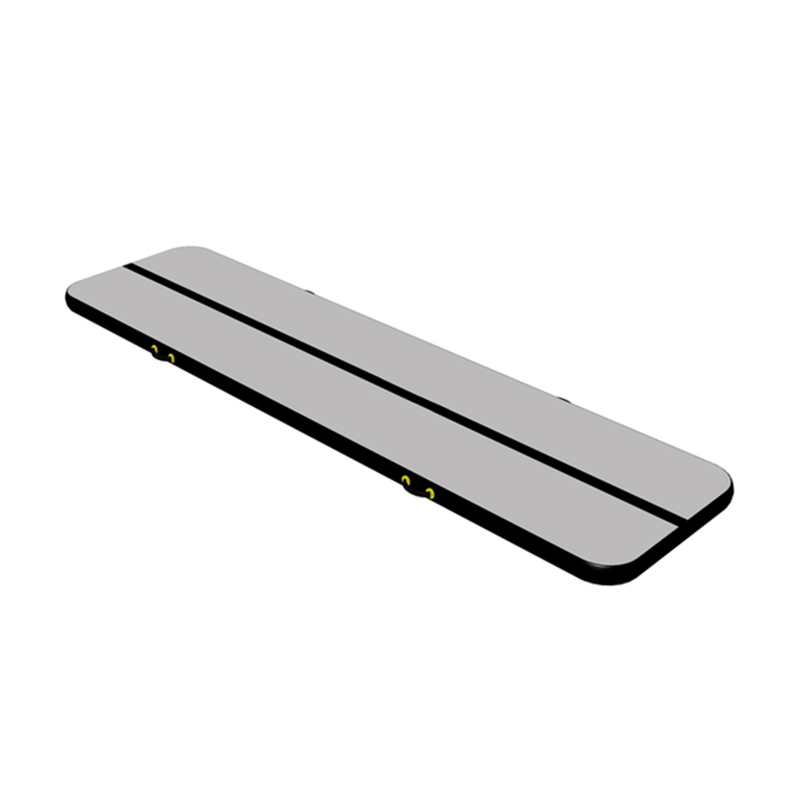 Approximately 55 pounds with the foot pump are the weight of the 20ft with a measurement of 3x20ftx4. The size may make it difficult to carry for some younger kids, but it is still compact enough to be able to fit into smaller spaces with assistance if needed.
Ideally, this length would be perfect for high-level athletes for practice, since any additional space would be helpful to them. In most cases, this will be enough space for two tricks to be performed.
Would you feel overwhelmed after reading such long but loaded quality content? Don't worry, we are now listing all essential information in a table for you to clarify your needs.
| | | | |
| --- | --- | --- | --- |
| Height | Dimension | Training Level | Age |
| 10ft | 3x10ftx4 | Elementary | 7-10 |
| 13ft | 3x13ftx4 | Elementary - Intermediate | 7-10 |
| 16ft | 3x16ftx4 | Intermediate | 7-10 |
| 20ft | 3x20ftx4 | Intermediate-advanced | 11+ |
A call to action!
If you want a good quality air track for tumbling, it is recommended to go through the above list. It will help you select the right type of mat you are looking for. Just remember that with the right mat in mind when browsing our online store.
On Kameymall, we carry a wide range of tumbling mat variations. Competitive pricing with unbeatable quality! Check out our selection now, or contact us if you have any questions or concerns. We'd be happy to help!