Summer is right around the corner. Are you excited? So many people look forward to this season, but it can be difficult to find the best sexy women swimwear depending on your body type.
I have put together a list of cautions to help you out if you're having trouble finding a swimsuit that's suitable for you, as well as helpful tips on how to feel more confident on the beach even if you have a few extra pounds.
The Sexier The Better?
Nope! Is there a misconception that swimsuits must be worn as little as possible to show off your sexiness? If you also hold such an idea, then it is very wrong!
Every woman has a different body shape. Some are bony, and some are plump. Different bodies have different characteristics, and of course, there are different sexy swimwear for women to choose from. Want to make yourself an eye-catching style, you must choose the right match!
Careful For A Pick
Before we indulge in the various design options this summer, let's take a moment to discuss the various characteristics that need more attention than anything else this season.
Ready to find the best summer swimwear? It is important to know your body type when choosing the right one, namely referring to the size and style. For example, did you know if you have a bigger butt, you don't want tight bikini bottoms?
If you want to enjoy your summer vacation without compromising on your fashion or self-confidence, then read on WHAT CAN DO AND WHAT CAN'T.
Tips & Guides
Choosing the right swimsuit is hard if you don't know what body type you are. Identifying your body type is very important.
Women's body shape is roughly divided into a few categories, for instance, hourglass, small burst, big burst, broad shoulders, pear shape, round tummy, and athletic. So, what are their characteristics, and what can do and what can't?
Here, we have prepared handy guides for you to check out how to correctly and well know your body figures and how to confidently pick a suitable swimsuite for your own. Then let's move on..
Tips for Hourglass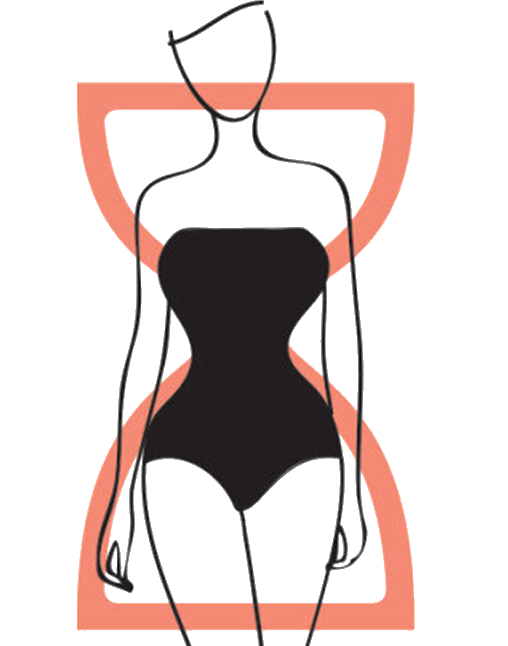 If your hips and shoulders are about the same width and you have both a bust and a bottom, with a defined waist, you're an hourglass shape. Congratulations, you're in luck! It is possible to be either a curvy hourglass or a slim hourglass.
It doesn't matter what swimwear style you choose, either a one-piece swimsuit or separate sexy bikini swimwear - just make sure you match up your sets, colors, and details to maintain the proportions of your body. Look the pic shown below: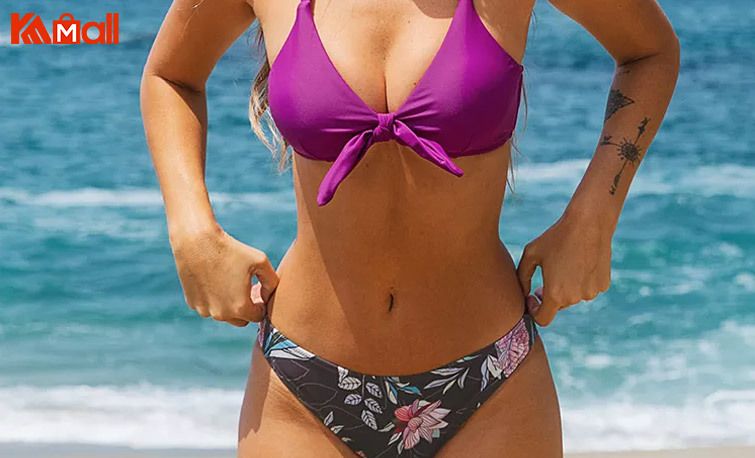 If you mix and match separates or a combination of colors, you may have an unbalanced appearance. You may not be able to get the same kind of support from string bikinis and bandeaus if you have a curvier hourglass figure with a larger bust.
Tips for Small Bust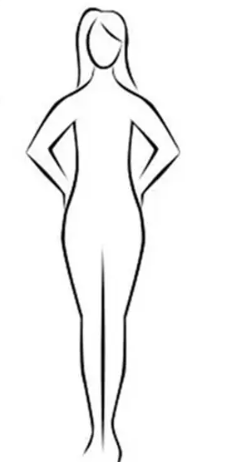 You may develop a smaller bust if you wear a bra that goes up to an AA or C.
Use white or light colors on top to create the illusion of more space. A little padding can make a big difference in boob size.
Adding volume with frills, ruffles, or ruching is one way to add volume, while bold patterns can distract the eye too.
Try a plunging halter in a bikini or a swimsuit that has a deep v-shaped neckline can be a help. Look the pic shown below: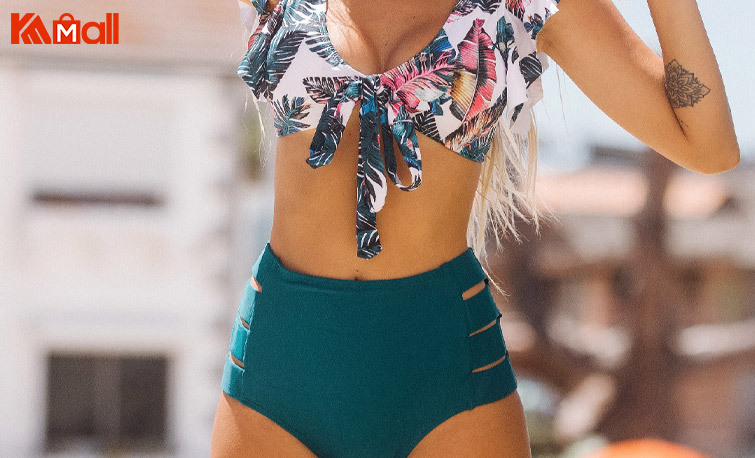 There is generally no good reason to wear a bandeau top on your chest unless the bandeau top is ruffled. To avoid any further 'minimizing illusions', it would be a good idea to steer clear of dark colors as well.
Tips for Big Bust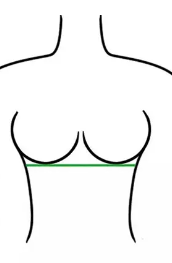 You have bigger boobs, that's all. There is a very high likelihood that you will also have an ample chest if you are a woman in a C cup or above.
Keep your boobs in shape with some underwiring that provides good support. For extra support underneath a bust, it is a good idea to choose longline swimwear.
The perfect contour and uplift can be achieved with molded or shaped cups. Support will also be improved by using thicker shoulder straps.
Stick to plain darker colors on top if you wish to distract the eye from your chest, or minimize it, and avoid embellishments or details if you wish. Look at the pic shown below: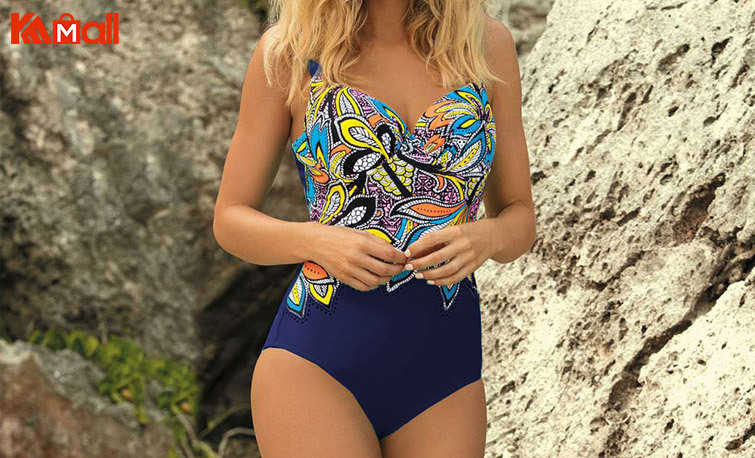 It is not recommended to wear string bikinis because they do not provide enough support. For the same reason, you should also stay away from bandeaus. The case is different if it's the type of bra with underwires and a structured shape.
Tips for Broad Shoulders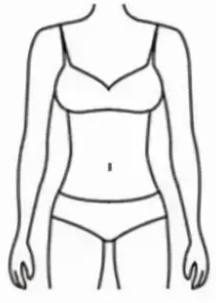 The broad-shouldered body shape is characterized by shoulders that are wider than the hips, and they may feel muscular or out of proportion with the front of your bust if they are bigger than the hips.
If you want to avoid those straps at the armpits, try some that are centered instead. It is also a good idea to wear straps that have contrasting colors.
A cup with a molded or contoured shape suggests a more feminine figure that helps balance the width of the shoulders.
There are halter shapes that come with v-necklines, as well as bust details like cutouts or long plunge necklines that will refocus the attention on the cleavage rather than the shoulders. Look at the pic shown below: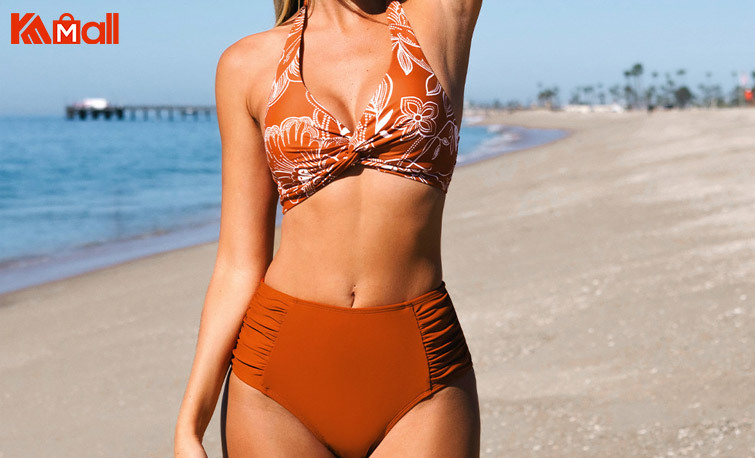 If you are planning to wear a bandeau, avoid it because it has too much of a horizontal focus. Make sure that you stay away from straps that are too thin and go straight over your shoulders.
Tips for Pear Shape

A woman with a pear shape has wide hips and a bootylicious bottom. In that case, you may be a pear shape if you have proportionally less in the top.
A beautiful top half, with ruffles, patterns, and details that draw the eye upward can help to balance out your body so that you appear like you have an hourglass figure.
By wearing an off-the-shoulder top, you will also help to balance your shoulders with your hips by making them look wider and more defined. If you need a conservative style, strive out a skirted swimsuit.
The skirted style is a good choice if you are looking for coverage. Look at the pic shown below: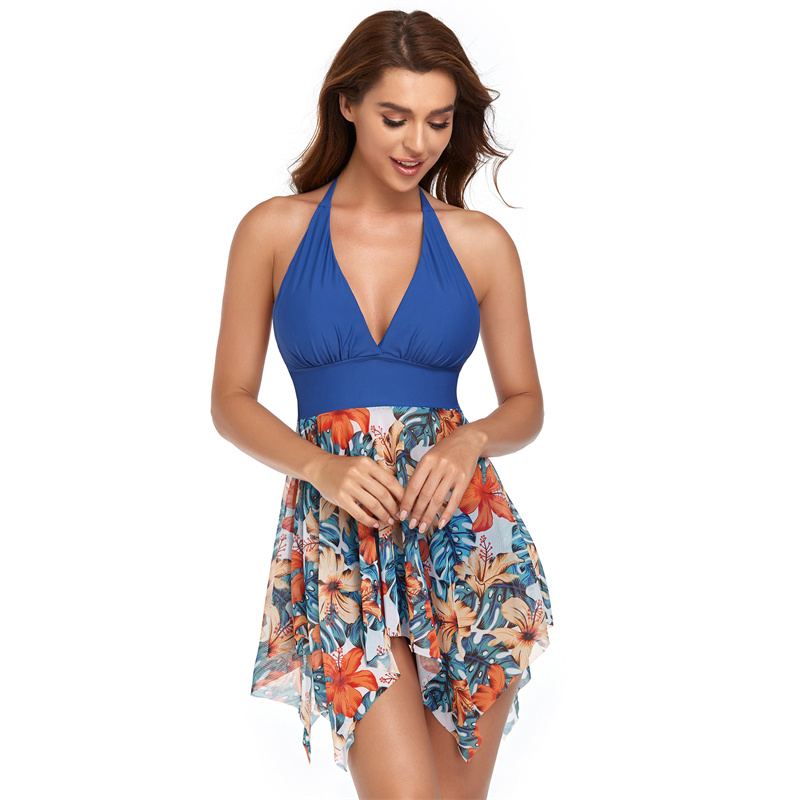 As boyshorts tend to emphasize wideness, it is better to avoid wearing them.
There is also the risk of your hips appearing too prominent when you have high-cut legs.
The lighter the colors and the bolder the patterns you choose for your bottom half, the more attention will be drawn to the area you are trying to conceal on your bottom half.
Tips or Round Tummy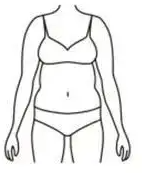 If your waist is more prominent and rounder than any of the other parts, especially with slender lower limbs, then it would be recognized as an 'apple shape'.
To make your tummy less attractive, a sexy onepiece swimwear is highly recommended, which can perfectly help you hide 'the thing' that may make you awkward in the public.
More importantly, a swimsuit designed with constrast prints can create the illusion of a slimmer waist.
As well as concealing lumps and bumps, shirring can also help you to minimize the appearance of your midsection by using darker colors around the middle.
Using high-waisted bottoms, to mask a muffin top will make it look unnoticeable. Look at the pic shown below: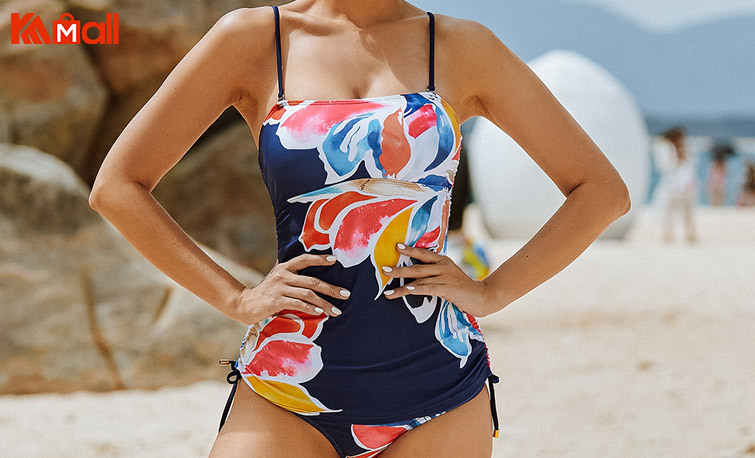 It is highly recommended that you stay away from white, light colors, stripes, or high-key patterns around your middle, as they will draw too much attention. What you need to look for is tummy control sexy swimwear.
Tips for Athletic Shape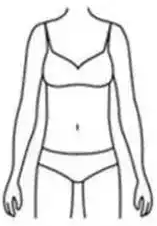 Basically, this is a more boyish shape and there is no defined waistline, with equal hips and shoulders, with no defined torso.
You should choose a bikini with ruffles on both the bottom and top in order to add volume to your bust and hips, giving the impression that you have a defined waist.
A straight figure can also be enhanced by the use of cut-outs, asymmetrical patterns, and panels.
In order to add texture and interest to a top, make sure it has details such as ruching and padding for added attraction. Look at the pic shown below: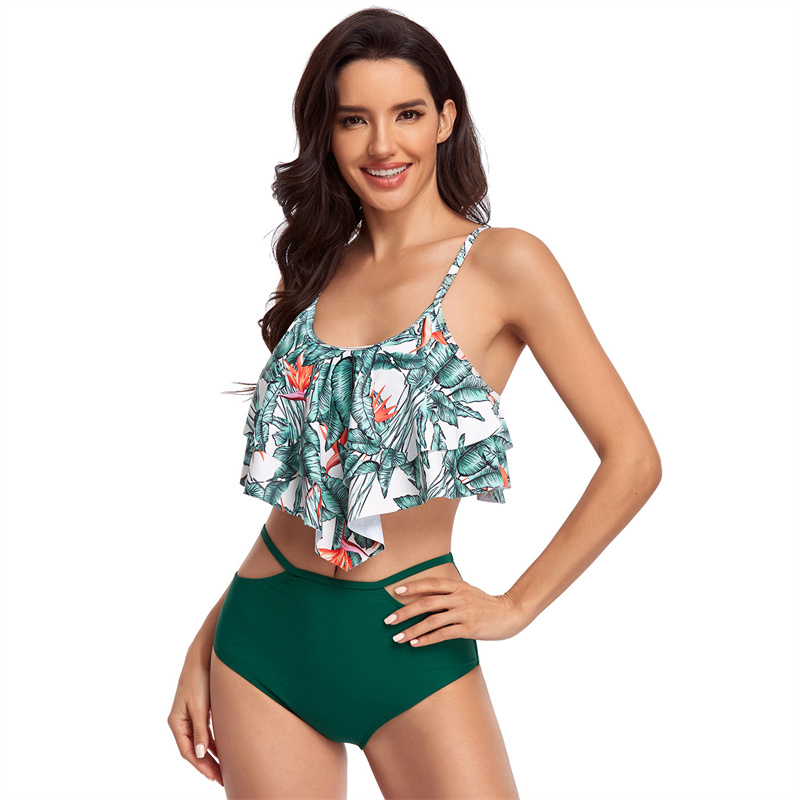 One-pieces with a block shape should be avoided since they will emphasize your straightness.
You should also stay away from shapeless bandeaus and bottoms with a boyish cut.
Try Practice Now!
With careful analysis, welcome to our bikini sexy paradise in our online store! You can find the most suitable one for yourself, so your vacation will be wonderful. More importantly, do not forget to use sunscreen when you are at the beach. The above suggestions can promote your good mood on this unforgettable vacation. Wish everyone enjoys themselves!