Welcome to our online shop, where we offer a diverse range of women's T-shirts that are stylish, comfortable, and versatile. Women's T shirts are a wardrobe staple that can be dressed up or down for any occasion.
Our collection of T-shirts includes various styles, designs, colors, and materials that cater to different tastes and preferences. Whether you're looking for a basic crew neck T-shirt or a graphic V-neck T-shirt with a fun slogan, we've got you covered.
In this blog post, we'll take a closer look at the different aspects of our women's T-shirt collection, including versatility, style, designs, workmanship, colors, and materials. Let's dive in!
Explore the Versatility of Women's T-Shirt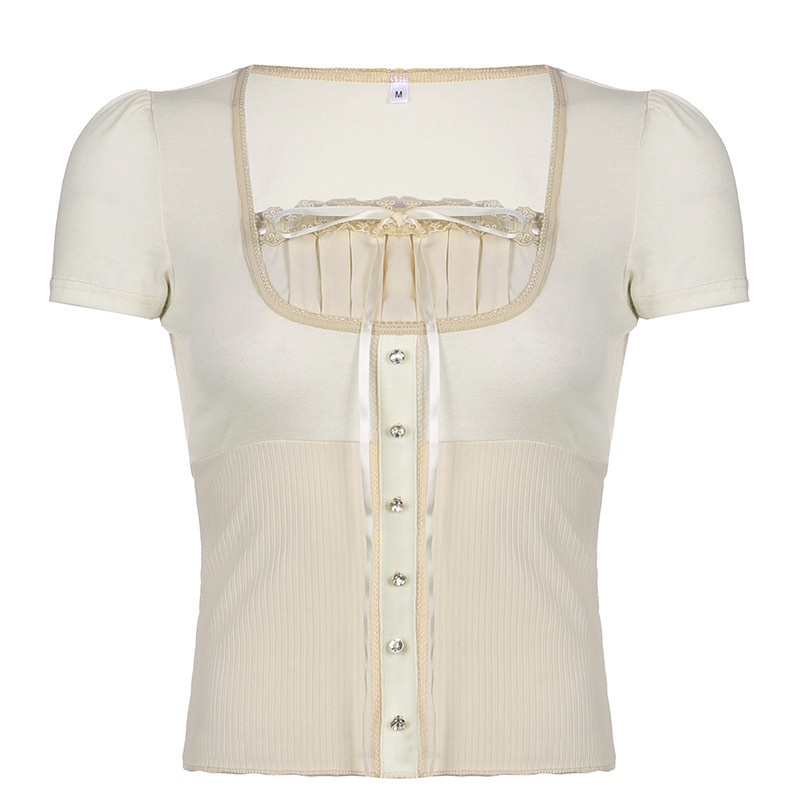 Versatility is a key aspect of our T-shirts. We understand that modern women need clothing that can adapt to their busy lifestyles and different occasions. Our T-shirts are designed to be worn in a variety of settings, from casual outings to more formal events.
You can pair our T-shirts with jeans and sneakers for a laid-back look or dress them up with a skirt and heels for a night out. Our T-shirts are also great for layering, as they can be worn under jackets, cardigans, or blazers to create a stylish and comfortable outfit.
We believe that versatility is the key to a functional and fashionable wardrobe, and our T-shirts are the perfect addition to any collection.
Cropped White T Shirt Women Short Sleeve Sweet Style
Our women's short T-shirts come in the options of classic black and white colors with a touch of sweet Korean style. These shirts are versatile and can be paired with anything, whether it's worn on its own or layered with your favorite outerwear.
The cropped length adds a playful touch to your look and the soft and breathable fabric ensures your comfort all day long. Perfect for any leisure and daily occasions, our short T-shirts are wardrobe must-haves that you'll wear on repeat.
Neodelusion Women's Sexy Backless Short T Shirt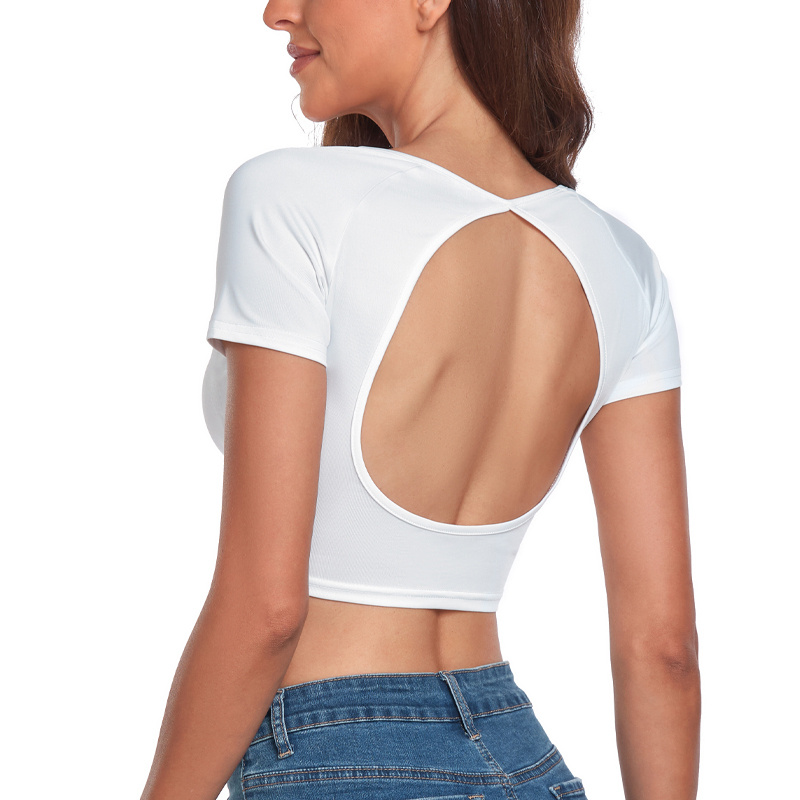 Available in multiple colors including blue, teal, maroon, white, and black, these women T shirts feature a half-body design with a circular cut-out in the center of the back, adding a touch of femininity to your look.
The X-shaped design around the ribs also provides a fashionable accent that complements the contemporary styling of this shirt.
Made with high-quality materials, this shirt is both comfortable and durable, ensuring that it will last for many wears to come.
This T-shirt is perfect for a night out on the town or a day out with friends and are sure to make a statement, adding a touch of versability and style to your wardrobe.
Discover Different Styles of Women's T-Shirts
The style of a T-shirt is determined by the neckline, and we offer a wide range of neckline styles to suit different tastes and preferences.
Our crew neck T-shirts are a timeless classic that never goes out of style. They are a versatile option that can be worn with any outfit and suit any body shape. Our V-neck T-shirts are a popular choice among women who want to create a more feminine silhouette.
They are flattering and elegant, and they can be dressed up or down depending on the occasion. Our scoop-neck T-shirts are perfect for a relaxed and casual look. They are great for pairing with shorts or leggings for a comfortable and effortless outfit.
Our boat neck T shirts for women offer a more sophisticated and stylish option. They are perfect for dressier occasions and can be paired with skirts or dress pants for a polished look.
We understand that every woman has her unique style, and we offer a variety of neckline options to cater to different tastes and preferences.
Striped T Shirt Loose Short Sleeves Polo Collar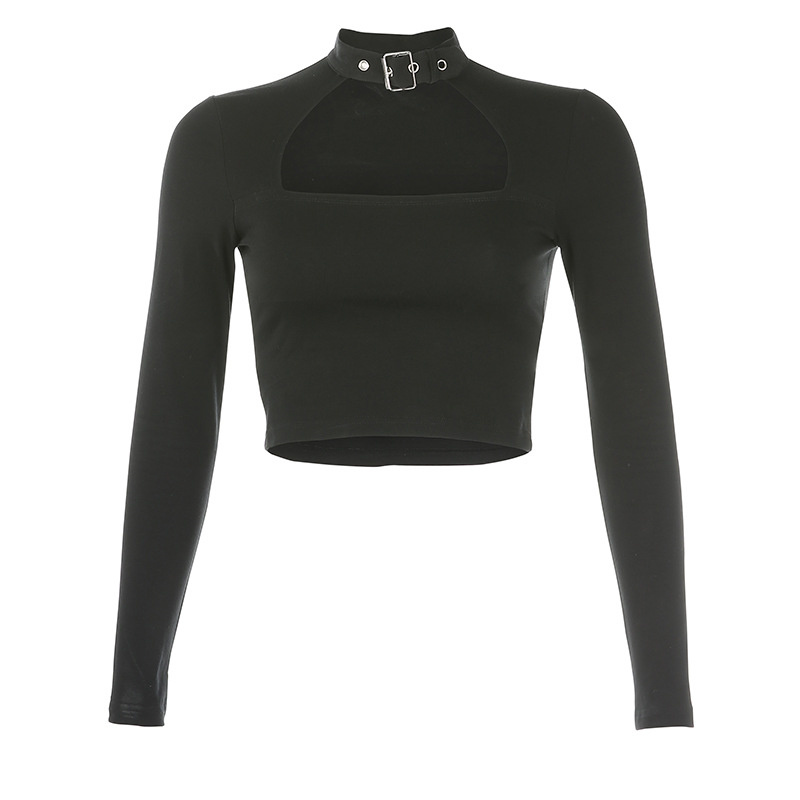 Crafted with the utmost attention to detail, our women's polo collar T-shirt features a unique x-crossed chain detail at the chest, adding a touch of texture and edge to its classic design.
Its short length is perfect to pair with high-waisted pants or skirts, while its adjustable hem draws the eye and creates a personalized style.
Versatile and trendy, our Women's Striped T-shirt with a polo collar is the perfect match for any outfit. Look no further than our classic women's polo collar T-shirt featuring a timeless black and white stripe design. Its loose and relaxed fit makes it perfect for any casual occasion.
Vintage T-Shirts V Neck Brown All Match Fungus Edge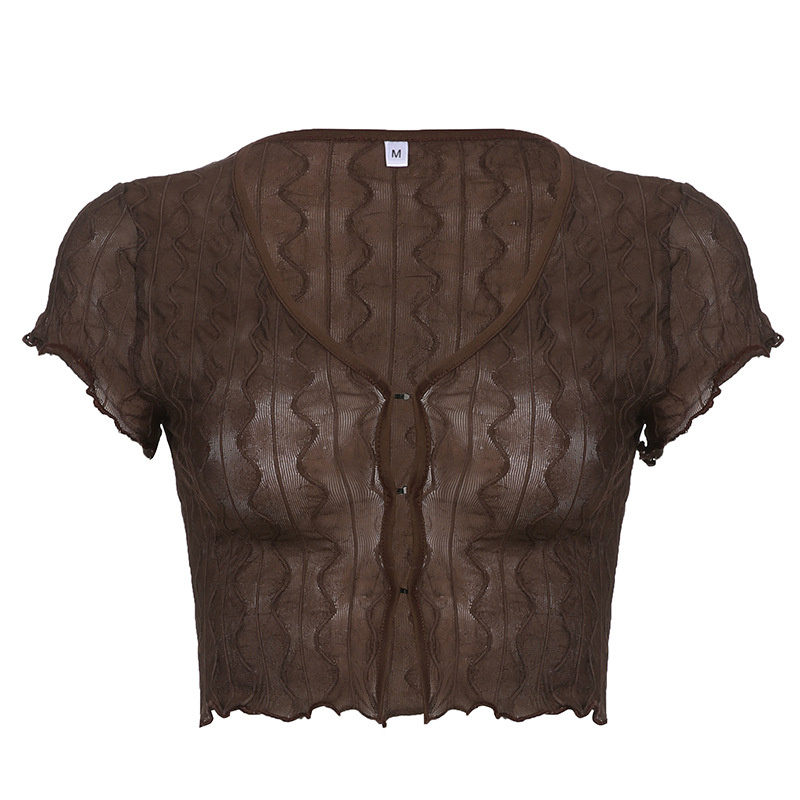 Our women's mesh design short sleeve T-shirt is perfect for adding a touch of elegance and femininity to your everyday wardrobe. The brown color scheme adds warmth and sophistication, while the mesh design adds a unique and stylish twist to its classic silhouette.
Crafted with a rolled hem on both the sleeves and bottom, this feature adds an extra hint of fashion-forwardness to its already-stylish design.
With its versatile and trendy design, our mesh short sleeve T-shirt is the perfect match for any outfit. Pair it with your favorite denim jeans or a sleek skirt with heels for a chic and effortless look.
Unveil Designs of Women's T-Shirts
Our T-shirts come in a variety of designs and patterns to suit any mood or occasion. They are versatile and easy to pair with other pieces. We also offer T-shirts with stripes, letters, or abstract patterns to add interest and variety to your wardrobe.
Our graphic women's T-shirts feature fun slogans, logos, and illustrations that add a playful and unique touch to your outfit. They are perfect for expressing your personality and sense of humor.
We also offer T-shirts with different sleeve lengths, including short sleeves and long sleeves options. Our designs are inspired by the latest fashion trends and are designed to cater to different tastes and styles.
Casual Tee Shirts with Letters Pattern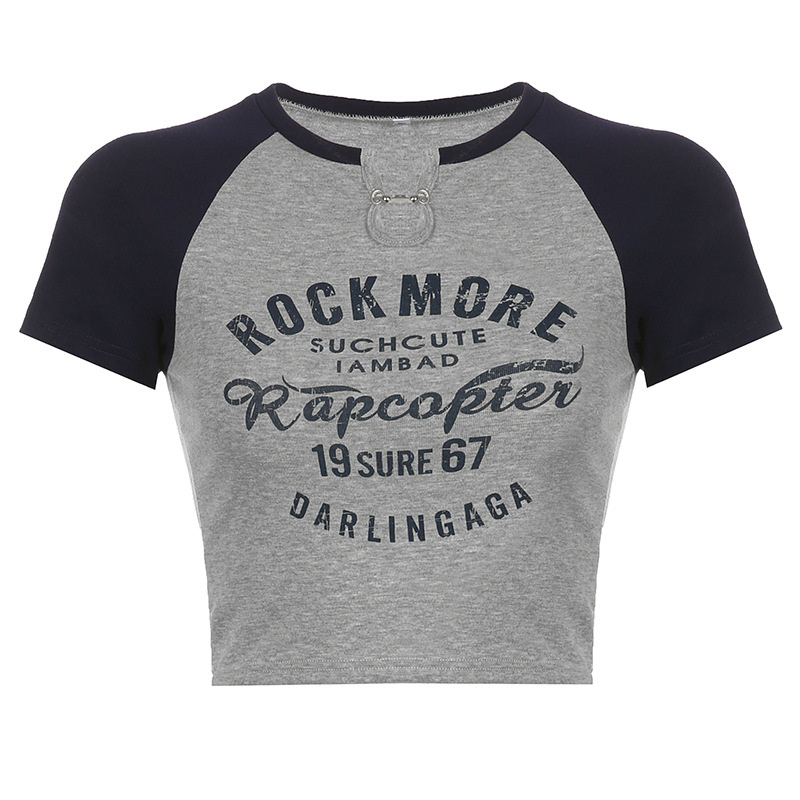 Unleash your inner fashionista with our women's color-blocked T-shirt. Featuring a youthful and edgy design with bold graphic letters and numerals, this T-shirt is perfect for any adventurous soul looking to stay on top of the fashion game.
Our T-shirt features a round neck and comfortable short length for a flattering fit that accents your waist. The color-blocked design is both trendy and eye-catching, allowing you to stand out from any crowd.
With its unique graphic pattern and youthful energy, our women's color-blocked T-shirt is perfect for any casual occasion. Dress it up with a pair of high-waist pants and heels for a chic and trendy look, or keep it casual with a pair of skinny jeans and sneakers.
Tees For Women Short Sleeve Wrap Crew Neck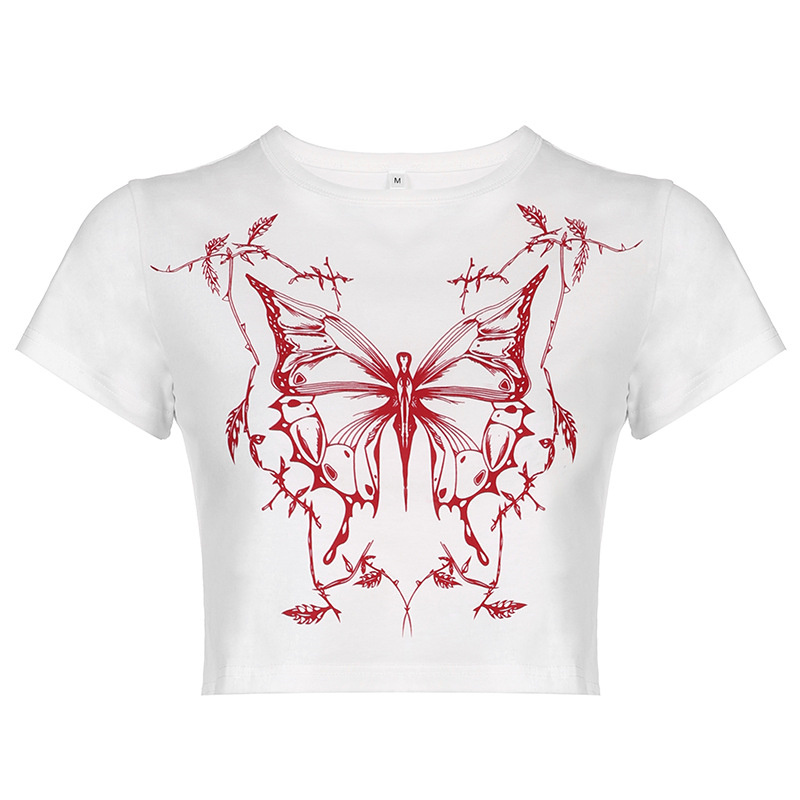 Unleash your unique personality with our statement-making top featuring a combination of abstract patterns, lettering, and lace trim. With a focus on style and substance, this top features a mix of materials designed to make you feel both comfortable and confident.
Our top is made from a cotton blend above the bust and a semi-sheer black lace below, making it sexy and alluring. Adding to the charm and allure, the lace trim is cleverly joined by two chains that form a distinctive, W-shaped design -- a true reflection of your individuality.
The abstract and cool lettering on the front of the top adds an extra layer of intrigue and personality, making this top ideal for any social occasion where you want to make a statement with your fashion choices
Showcase Workmanship of Women's T-Shirts
The material of a women t shirt is crucial to its comfort, durability, and overall quality. we offer a range of fabric options for our T-shirts to ensure that there is a choice for everyone.
One of the most popular materials we use is cotton, which is known for its softness, breathability, and durability. Our cotton T-shirts come in a variety of weights, from lightweight for hot summer days to heavyweight for colder seasons.
In addition to cotton, we also use synthetic materials such as polyester and nylon, which have moisture-wicking properties to keep you dry during workouts or outdoor activities.
We also offer T-shirts made from blended materials, such as cotton polyester or cotton rayon, which combine the best qualities of each material.
Loose T-Shirt Printing Pattern Short Sleeve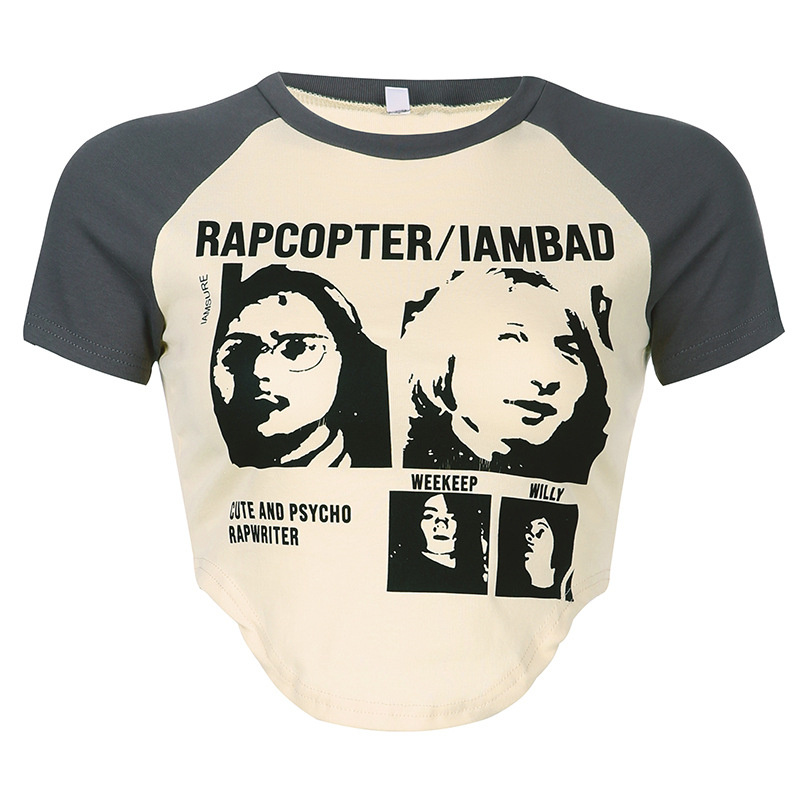 Stay comfortable and fashionable all summer long with our all-cotton short top. Featured with ultimate breathability and comfort in hot weather, this top is perfect for any casual day out.
Additionally, the unique blend of grey and flesh-tone color creates a subtle yet striking contrast that makes it a fashion staple.
The relaxed design of our top perfectly captures the spirit of youthful freedom with its nonchalant face and letter graphics. This distinctive short top features irregular cuts at both the waist and the hemline, adding to its trendy and unique style.
Perfectly designed for any casual occasion, our all-cotton short top is a smart addition to any fashion-savvy wardrobe. Its comfortable fit and unique style make it perfect for any individual looking to add a touch of unconventionality to their wardrobe.
T Shirt For Summer Grey Short Sleeves Deep Neck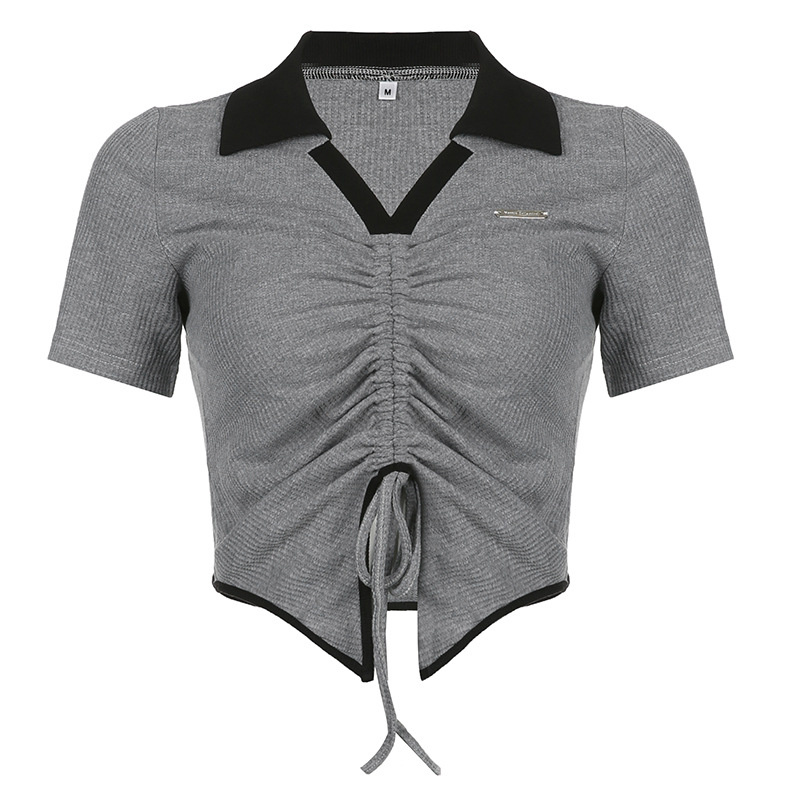 Made from high-quality pure cotton fabric, it's soft and gentle against your skin, making it perfect for all-day wear.
The ruched front design at the chest creates a pleasing contoured shape that highlights your bust, making you look healthy and fit.
The short-length design features an irregular hemline that is shorter on the sides and longer in the middle, adding a unique personal touch while showing off your waistline.
This short top is perfect for any casual occasion, such as a summer brunch with friends, a day at the beach, or a light hike in the mountains. The elegant low neckline is stylish and modern, while the irregular hemline adds a carefree and playful touch to the design.
Final Word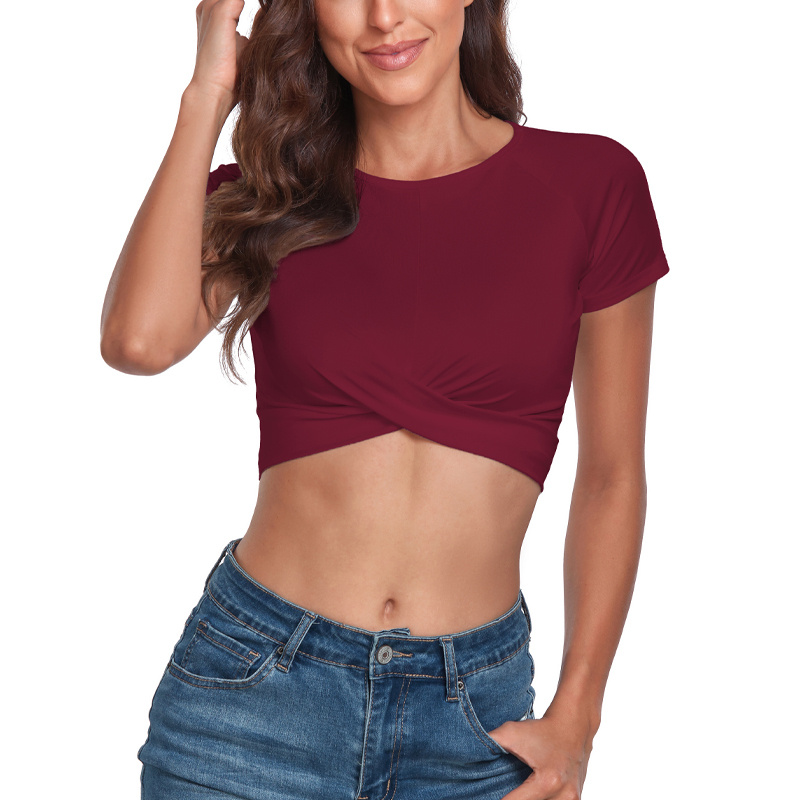 We hope this blog post has given you a better understanding of our women's T-shirt collection and the different aspects that make our T-shirts stand out. We believe that a good T-shirt should be versatile, comfortable, and stylish, and our collection reflects those values.
Whether you're looking for a classic crew neck T-shirt or a oversized t shirts for women, we have a range of options to suit your needs. Our T-shirts are made with high-quality materials and workmanship to ensure a comfortable and flattering fit that lasts.
We're confident that our T-shirts will become a favorite item in your wardrobe and bring you joy and comfort for years to come.