Black crop tank top is a staple in many women's wardrobes for a reason. They offer a versatile, comfortable, and stylish option that can be dressed up or down for any occasion.
Whether you're running errands, hitting the gym, attending a casual outing, or looking for a layering piece, black tank tops can be your go-to choice.
In this blog, we'll explore the various aspects of women's black tank tops, including style, occasions, pairing options, and care instructions. Get ready to embrace the magic of black tank tops and elevate your wardrobe to new heights.
Why Black Tank Tops are Popular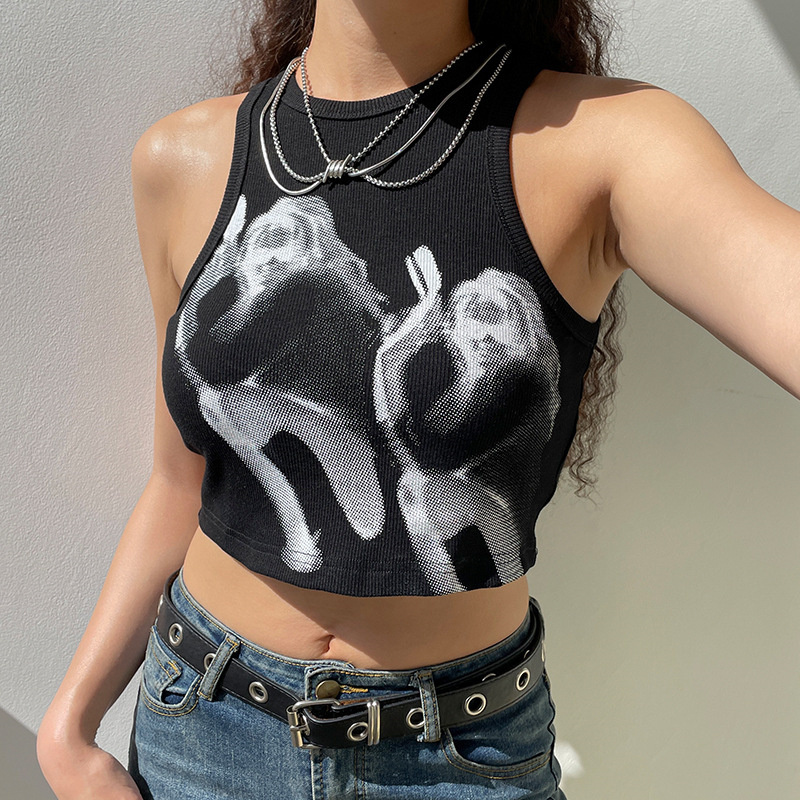 Black tank tops are a classic and timeless fashion item for women that offer both versatility and style.
Their timeless appeal lies in the fact that black is a neutral color that never goes out of fashion. A black tank top is a wardrobe staple that can be worn year after year without looking dated or out of place.
A black tank top is one of those garments that can be paired with a variety of outfits; they can be worn casually or dressed up depending on what you are doing or wearing.
They can be worn with jeans, shorts, skirts, or even dressed up with a blazer or jewelry for a formal occasion. Whether you're going to a summer barbecue or a fancy dinner party, a black tank top can be a perfect choice.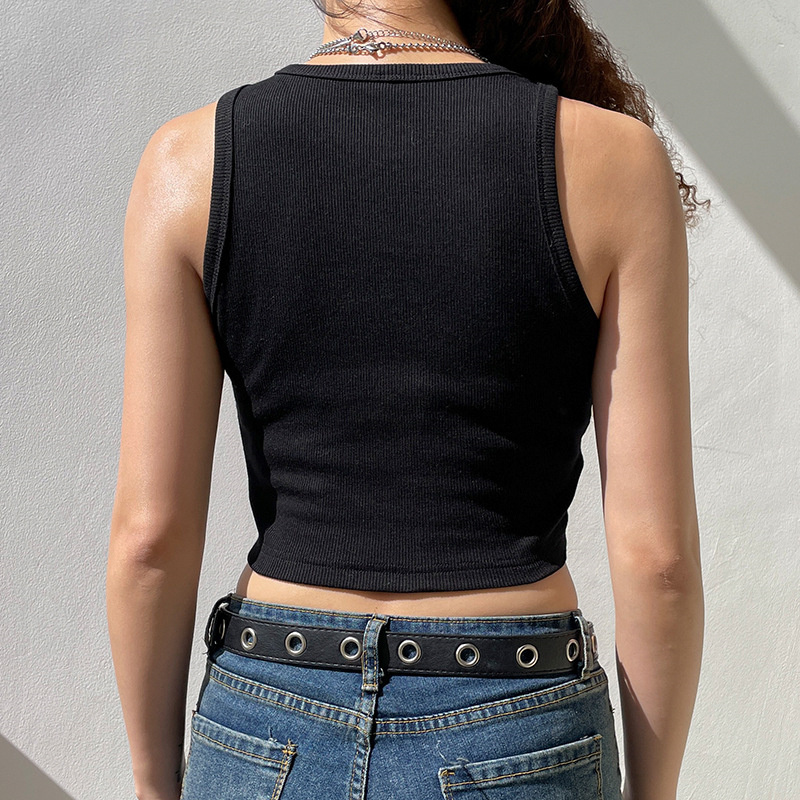 In addition to being a timeless style, black tank tops are also one of the most flattering pieces of clothing you can own.
Black is a slimming color that can create a flattering silhouette, making you look and feel your best. When paired with the right accessories, a black tank top can be a show-stopping look that flatters your body shape.
Traditionally, black tank tops are made from lightweight, breathable fabrics, which make them very comfortable to wear in warm weather or as a layering piece when it gets cooler. They are a practical and comfortable choice that can be worn year-round, making them a true wardrobe essential for women.
There is no doubt that black sexy tank tops have a timeless appeal, largely owing to their versatility, style, and comfort. There are many ways you can wear them, making them the perfect wardrobe staple for any woman who is fashion-conscious and wants to look good.
The Classic Styles You Can Go for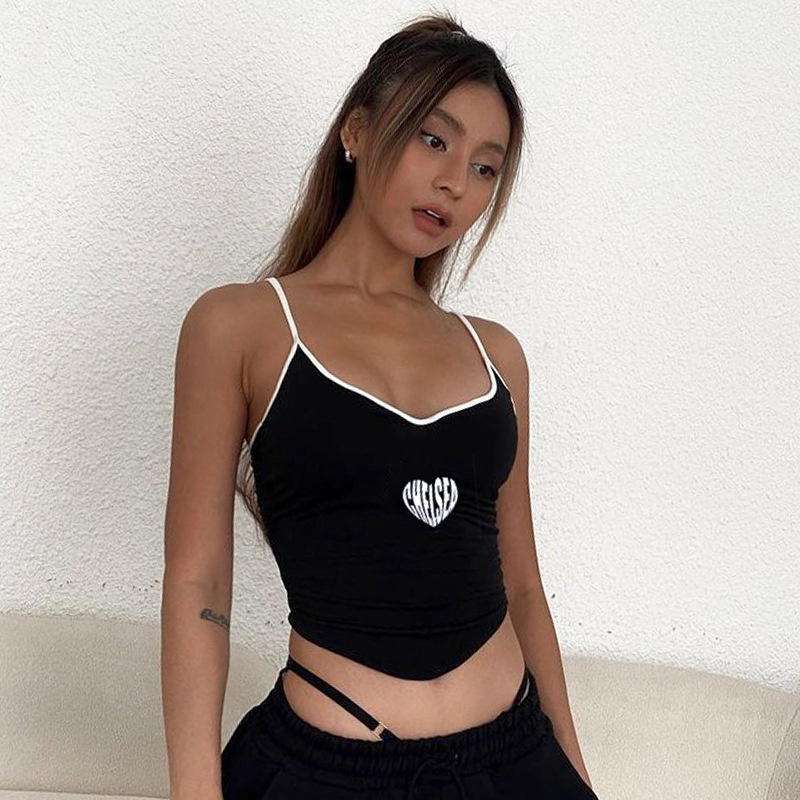 From basic solid colors to more intricate patterns, black tank tops are available in a variety of classic styles and designs, so you'll find something that fits you perfectly.
Basic Ribbed Tank Top
Featuring a form-fitting ribbed texture that hugs the body, this is one of the most classic styles available right now. This type of clothing is usually made from cotton or a cotton blend, which makes it the perfect choice for layering or casual wear.
Flowy Racerback Tank Top
In this style, you will find a looser, flowy fit with a racerback design on the back. Generally, they are made from lightweight materials such as rayon or polyester, which makes them a good choice for summer wear or as a top to use while you work out.
Halter Neck Tank Top
As the name implies, this style features a halter neckline that ties behind the neck, which adds a more formal and dressy look to the garment.
There are several types of material that can be used for such garments, such as silk, satin, or cotton, depending on the occasion and the desired look.
In terms of materials and textures, the type of fabric used is a critical component that can have a significant impact on the overall look and feel of the black tank top.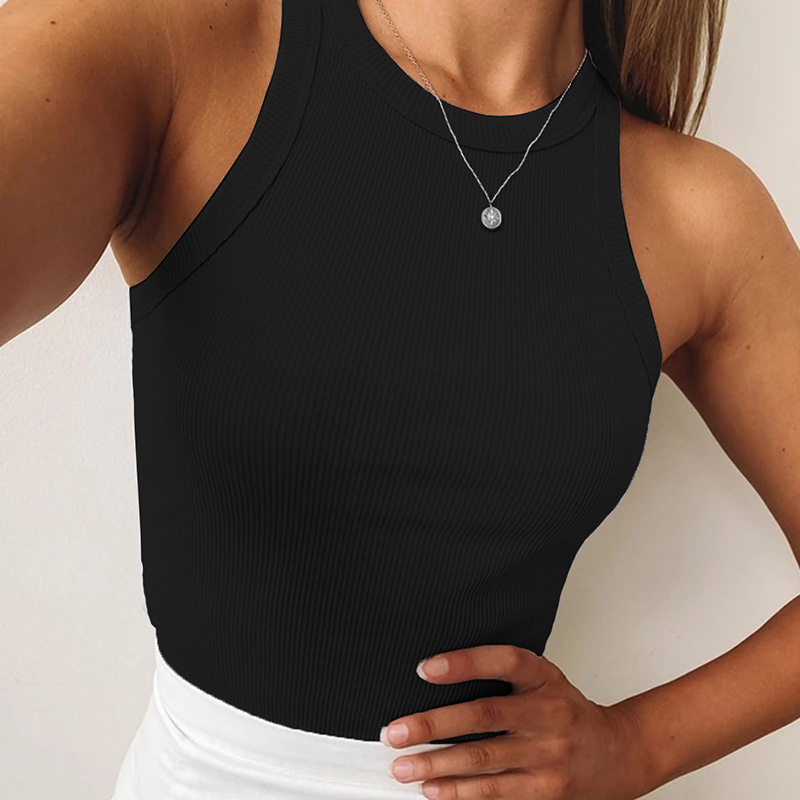 Cotton -- This is a popular material for black tank tops because it's soft, breathable, and comfortable. It's perfect for the basic ribbed crop tank top that hugs the body.
A black tank top made of cotton will have a soft and sweat-wicking texture that is perfect for basic ribbed styles. It's also a comfortable option that can be worn for extended periods without feeling uncomfortable or restrictive.
The ribbed texture of the fabric adds a form-fitting quality to the tank top that hugs the body and creates a flattering silhouette.
Rayon -- The material is a lightweight, silky material with a fluid movement and it drapes beautifully. The material is often used to create flowy tank tops which are perfect for summer wear.
When you wear a black tank top made of rayon, the texture will be more fluid and skin-friendly, allowing the tank top to drape nicely and have a natural flow to it. This is perfect for flowy racerback tank tops, which are often worn during summer months or for workouts.
Rayon is also a stretchable option for extended wear. The fluid movement of the fabric gives a relaxed and laid-back vibe, making it ideal for casual wear.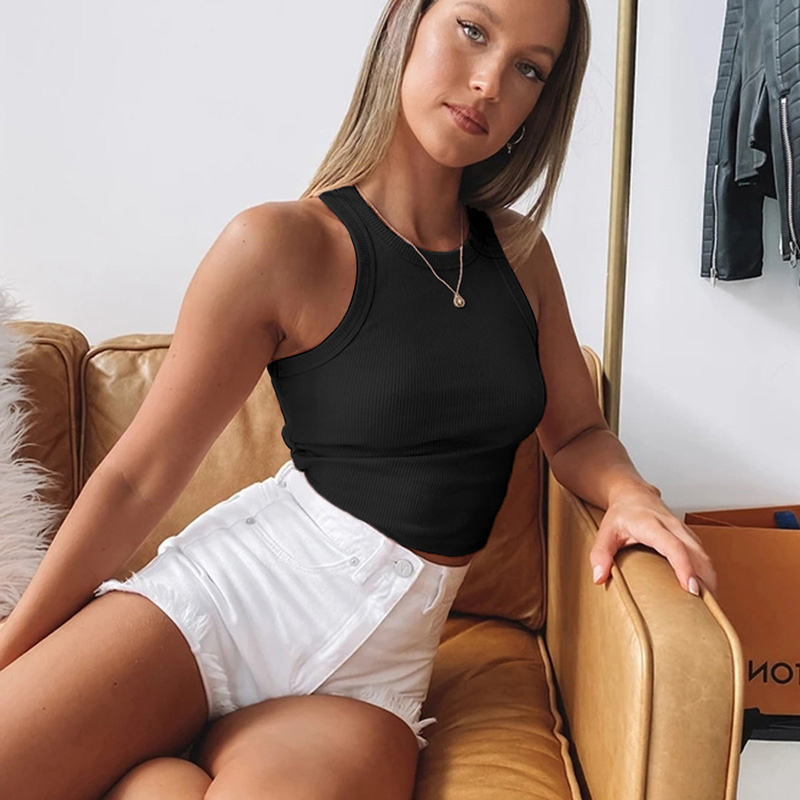 Silk -- It is a luxurious material that has a natural sheen that is commonly used as a material for dressier tank tops, such as halter-neck tank tops. There is a soft, silky texture to this product, which makes it feel smooth against the skin.
If you're looking for a top-grade option, a black tank top made of silk is a luxurious choice. Silk has a natural sheen that gives a beautiful, elegant look to the top. It's also incredibly soft and smooth to the touch, making it comfortable to wear.
In particular, halter-neck crop tank tops made of silk are perfect for formal occasions or dressy events. The silky texture of the fabric adds a touch of glamour and sophistication to the overall look.
Polyester -- Compared to silk or cotton, this material is durable, wrinkle-resistant, and can mimic the look of silk and cotton as well as feel.
Polyester has a smooth texture and can have a slight sheen, depending on the finish. It's a practical option that is easy to care for and can be worn for extended periods without losing its shape or texture.
Find the Right One for Your Body Shape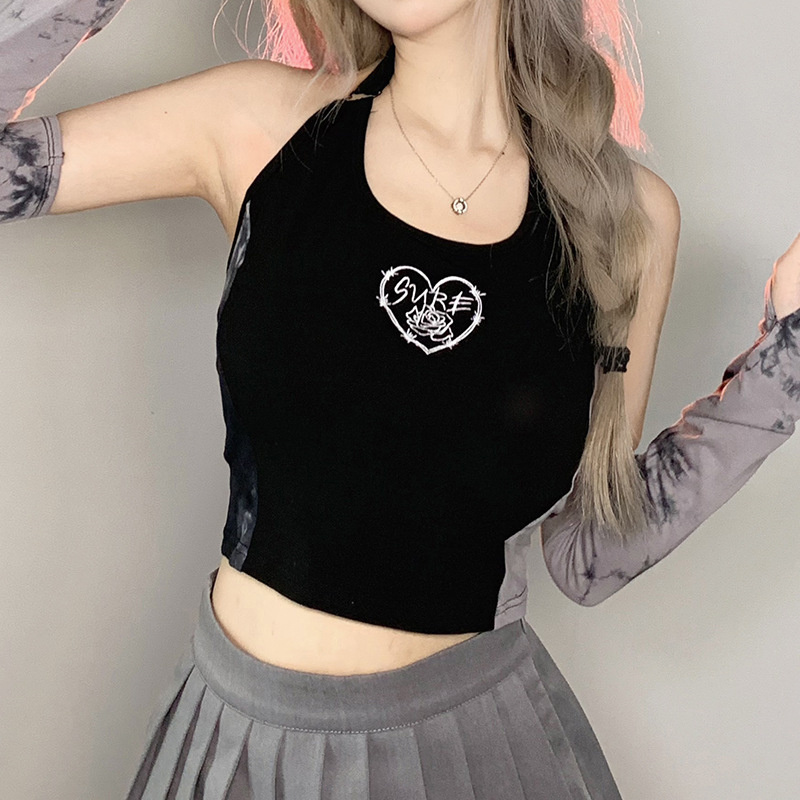 Type 1: Hourglass
Black ribbed tank tops with a slim fit can accentuate your waistline and highlight the shape of your figure.
The ribbed texture also adds subtle dimension to the fabric, enhancing the hourglass shape. A V-neckline can elongate the torso and balance the proportions by drawing the eye downwards.
Type 2: Pear
Black racerback tank tops with a loose fit can help balance the proportions of the lower body and flatter it at the same time.
The racerback design can also showcase toned arms and shoulders, drawing attention away from the hips. Avoid tops that cling to the hips or have a tight fit around the waist, which can accentuate the pear shape.
Type 3: Apple
There is nothing better than wearing a black tank top with a high neckline and a flowy silhouette that will create a balanced look.
The high neckline can draw the eye upwards and away from the midsection, while the flowy silhouette can conceal any unwanted bulk around the waist. Tops with ruching or draping around the midsection can also help create the illusion of a smaller waist.
Type 4: Rectangle
You can create the illusion of curves by wearing a black sexy tank top with a fitted silhouette and a scoop or V-neckline on the front or back.
The fitted silhouette can add subtle definition to the waist, while the scoop or V-neckline can create the illusion of a more rounded bust. Ruching or detailing around the waist can also add dimension and create the illusion of a defined waistline.
Type 5: Inverted Triangle
The proportions of your upper body can be balanced by wearing a black tank top with a flowy silhouette and a V-neckline, which will flatter the upper body overall.
The flowy silhouette can add volume to the hips and create a more hourglass-like shape. Tops with detailing or embellishments around the hips can also create the illusion of a wider lower body and balance out the wider shoulders.
Final Say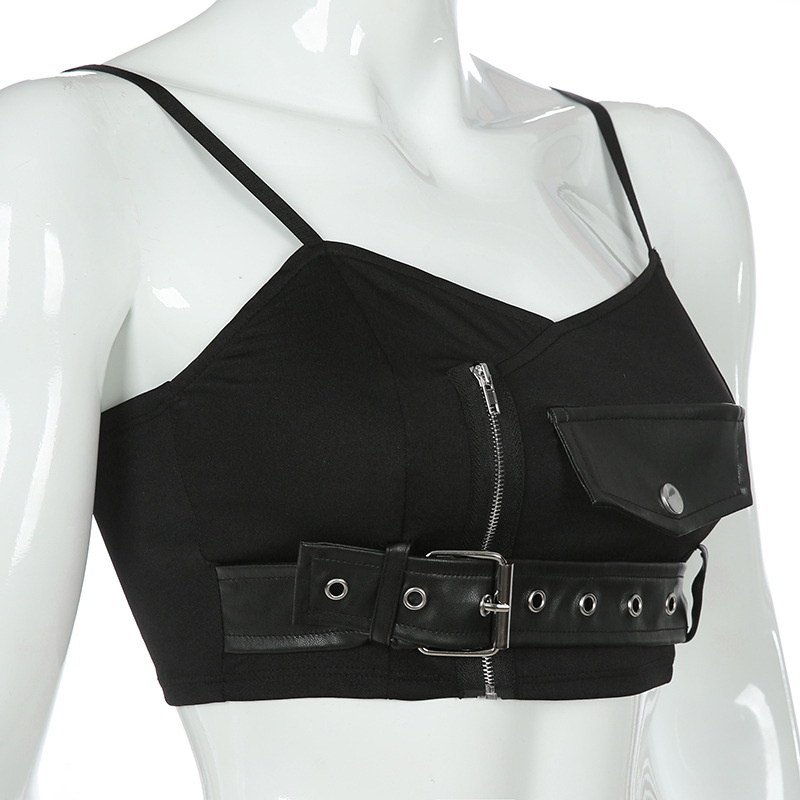 Anyway, black tank tops are a timeless and versatile fashion item for women. They come in a variety of styles, designs, materials, and textures, each with its own unique look and feel.
When it comes to choosing a black tank top, it's important to consider your body shape and select a style that flatters your figure.
Whether you have an hourglass, pear, apple, rectangle, or inverted triangle body shape, there is a black tank top style that can accentuate your best features and create a balanced and proportionate look.
If you don't already have a black cropped tank top in your wardrobe, now is the perfect time to add one! If you do have some, now is a great time to refresh your wardrobe by adding more black tank tops. With so many styles and designs to choose from, you're sure to find a black tank top that fits your personal style and flatters your body shape.
So go ahead and add a black tank top to your wardrobe - you won't regret it!