If we are talking about fitness, the first impulsiveness we have when we hear about it is to find the nearest gym and register for a membership. Unfortunately, there are times when our plans to go to the gym may not work out due to social gatherings, bad weather, etc.
It would really be great if we could have fitness equipment at home. And exercising doesn't have to be restricted to gyms, we can do it at any time we want to. The AIR TRACK MATS, for example, allow you to exercise at home or in your backyard, whenever and wherever needed.
Importantly, there are many ways that we can enjoy air track mats, offering us much more joy if we know how to use them in the right way.
In this article, we will show you some creative ideas for using it so that you can get the most out of your air track mat. We hope that by the end of this article, you will find some inspiration to try new things and have more fun with your mat.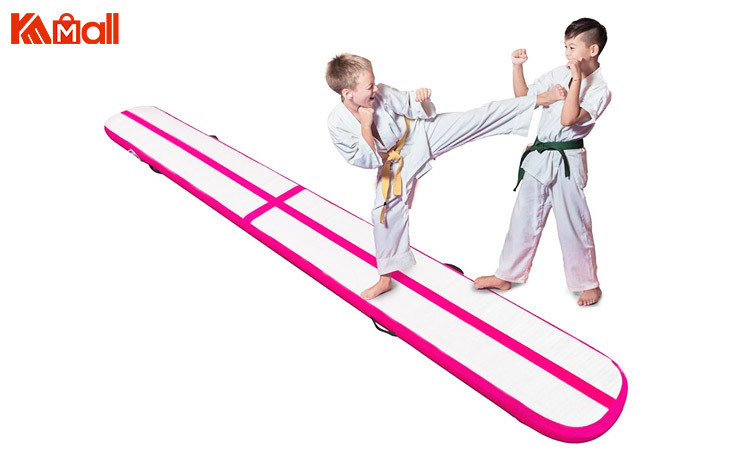 What Good About Home Air Track Mat
We all know how difficult it is to get enough exercise daily. Today's busy lifestyles make it difficult for us to fit in a few minutes of physical activity into our busy schedules on a regular basis.
In this case, having home-style fitness equipment pieces, which is a home air track mat, will help you out to the most extent.
It may surprise you to learn that a gymnastics air track has just as many benefits as a gym do:
Assist you in losing or maintaining a healthy weight
Less likely to be affected by different diseases
Enhances your energy level
Makes you feel happier
Take care of your overall health
All in all, an air track mat is a great way to get in some at-home fitness. You can use it for a variety of exercises, from jumping to yoga to Pilates.
And, of course, It's also a great way to get creative with your workouts. There are endless possibilities for how to use an air track mat. You can use it to improve your balance and coordination or to work on your endurance and stamina.
So, what are you waiting for? Get on having some fun with air track floor home gymnastics!
Creativity On Mat
There are several different uses to be found for the AirTrack. It is very versatile, making it a perfect outdoor gym mat, and it can be used in many different ways.
Among the easiest exercises for beginners, the ones we are introducing to you are the most useful and straightforward.
Jumping Jacks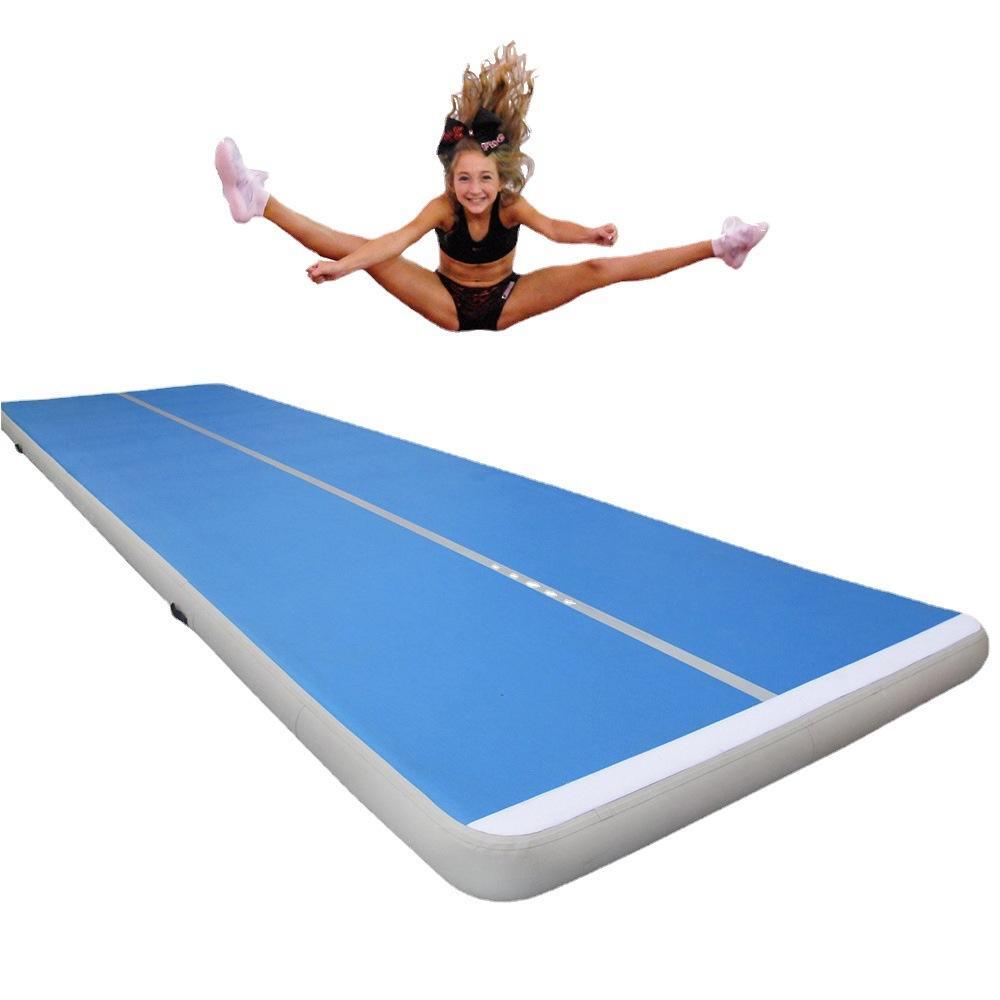 There is no doubt that jumping jacks are one of the easiest exercises for beginners because of their simplicity. It is important to realize that this basic exercise is beneficial to losing weight and keeping fit, and don't be fooled by its simplicity.
By doing jump jacks, you are keeping your body active and you are burning calories at the same time without needing to have any particular skills. You can perform jumping jacks at any time of the day or night on an air track mat, whether you are an adult or a child.
Squat Jumps
The air tracks for tumbling can also be used for performing squat jumps, such as side-to-side hops as well as front-to-back hops. It is only the direction of the jump that differs between front-to-back hops and side-to-side hops.
You can do these exercises more effectively and make your lower limbs feel better because of the support of the air mat. Even though there is less impact when you jump on an air track mat, you should make sure that you keep your feet together when you jump so as to minimize your injury risk.
Max Jumps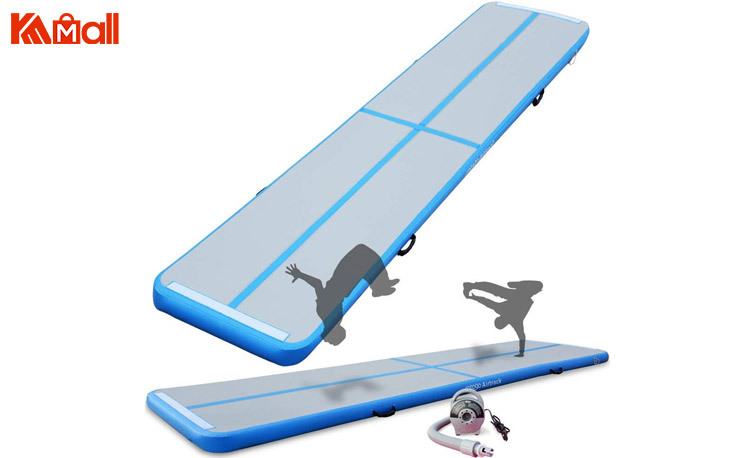 Max jumps are an excellent exercise that can be performed on an air track mat if you are looking for a high-intensity workout.
A max jump is somewhat similar to a high jump in terms of mechanics, as it's all about jumping as high as you can when you do it. Max jumps may look simple at first, but don't ever look down on them.
As you form your legs into a squat, you need to be paying attention to the moment when you land your feet on the mat. Whenever you do a max jump, you need to take care not to sprain your feet.
If you want your body to be well prepared for the next set of exercises, you might want to do baby hops instead of standing still during rest periods, taking advantage of the firmness of air track mats as a propeller to help you get back up in the air.
Twist Jumps
As a variation to regular jumping jacks, jump twists are suitable for people with improved coordination and flexibility. As the name implies, the jump twist involves jumping with the arms stretched and then twisting the hips left and right mid-air to complete the move.
A twist jump can effectively burn calories as well as tone up your body muscles since the exercise is a whole-body workout, involving both upper and lower body movements.
Exercise with Challenging Level
As one of the more advanced exercise drills, the following tumbling drills will require greater flexibility, balance, and strength in order to be successful:
Flips Forward
There are many things you can do with an air track mat other than jumping up and down. Would you like to see how good you are at tumbling?
Flips forward is also known as a front tuck or a front flip in gymnastics. In order to perform a front flip, one jumps in the air, forms a ball with their body, rotates forward, untucks their body, and lands on the ground.
It is recommended that you use crash mats at both ends of the platform before performing front flips for keeping yourself safe.
When doing front flips, the best air track tumbling mat is suitable to use as the drill causes a lot of pressure to be put on the legs during the exercise. For those of you who have never performed front flips before, expect to make several mistakes before you get the proper form down.
Handstand
Handstands require a great deal of strength and flexibility so as to be performed successfully. If you are new to handstands and have not practiced them before, it is better to start practicing against a sturdy wall with an air track mat underneath for support and protection.
You will be able to work out your body in a very efficient way once you learn the handstand. You can get a great deal of physical activity while having a good time doing it!
Plank
Like push-ups, planks are muscle-building exercises. It is performed in a prone position during exercise, and the body is in a line to maintain balance. No props are needed and you do not have to push up and down. The transverse abdominis can be effectively exercised, and the core muscles can be strengthened by doing this exercise.
As you lay prone, keep your elbows bent and your hands on the ground. A perpendicular line is drawn between the shoulders and elbows, and the forefoot is placed on the ground as well. Ensure that the body is off the ground, the torso is straight, and the head, shoulders, hips, and ankles are in the same plane as each other while doing this exercise.
Make sure that you keep your abdominal muscles and pelvic floor muscles tight, your spine long, your eyes on the ground, and your breathing even as you go through the process.
Stay Healthy Stay Cool
Having good health is one of the best feelings in the world! It is true that if you are healthy, you can do more things and enjoy life more than if you are not.
Generally speaking, we spend more money on eating and buying stuff, but few people realize how important it is to invest in our health in order to maintain a healthy lifestyle.
It is a great idea to spend more time exercising at home, and with a cheap gymnastics air track, you will be able to get a healthy body. For more information on where and which to buy, hop on Kameymall today! You won't be disappointed!