Whether you fancy a new way to break the ice or warm up at a family gathering or party with friends, then having race games with bump zorb balls are the way to go! You will have so much fun that you won't want to stop.
As a boss or HR, have you been distressed about how to build or maintain a good bond amongst colleagues? If this is your pain, then zorb balls are just after your own heart. By creating versatile ways of having fun with this huge crystal ball, they are now great for lots of activities and are sure to provide your team with hours of fun!
First Thing First – Don't Worry It's Safe!
The first thing that comes to our mind when we see a giant zorb ball is the question of how heavy it is, right? That is what we often ask ourselves. But the answer is NO. PVC is a material used in the construction of the zorb balls, which makes these lightweight and easy to handle even when they are in use.
Smooth and firm, the surface won't scratch your skin or even cause any harm to your rivals because of the skin-friendly texture. There is enough space in the hollow design so that players will be able to climb into it with ease.
Solid bands give you the freedom to roll around as much as you like without having to worry about being thrown out because of your actions.
The most important thing you need to remember is to follow the instructions and precautions outlined in the user manual at all times. There is nothing more unfortunate than having a full load of happiness be followed by a full load of sorrow when playing zorbing balls.
Get Fancy Fun Out Of A Ball
It's great for all kinds of activities with your fellows, and zorb balls can be used for a lot. Get your friends together and play catch, roll down a hill, or race. In addition to helping you improve your balance and coordination, the zorb ball is also a great way to improve your adrenaline.
With the help of a zorb ball, there are a number of fun activities you can do to enjoy your leisure time!
Human Bowling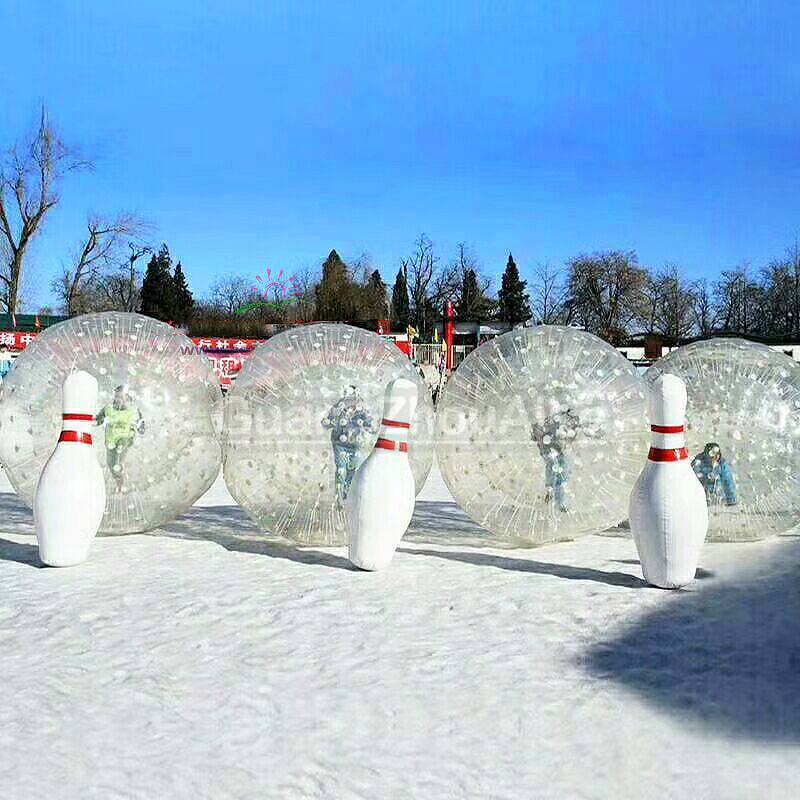 Would you like to experience what it is like to be a bowling ball for a day? A zorb ball bowling is a 2-3m ball that a player can be safely enclosed inside and is used to knock down skittles while you are racing down a slope. If you want to make it more exciting, you could put up an inflatable bowling track, a grassy slope, or a snowy slope.
In this case, the bowling bottles are basically inflatable as well and made of PVC. Those bottles are large enough and can stand up still on the ground, so you will not fail to see them.
There are similarities between the rules of this game and those of traditional skittles. Knocking as many pins as you can is your goal in this game. It is obvious that the more pins are hit down, the more scores you will be able to get.
There will be a champion chosen based on whose score is the highest. You are inside a bowling ball which is the only difference between the two!
Maze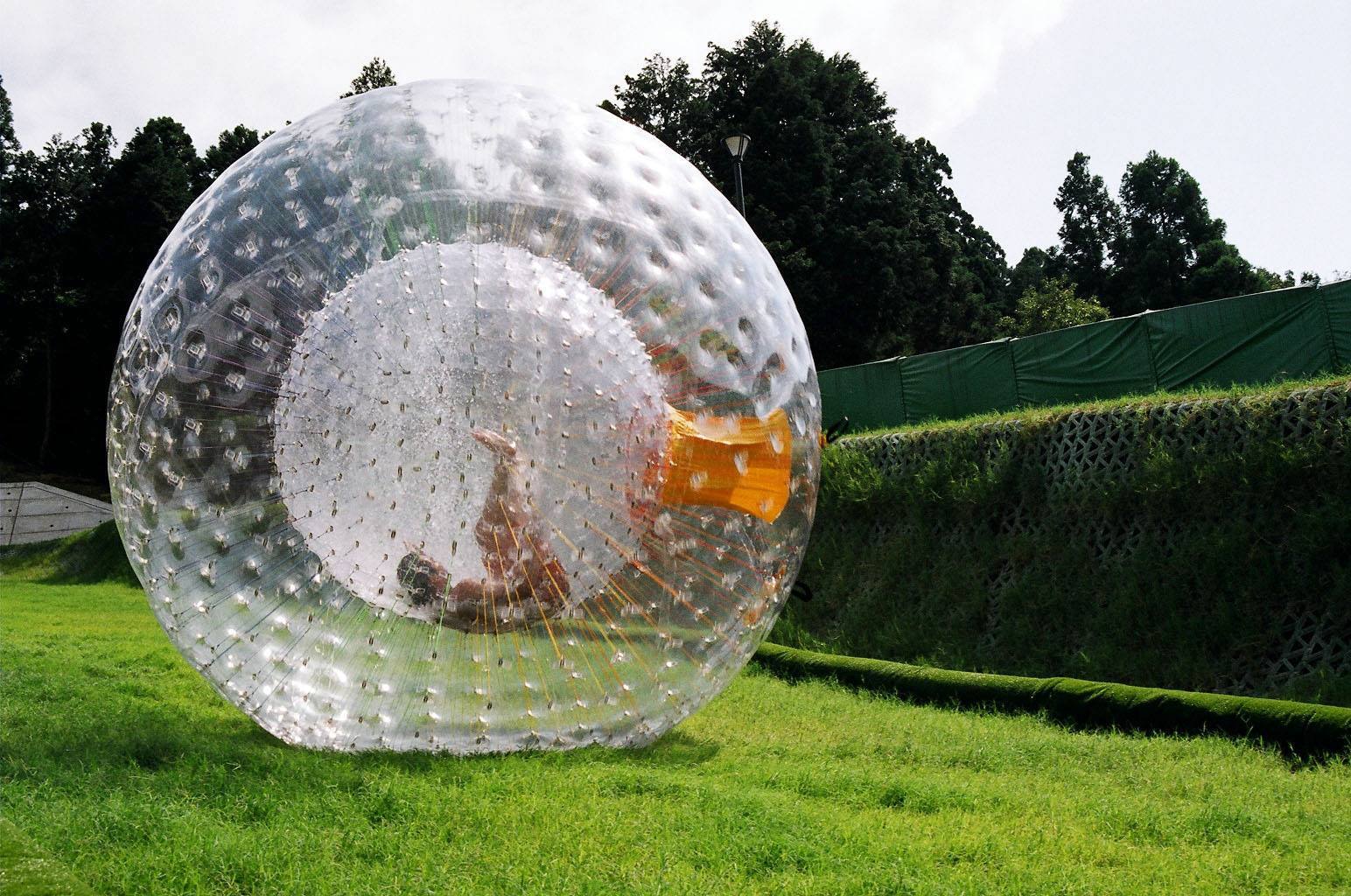 Under this game, you need to find a proper and large course and turn it into a giant maze by using intermittent inflatable stakes to create boundaries. And then put a zorb ball inside the maze. Trust me, by doing this way you and your friends will be a delight for hours.
It is not difficult to follow the rules. Once you are inside, you roll the crystal ball along a track that is sandwiched between two inflated walls. As you drive from point A to point B, you might wish that you had eagle eyes, so you could clearly see which way is out!
Of course, there are times when the track isn't flat or smooth. As soon as you think you are on your way to Rome, there is always a wall waiting for you just a meter away from your destination.
You should not make the maze too large if you are responsible for setting it up, as too much energy would be required to play, making your players lose interest in it. Ensure that the maze size is appropriate for adults or children to ensure that they won't have any difficulty navigating the ball to their exhaustion.
The fun part of this game is seeing if you and your friends can make it all the way through without getting lost. Those who are the fastest to reach the exit are deemed to be the winners by the judge.
Ball Fighting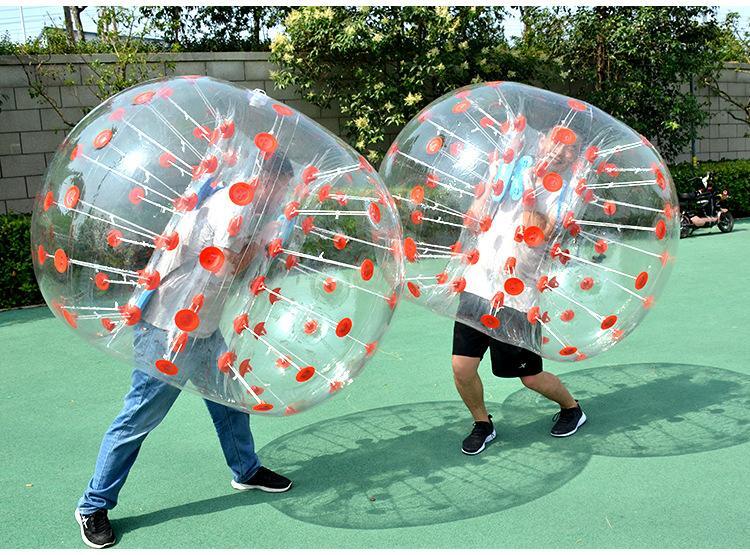 There is nothing more fun than going head-to-head against your teammates in a game of ball fighting. A player tries to knock his or her opponent off their feet by hitting them with a hard blow.
The rules are teams attempt to push each other off of their feet when they are on the opposite side. Those who are left standing at the end of the game are the winners. This zorb game is a great item to have on hand even when it rains, especially in the summer.
There is no doubt that this activity is good for bond building in the team. The tricks are if you want to make sure that you do not get knocked out by your opponent because you are standing too straight, then you should always keep a semi-crouched position whenever you're playing this game, so as not to strain your back muscles.
Water Zorbing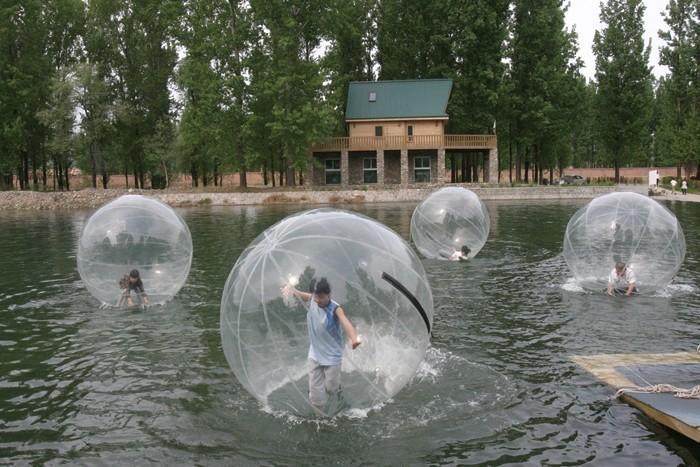 Taking a run on the ground is not as hard as you may think. Have you ever imagined you would ever be able to run a ball while your feet are submerged in water one day? A zorb ball for water is one of the best ways for you to discover it if you have ever been curious about it.
You should look for a place that is big and wide so that you can place a few water tracks. There will be a zorbing ball placed on the start line of each track, and every participant will be standing in their own zorbing ball to line up. There will also be a signal given to them to indicate that the game is about to start.
When the signal is given to all players to sprint down a track, all players try their best to navigate the ball as fast as they can. There is a rule that if a player runs out of a track, then he or she will be ruled out of the game.
As soon as the first person reaches the finish line, he or she is deemed the winner. There is no doubt that the racers will stumble after the game, and a proper massage will be able to relieve any discomfort that they may feel.
I guarantee you will find this activity to be incredibly fun and unique at the end of it all.
Hit and Run
In this game, all participants will be divided into two or more groups, depending on how many players you have. All people stand in a circle, separated by one arm's length. There should be a judge standing in the middle of the circle and throwing the ball in either direction. As soon as the ball is thrown, the game is in full swing.
Once the game starts, if somebody gets hit, then that person will be knocked out of the game, and a new round will be resumed. Thus keeping running is the best way to avoid getting hit by the ball.
The only thing to do at the end of the game is to count how many survivors are left for each team. The team that has the highest number of survivors will be the one receiving that medal at the end of the event.
Final Words
There is no limit to what a best zorb ball can do, it can be tailored to any occasion or group size. You can use a zorb ball as a great addition to a family outing or as a means of adding a touch of excitement to your next events, according to what outcomes or vibe you want to ultimately achieve.
Why don't you take action right now, and see what happens? Take a leap of faith and start bouncing around at Kameymall!