Gymnastics, cheerleaders, and parkour aficionados use air tracks as landing platforms or tumbling beds. Commercial-grade air tracks, which are sold at online websites, provide the same safe and stable landing as a professional spring floor in a portable, lightweight package that's quick and easy to put in shared venues and homes.But do you ever wondered how these durable and easy-to-store air track mat is manufactured? These mats have a comparatively less complex design than traditional tumble track mats. Let's see how these mats are manufactured-

Materials used to produce

●Double-wall fabrics are used to construct air tracks mats. This material can be thought of as two layers, each of which is covered and held together by thousands of fibers.
●The double-wall fabric structure is both durable and practical. The small dents that tend to diminish with time are a typical cosmetic feature of this material.
●This has no bearing on the air track mat performance or quality. During testing, all air track mats are inflated to a much higher level than typical, which removes the majority of dents.
●Other than this, air track mats are also manufactured with PVC, which provides a soft, non-slip, long-lasting, and easy-to-clean surface.
●Unlike traditional tumble tracks, these air track mats don't have any metal framing or steel springs which can sometimes be harmful to the athletes.
●Depending on the size of the air track mat, the weight of each mat can vary from 12kg to 20kg approximately.
With this, air tracks mats are also available in different sizes based on length and depth-

Based on length
1.Length of 3 meters- This length is a standard air track mat length and is ideal for gymnastics, cheerleading, and parkour as an entry-level, all-rounder air track. They are made of 0.9mm matt PVC that is tough and long-lasting. UV-resistant, reach- compliant and CE-approved.
2.Length of 4 meters- This length of an air track mat is perfect for athletes who are into gymnastics that need more space for landing, tumbling, and somersaults.
3.Length of 6 meters- When the athlete has extra-large space for practicing their somersaults, tumbling, and landing, this length of air track mat is preferred. It is advised for those who have ample space to accommodate a big gym mat.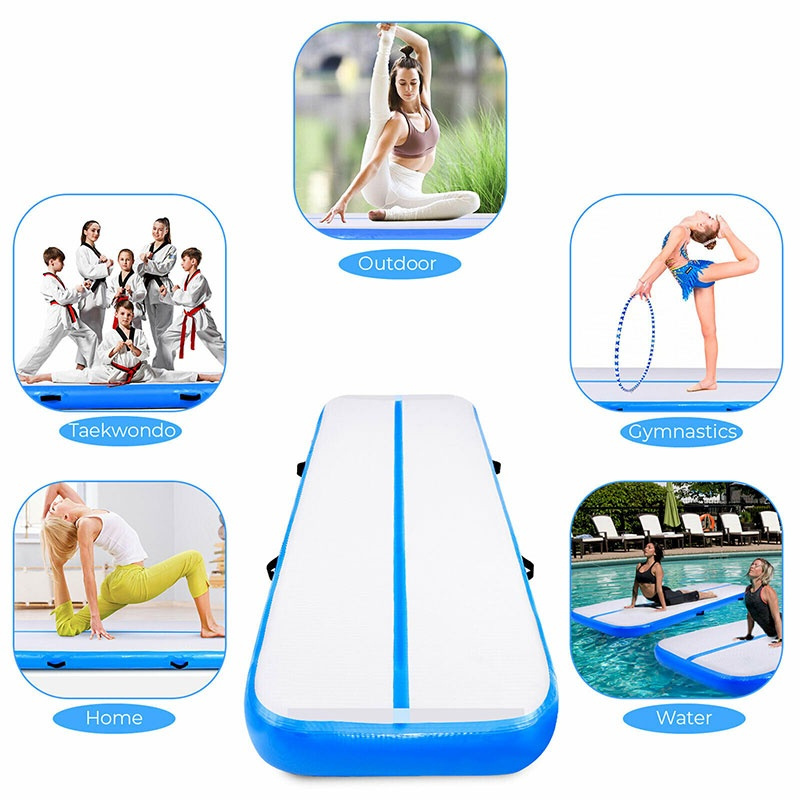 Based on depth
1.10 cm depth- this is the standard depth of an air track mat. This gives a safe, soft landing for most jumps and moves when combined with high pressure.
2.20 cm depth- For all levels of athletes, a 20 cm depth air track mat is ideal for a greater bounce. This mat can be employed at both high and low pressures to produce a minimal impact, steady landing, and increased jump height. Skills will be easier to master due to the greater bounce.

End
With these durable materials and different variants available at Kameymall in air track mats, every kind of athlete can master their skills on it.